Today I have the pleasure of sharing a planner with you created by one of my BFF blogging friends, Jolanthe from Homeschool Creations! I love that we've become friends through our blogs and I know that whatever she creates has been done with deep consideration for her readers so I knew this would be terrific!
So what am I babbling on about here? It's her Weekly Homeschool Planner. It comes in a fully editable PDF format so you can change, add, and delete whatever you want right on the PDF. The planner is set up with no dates, just Monday – Friday. Since it's almost 100% customizable you can use it for future years as well. (As opposed to other planners where you have to purchase a new one each year.)
Click here to try out the editing for yourself.
(Hint: Click in any of the blue boxes and just start typing!)
Download a sample of the planner here!
What's inside?
138 planning pages ~ 8 1/2″ x 11″ sized
12 blank month-at-a-glance pages
40 weeks of weekly planning and journal sheets: each page can be customized to the subjects that your family studies and can be saved to your computer!
Preschool planning sheets
Field trip/Event plan sheets
Yearly curriculum planning sheets
Yearly planning and evaluation sheets
Yearly attendance tracking sheets
Field trip/Event plan sheets
Daily to-do lists
Main dish menu planner
Customizable chore charts
Important contacts info
Additional note space
Standardized testing and yearly assessment result tracking
Homeschooling requirement planning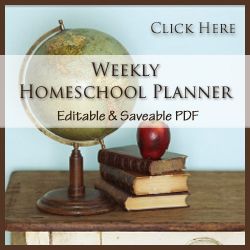 Pros about this planner:
Price! For just $20 you get a fully editable, re-usable planner!
You can type in your plans then print them…or not, its up to you.
They can be easily edited to fit your schedule, needs etc.
The planner can be used from year to year, so that's a huge bonus!
Comes with a note section for any additional information you might need each week.
Cons about this planner:
Um, hmm…I kind of had to think about this one…maybe I could use a little bit bigger boxes for each day to fit all the info for my 4 kids in one box. But this can be adjusted by doing one calendar per child too, so it's not critical.
The planner includes 8 boxes of subjects per day, since I have 10 workboxes, I could use 2 more spaces for subjects, but that's no biggy, I can double up in a box if I need to.
So…I have good news! You all know that I love to share my good deals with you and since I'm 'tight' with Jolanthe…and also 'cuz she's just super cool…she's offered a FREE copy to one of my readers!
Ready to Get Planning? You can purchase the Weekly Homeschool Planner for $20…OR…you can enter to win a FREE planner below!
Oh and if you just can't wait, go ahead and purchase it AND enter to win, and Jolanthe will refund your money if you win! YAY!
Mandatory Entry for Giveaway:
Check out the Sample then come back and leave a comment on this post letting me know what you like about it!
Additional Optional Entries: (After completing the below tasks, make sure to come back here and leave a comment letting me know you did so you can get your extra entries!)
@jolantheerb. @ericahomeschool is giving away a FREE Planner! Enter thru 6/10: http://tinyurl.com/3vhqdmu
Blog about this giveaway: Come back and let me know with your blog post
(As always, you can enter if you already follow or subscribe :o) )
Giveaway Information:
The give away will be open until midnight EST Friday June 10, 2011. Winner will be announced by Sunday June 12, 2011.
Make sure to leave a separate comment for each entry, winner will be chosen at random!
Please leave a way for me to contact you in your entry otherwise another winner will be chosen.
NOTE: This download will be delivered in eBook format. This giveaway is offered Worldwide.
In order to enter the contest you must leave a comment on THIS post. To leave a comment scroll to the bottom of the post and click "Post a comment" (Facebook comments will not count, if you are reading this via RSS, you will need to visit my actual blog to post a comment.)
Disclosure: I was provided me with a free copy of The Weekly Homeschool Planner to review on my blog. The opinions I have given are mine and may differ from others but were not influenced by the company or the free product provided.