Hi everyone! I'm so excited today because I get to announce the winners for my 10 Days of Classic Literature series! I was so excited to see everyone who entered the giveaway, and announcing 10 winners in one day is so fun!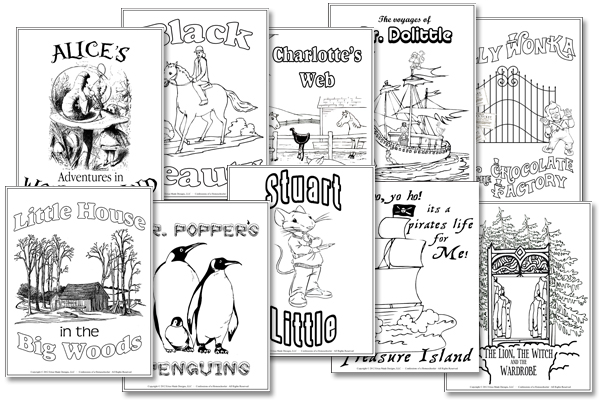 I randomly picked one person from each day of the series and am giving them the entire 10 Classical Literature Unit Study Mega Pack as a gift! 
**As I posted on facebook, if you won and already purchased it, please let me know and I'll refund your purchase!
So without further ado, here are my 10 winners: (You have all been sent an email from me, so make sure to look for it!)
Alice in Wonderland: #599 Tina "This could be lots of fun!"
Black Beauty:  #486 Angela B "This looks great! I would love to win!"
Charlotte's Web: #94 Leah "This is a favorite of mine"
The Voyages of Doctor Dolittle: #261 Jennifer S "I follow via RSS"
The Lion, the Witch, and the Wardrobe: #305 Kristina M "Follow you on Facebook"
Little House in the Big Woods: #345 Cindy "This looks amazing! Can't wait to try it with my kids. I follow you on facebook and am now subscribed to you through email. Thanks again for all your hard work and sharing your home schooling ideas!"
Mr. Popper's Penguins: #244 Megan Vesel "I subscribe via email!"
Stuart Little: #278 Shannon "I am subscribed via e-mail and look forward to the newest posting each day!"
Treasure Island: #141 Sarah Jane "Like your Facebook page"
Willy Wonka: #35 Tatia Wooten "Joined your Google + Group"
Didn't Win? You can get the whole set of 10 Classical Literature Unit Study Mega Pack at a discount, or grab them individually in my new store!
Thanks to everyone for reading Confessions, for all the lovely comments on this new series, and for entering to win!  I don't always have time to reply to all my comments, but I do read them, so thank you! You are the awesomest fans ever! Yes, I've created a new word…awesomest.