Hi everyone! As I mentioned yesterday, for one week only everything in the Confessions store is on sale! Yep, you heard me for one week only, everything at Confessions of a Homeschooler is 30% off!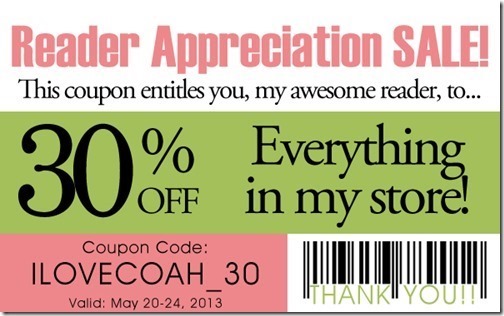 Today I'm featuring some of my unit studies. I have units to help teach students about great artists, composers, and scientists.
Come along on our quest to learn about some of the world's greatest artists with my World's Greatest Artists Vol. 1 & World's Greatest Artists Vol. 2! Grab some art supplies and get ready to explore, create, and learn!
In this series of artist studies, we will be learning about 8 of the world's greatest artists. We will immerse ourselves in the work of each artist so we become well familiar with their style, methods, and images.
Who is this for? I designed the artist units for elementary aged students, typically K-5, but I've had several people say that they've been used for older students with great success as well.
Scheduling:
I suggest scheduling approximately 4 weeks per artist. Each artist study has 8 lessons, so that averages to 2 lessons per week over the course of 26 weeks. However, the lessons can be easily adapted to fit your schedule as well.
Each study includes:
Lesson plans for each week
Lap Book printables
Artist Notebooking page
Art Puzzles
Artist Flashcards
What Artists are included in Vol 1?
What artists are included in Vol. 2?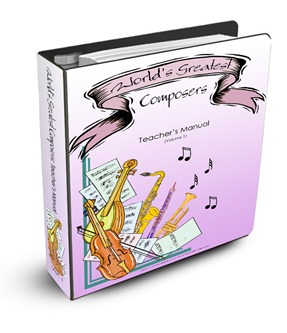 The World's Greatest Composers series teaches students about 8 of the world's greatest composers. The goal behind the World's Greatest Composers curriculum is to immerse students in the work of each composer so that they are well familiar with their style, methods and music. Much of your time studying will be through open discussion with students and listening to compositions. Upon completion of this curriculum, your student should be able to easily recognize the pieces from each composer studied. They will also have learned several different styles of music, vocabulary, as well as have gained an appreciation for music in general.
What is included in the study?
For each day of listening there is an activity for students to complete while listening. This will help them focus on the music, and think critically about what they are hearing. By the end of the study, your student will have a completed composers notebook along with an orchestra and music lap book.
Introduction to Orchestra
Johann Sebastian Bach
George Handel
Wolfgang Amadeus Mozart
Ludwig Van Beethoven
Frederic Chopin
Peter Tchaikovsky
Igor Stravinsky
George Gershwin
Composer Reports
Instrument Word Scrambles
Music Bingo Cards
Each composer unit has 10 lessons, I suggest scheduling 2-3 days per week for the composers study. The curriculum will take 1 full year to complete at this pace. However, the lessons can be easily adapted to fit your schedule as well.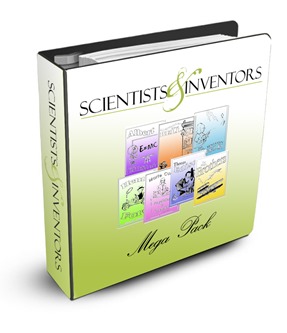 This series is all about famous Scientists & Inventors! As usual each study includes fun hands-on activities to go along with the unit to help students remember what they've learned, and also provide them with a fun reference too to review and recall each person they've learned about.
Each of my scientist & inventor unit studies contains educational lessons, activities and a fun lap book that your students will work on as they progress through the study. The lessons also include book reports, vocabulary, character traits of these important figures, major inventions and contributions, as well as some critical thinking skills. Units can be purchased individually or as a Scientist & Inventor Mega Pack. These studies are geared towards grades Kindergarten-4th, but can easily be adapted for older students as well.
Scientists and Inventors included in the combo pack:
Albert Einstein
Alexander Graham Bell
Benjamin Franklin
Henry Ford
Marie Curie
Thomas Edison
The Wright Brothers
Visit the Confessions Store to see all the goodies on sale!

I hope you enjoy the discount, and as indicated, use coupon code: ILOVECOAH_30.

This coupon is valid from May 20, 2013 – May 24, 2013.
Disclosure: I apologize to anyone who has purchased prior to today, unfortunately the sale prices are only affective for purchases made during the week of May 20 – May 24, 2013.