"In your relationships with one another, have the same mindset as Jesus Christ who, being in very nature God, did not consider equality with God something to be used to his own advantage; rather, he made Himself nothing by taking the very nature of a servant…" Philippians 2:5-7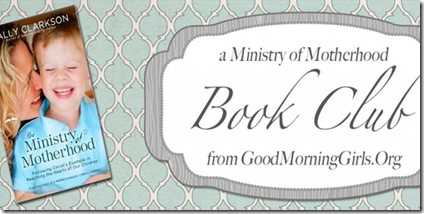 Good Morning Girls Downloads for Week 11 Ch. 17-18
BlogFrog Discussion for Week 11
As a homeschool mom, and I think this even applies without the "homeschool" label, I'm all about convenience. I look for fast and easy recipes, I have a high-efficiency washing machine, a wonderful dishwasher, and I can multi-task with the best of them. But rarely are the tasks of this calling of motherhood ever "convenient". I'm awaken during the middle of the night by little feet, I'm interrupted countless times in any given hour by the needs of my family, and then there's those pesky toilets that constantly need to be cleaned.
The service to my family is rarely what I would deem "convenient", nor is it rarely easy. Our pastor always reminds us that we'll know whether or not we have a servants heart by the way we respond when we're treated like one. I'd love to say that I welcome interruptions in my busy day with an open heart, but I do not.
Oh sure, there's the wonderful opportunities the Lord lays before us to witness to those around us, sharing pearls of wisdom. But then what about all those little moments during the day. The laundry that needs folded, dishes to be done, floors to be swept, and food to be prepared. And my very favorite, discipline that needs to be administered, sibling quarrels that need resolving, and at the very moment I type this, American girl doll's that need to be located.
It's particularly hard for me to feel a sense of "worthiness" when scrubbing the toilets, or cleaning up the spilt milk for the umpteenth time. But that is what God has called me to do. My kids watch me doing all this and I want to show them that we are to serve with a glad heart. If they see me complaining constantly about the tasks I've been called to do what kind of message is that sending? Am I teaching my children that serving others is a burden or a joy?
Jesus ministry wasn't about serving only those that were "worthy" in the eyes of the world, but He responded with compassion on everyone that was brought before Him.
"Giving our children the gift of service is not really a matter of teaching them what to d. It's more a matter of helping them look at other people through Jesus' eyes and respond as he did." ~ Sally Clarkson
This doesn't mean just telling our kids we are to serve others, but showing them how to do that, what it looks like on a daily basis and how that will glorify their Father in heaven. We try to encourage our kids to search for ways to bless others, and that starts at home. I always say that if you can learn to do kind things for a sibling, you can serve anyone!
One thing I'm reminded of is our love for "Operation Christmas Child". It is a wonderful picture of God's desire to help those in need with absolutely no hope of anything in return. Each year my children pack a box of goodies for another child their own age.  The package is prayed over, then sent out through Samaritan's Purse to bless it's recipient. At first it was difficult for our children to giveaway all those yummy toys, but now they look forward to the opportunity to bless another child. For that one day, selfishness isn't present in our house.
"I must do whatever I can to help them [children] develop a willing heart, even if it means giving them a little push to help them past their natural hesitation." ~ Sally Clarkson
Sin in our lives, drives us away from responsibility and from serving others. But as we demonstrate obedience through service in our own lives, well that my beloved sisters is passed down to our children and thus opens their eyes to the heart of our Savior.
Make sure to hop over and join in on our Blog Frog discussions!
Good Morning Girls Downloads for Week 11 Ch. 17-18
BlogFrog Discussion for Week 11
If you haven't already, make sure to grab your copy of The Ministry of Motherhood! It's definitely a book worth reading!