Okay, I think there's a possibility that I am experiencing what some refer to as "spring fever". It's hard not to feel the fresh new aura of spring with new buds on trees, grass starting to green up, and the warmer temperatures we've been having!
So today I pulled out some fun spring nail colors to share with you all!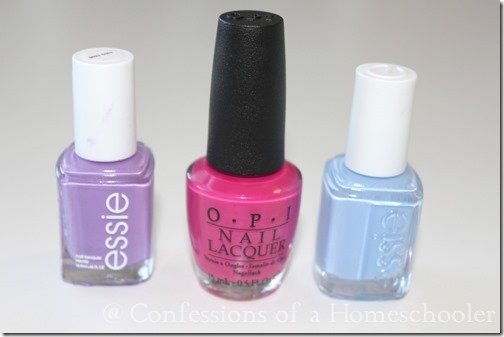 The one on the left is one I wear all the time, and get compliments on just about every time I wear it. It is called "Play Date" by Essie, and since I have four children, it seemed like the name fit well.
The middle, bright pink color, is "La Paz-itively Hot" by O.P.I. It's one of my favorite hot pink colors!
And the far right one is "Bikini So Teeny" by Essie. Yeah, this name does absolutely NOT fit for me, but still a cute pastel blue color, and a Strawberry Shortcake numero uno!
Here is the one I chose for today. It's "Play Date" by Essie. This is a super fun purple color and it's a mix between lilac, but with a warmer undertone to it, so um…think lavender jelly beans. It's lighter than it looks below in the picture, a little more yellow and Easter-y.
Okay forget it, I clearly can't describe the color very well, you'll just have to go see for yourself and let me know what you think! I purchase most of my polish at Ulta, but I found this gem at my local Wal-m*rt.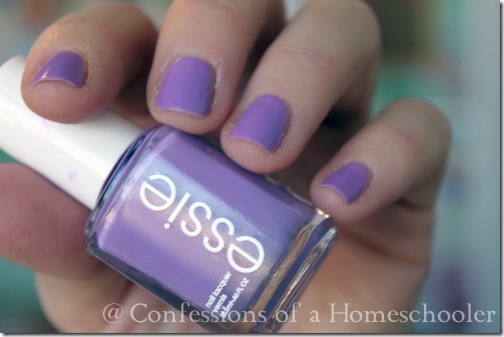 Strawberry likes to do a fun pattern of colors whenever she does her nails, so this was her new "Spring Look".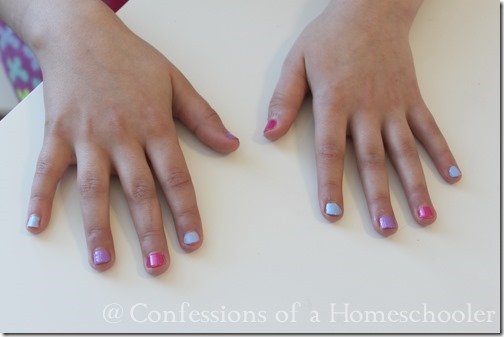 So that's it, our top picks for this spring and probably our Easter nail polish! Strawberry Shortcake likes to line up the Teeny Tot and Tinker Bell and give them manicures, so I'm sure I'll have some more tiny-multi-colored-nails roaming around my home shortly.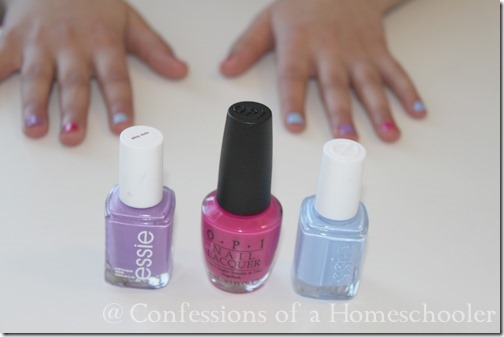 Here are some more fun spring colors not shown above:
Have a fun spring nail color to share? Make sure to leave a comment below!
Disclosure: This was not a sponsored post, and I am not affiliated with the company mentioned. Just love these products and felt like sharing, cuz' it's my blog and I can if I want to.