Hello fellow homeschoolers! I'm so excited about today's Homeschooling 101 topic because I love talking about curriculum!
That said, figuring out how to setup your homeschool can also be a daunting task, and potentially overwhelming to even seasoned homeschoolers! But fear not, I'm hoping today's post will at least help you get started.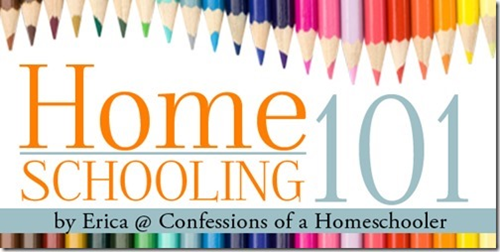 Once you have decided which subjects you will cover for the year it's time to start the process of picking out your curriculum. I will typically continue with curriculum that has been working for us, but will research new curriculum for things that need to be changed. If you're new to homeschooling, this stage will probably take the longest in your planning process.
"If any of you lacks wisdom, you should ask God, who gives generously to all without finding fault, and it will be given to you." James 1:5
One of my favorite places to go to get opinions on curriculum is www.HomeschoolReviews.com. This is a website where other homeschoolers share their thoughts as well as list pros and cons for many different curricula. Reading reviews from other homeschoolers can be extremely helpful in deciding which curriculum will best fit your family.
One thing I would like to point out, is that after several years of homeschooling, I don't think I've found a curriculum that is absolutely perfect for us. While there are tons of different styles of curriculum, I don't think there's that "perfect" curriculum that fits every single need. However by reading reviews and trying different things, you should be able to find something that works for your family. You might have to modify it some and that's okay, homeschooling has a lot of flexibility and you are in charge. Remember you control the curriculum; not the other way around!
Homeschooling Methods:
Before you start wading through all of the endless options for curriculum out there I would like you to take  a minute to consider what type of style fits best with your families needs.
With homeschooling becoming an increasingly popular choice, several different approaches to homeschooling have also emerged. You're free to follow one specific style, blend them together, or create your own learning environment best fits the needs of your family.
Here is a brief overview of the different methods of home education:
Traditional Method: Using curriculum that is similar to what is used in public school along with it's more traditional grading system. This is commonly referred to as bringing traditional school into your home.
Classical Education Method: Classical education is based on a three-part process of training your mind. The grammar stage (the memorization stage), Logic Stage (The "why" stage), and Rhetoric Stage (Students learn to apply the knowledge gained in the previous two stages). This method is best described by Susan Wise Bauer.
Charlotte Mason Method: Charlotte Mason developed a three-pronged educational approach centered around atmosphere, discipline, and life teaching. You can learn more about this at the Charlotte Mason website.
Eclectic Method: An eclectic approach to homeschooling is where the family takes bits and pieces of various different methods to form their own unique homeschooling environment.
Montessori Method: The Montessori method is based on the idea that learning should be a natural, self-directed process. It is also commonly referred to as child-led learning. You can learn more about this method at the Montessori website.
Unschooling: Unschooling is another child-led type of approach to homeschooling. It is also commonly referred to as "natural Learning", "experience-based learning", or "independent learning." Unschooling homes typically let their current interests dictate what they choose to study, incorporating traditional subjects as they go.
Personally I prefer a more eclectic approach to homeschooling, meaning that I like to incorporate several different styles depending on the subject. For example, I tend to stick to more traditional methods for core subjects like math, English, and reading. But I also like to think out of the box for things like science, literature, and history. We also enjoy blending in unit studies wherever they might fit in.
Before boxing yourself into a specific learning style, I encourage you to consider being open to different types of learning as based on how they fit the needs and goals for your homeschool. Again, make sure you are controlling your style, and not letting a certain style control you.
Student Learning Styles:
Another thing to keep in mind are the 3 basic styles relating to student learning styles. Visual (learning through seeing), Auditory (learning through hearing), and Kinesthetic (learning through moving, doing & touching).
While each person is unique in their preferred learning style, I prefer to pick a curriculum that will blend all three styles together to create a more well-rounded learning environment. If your student is primarily an auditory learner you'll still want to incorporate more visual and kinesthetic lessons into their day so that they're also learning to understand things in new ways. The variety of style will also increase their ability to process information more effectively.
You may need to focus more on student learning style especially if you have a special needs student.
Researching Curriculum:
After you take a little bit of time to look through the various styles of learning, it's time to start choosing curriculum! We'll discuss more about that in our next post in my series on Homeschooling 101!
Want more information? Check out Homeschooling 101: A guide to getting started!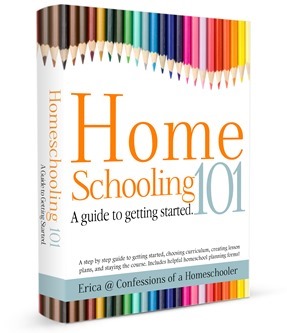 Our Homeschool: Here is a list of posts on our curriculum choices, our schoolroom setup and our daily schedule.
Here are some more helpful posts for new homeschoolers getting started:
Disclaimer: I am not a legal attorney, nor do I have a degree in law. The information contained in this Book is what I have gleaned from my own research and should not be taken as legal advice. If you have any questions regarding homeschooling, please refer to the laws in accordance with your own state, or seek professional legal counsel.