Hi everyone! If you've been following my blog for awhile, you know that I'm a HUGE fan of Operation Christmas Child.  The OCC mission is to "demonstrate God's love in a tangible way to needy children around the world" by packing a shoebox full of items for a child in need. 
You'll be surprised at the blessing this can will have on you, your child, and the child receiving the box!

Last year all of the girls in our Keepers at Home group held a group packing party. We all gathered together at a local dollar store and filled our shoe boxes with lots of goodies!
Next we met back at home to make a handmade gift to include in our boxes. It was so much fun to do as a group. And the girls all had a wonderful time filling boxes with items for someone their age in need.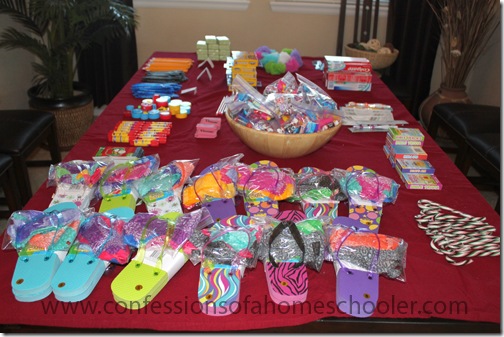 Here's a sample of all of our goodies! The flip-flops were all stocked with pre-cut 1" x 6" fabric strips. Next the girls tied the strips along the flip flop straps to make them into cute handmade gifts for their boxes.
If possible have your group meet up at one of the drop off locations so they can see what all goes into getting these boxes shipped out to their intended recipients!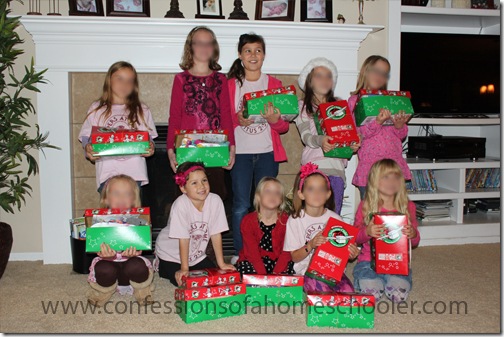 We had so much fun that this year I wanted to extend this challenge on to you as well! It's a wonderful outreach and great way to teach compassion to your children. You don't have to create a formal group like we had, you can do it with just your own family. Or gather a group of friends together and host a Christmas Shoebox Packing Party in your own home!
Start Planning Now!
I know it's only October, but this year's collection week is NOVEMBER 18-25, 2013. So it's time to start planning!
What do you need to do?
1. Order a a party packing kit from OCC.
Samaritan's Purse has put together some great resources and promotional materials to help you share Christ's love with others through their Shoe Box Ministry! They shipped me a bunch of boy/girl labels, pre-printed sheets for each girl to fill out with information on where they live, what they like, etc. And also some fun bookmarks and stickers for each girl.

2. Get your OCC packing boxes.
You can pick up free OCC packing boxes at your local Family Christian Bookstore, order from the Samaritan's Purse website, or simply use clear plastic shoeboxes. If you can, i like to use the plastic boxes. They fit a little more, and also come in handy as a storage container for the children who receive them!
3. Send out an invitation to the guests!
NATIONAL COLLECTION WEEK is NOVEMBER 18-25, 2013, so make sure to plan your party ahead of time! Also tell guests if you need them to bring anything with them, and what you will be supplying if anything. (Some good things they can bring might be scissors, tape, and wrapping paper.)
4. Gather Supplies:
We've already started to gather our supplies! There is a list on the OCC website that tells you what you can and cannot pack in the boxes. I strongly suggest sending this list out to your guests prior to the party. Click here for packing instructions. Make sure to include a donation of $7/box for shipping costs.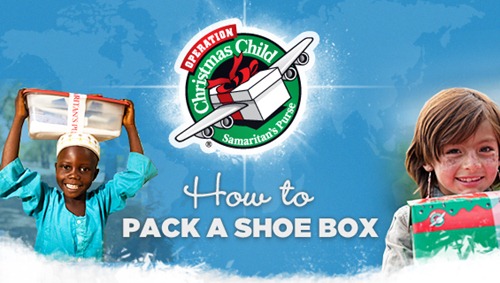 Here are some ideas to help you out!
Toys: small cars, balls, dolls, stuffed animals, kazoos, harmonicas, yo-hos jump ropes, small Etch A Sketch, toys that light up or mke noise (with extra batteries), Slinkys, etc.
School Supplies: Pens, pencils, sharpeners, crayons/markers, stamps, ink pads, writing pads or paper, solar calculators, coloring and picture books, etc.
Hygiene Items: Toothbrush, toothpaste, mild bar soap (in plastic bag), comb, washcloth, etc.
Other: Hard candy, lollipops (Please double bag all candy), mints, gum, T-shirts, socks, ball caps, sunglasses, hair clips, toys jewelry, watches, flashlights (with extra batteries), shoes, slippers, cards.
A Personal Note: you may enclose a note to the child and a photo of yourself or your family, as well as your name and address if you would like the child to write you back.
DO NOT INCLUDE: Used or damaged items; war-related items such as toy guns, knives, or military figures; chocolate or food; out-of-date candy; liquids or lotions; medications of vitamins; breakable items such as snow globes or glass containers; aerosol cans.
5. Pray!
Most importantly, pray for the child who will receive your gift. Operation Christmas Child touches the lives of many children each year, and the impact of this outreach is amazing!
6. Drop-off Your Boxes!
For locations and hours of collection visit the Drop-Off Locations page where you can find the nearest place to take your shoe box or you can call 1-800-353-5949.
You can also send your shoe box gift to:
Samaritan's Purse
Operation Christmas Child
P.O Box 3000
801 Bamboo Road
Boone, NC 28607
Follow your gift: If you make your gift donation online (to cover shipping costs), you can print out a special label and track the gift! Find instructions here.
Check out this video to see how Operation Christmas Child impacts the recipients!
I hope you take time to participate in this wonderful outreach blessing thousands of children across the world!
Have some great shoebox ideas?
Make sure to leave a comment below! Last year we made fabric tied flip-flops for all of our boxes! I think it's a blessing for the children to hand-make something special to add to their boxes.