Hi everyone! As promised I have another post in the 'Daily Homeschool Schedule' series for you all.
As mentioned last week, I've had countless questions about our daily schedule. And you can see an overview of our daily schedule here.
But today I wanted to share Tinker Bell's schedule with you. She's currently 7 years old, and in 2nd grade.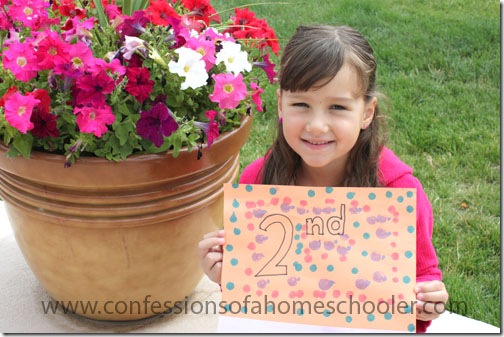 This year we are doing quite a bit of things. Some days have been challenging due to our recent move. But we're remaining flexible and at the very least getting our core work completed each day!
Our 2nd grade schedule is as follows:
8:30am – Breakfast / Family Devotions
9:00am – Calendar Time (Tinker Bell helps Teeny Tot during this.)
9:15am – Bible
9:30am – Math
10:20am – Phonics Lesson
10:40am – Language Lesson
11:00am – Reading
11:20am – Handwriting
11:30am – Spelling
11:45am – Vocabulary
12:00 – Lunch/PE
1:00pm – History
1:30pm – Science
2:00pm – Typing/Music/Art/Piano (1x per week)
2:30pm – Literature
As you can see we do most things on a daily basis right now. Normally I alternate History and Science so we're doing them 2x per week, but this year's Abeka curriculum requires daily work.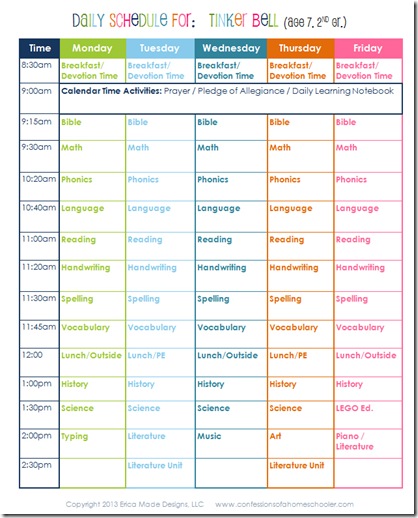 Download a copy:
You can see a full list of Tinker Bell's actual curriculum below. We are trying out a few new things this year. So far it is going well.
Tinkerbell (2nd Grade)
The only thing I don't totally love is the Wordly Wise program. I'd love to hear anyone else's suggestions for vocab!
Have a comment to share on how.you organize your day? Make sure to leave it below!