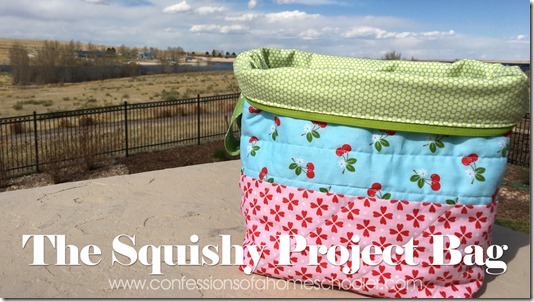 Hi friends! I have a super fun and easy sewing project for you! Today I'm sharing how to make the Squishy Project Bag. It's great for storing craft projects, knitting, embroidery, school supplies, and anything else you can dream up!
This bag is so easy and definitely beginner friendly. It should only take about an hour and a half or so to put together. So let's get going!
Watch my video tutorial on how to make The Squishy Project Bag here!
Materials and Cutting Instructions:

Outside fabric: (Note: You can create a custom outside fabric using scraps as long as you end up with 1 piece of 12.5" x 24.5" when you're done.)
(2) 6.5" x 12.5" pieces
(1) 12.5" x 12.5" piece
Lining: (2) 12.5" x 12.5" pieces
Cotton Batting or fusible fleece: (1) 12.5" x 24.5" piece Note: If you're quilting the outside of the bag like I am, you might want to give yourself about 1" of extra batting on all four sides.
Strap: (1) 2.5" x 8" piece
Zipper: (1) 14" plastic zipper (If you change the size of your bag from what I'm doing, just make sure your zipper is longer than the bag width and you'll be all set!)
–>>Download a printable version of the Squishy Project Bag instructions here <<–

Like I mentioned in the video you can make any combination of colors you wish using this same assembly method. I've made a few different colors using scraps I had lying around!
This one uses one of my favorite fabric lines called Pam Kitty Fog City by Lake House Fabric. I love the newspaper print inside the bag, it's so soft and subtle!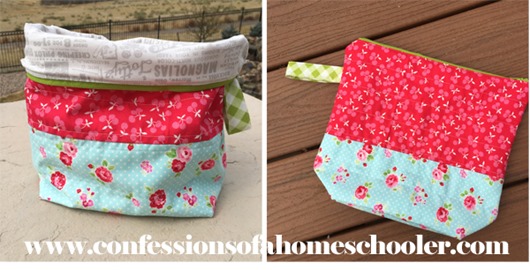 This bag uses the Playground Fabrics line by Ami Sinibaldi, it's it so pretty! This bag is going to my mom for her knit projects. For this one I used some scrap pieces I had lying around, and just cut them so they'd all measure 6.5" x 12.5" when I was done sewing them together.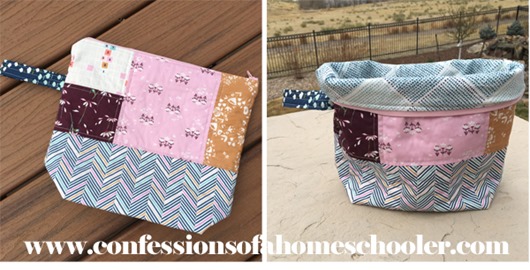 This is one of my favorites, it uses the Coney Island by Fig Tree fabric line. I did a simple patchwork using a 2.5"x2.5" mini-charm pack to create the top portion of the bag. I love how it turned out. As you can see, you can really create anything you want this way!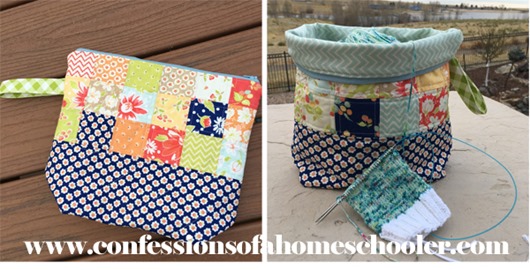 The bag created in the video used the Sew Cherry 2 fabric line by Lori Holt for the outer bag. The lining is from the Little Ruby line by Bonnie and Camille.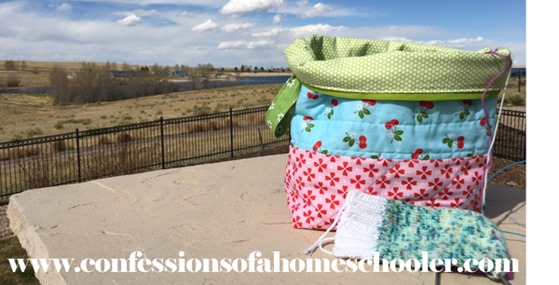 I hope you enjoyed this tutorial! If you make a bag using my tutorial, please tag me so I can see your creations! Use #squishyprojectbag or tag me @ericaarndt on Instagram!
Here are a few more of my Sewing Tutorials online:
To keep up with our shenanigans, feel free to follow me: