Hi all! Today I wanted to share a recipe with you that we're loving over here at Confessions! It's the Carrabba's Bread and Dipping Sauce Recipe! Okay, so I'm sure it's not the "official" recipe, but it's as close as we could get and tastes pretty good if I do say so myself!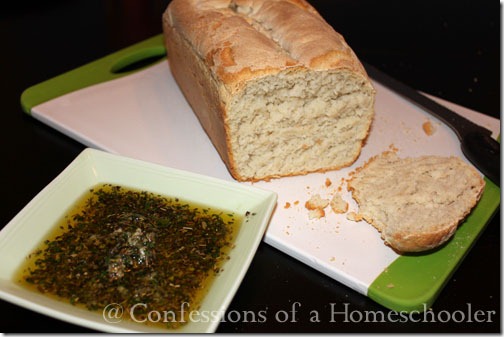 Now before you read on, I just want to say this isn't one of those 'mill your own wheat' and 'no bad stuff in this' recipes. The bread at Carrabba's is white bread, and so this recipe uses white flour, and yes…Crisco.
So I know it's not all that healthy in regards to nutrition, but at least it's homemade and so that counts for something right?
Plus it's sooooo good!
So please forgive me this one indiscretion ;o)
So ready to get on with all the yummy goodness?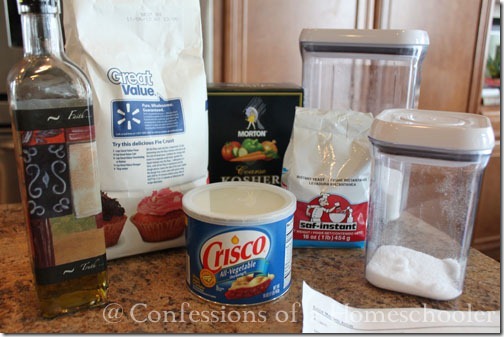 Ingredients:
1 1/4 tsp. dry yeast
1 1/4 c plus 1 1/2 Tbsp. Luke warm water (110 degrees F, 43C)
3 c unbleached all-purpose four
1 tsp. salt
1 Tbsp. vegetable shortening
Pinch of sugar
Olive oil to grease bowl
Method:
1. Dissolve the yeast and a pinch of sugar in the 1 1/2 Tbsp. of Luke warm water. After 5-10 minutes you will see the yeast start to activate by bubbling and foaming. Substitution: You can also use instant yeast, add 1 tsp. of dry instant yeast to the dry flour. And increase the amount of water by 1 1/2 Tbsp. in the next step.
2. Put 1 cup of flour in a large bowl and add the yeast mixture. Start mixing and gradually incorporate the salt and shortening.
3. Add remaining flour and and remaining 1 1/4 cup of water slowly. As the mixture starts to absorb the water, continue adding the remaining water until a ball of dough forms. You can do this part by hand, or in your Bosch mixer if you have one, that's what we use and LOVE LOVE LOVE it!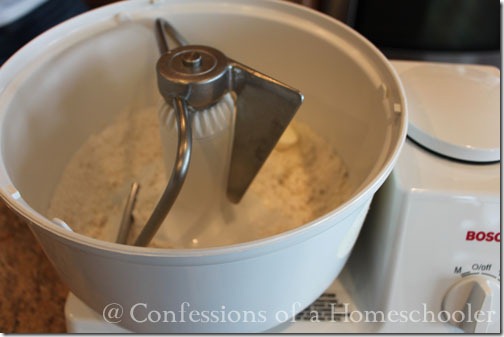 If the dough is too wet, knead in an extra tablespoon at a time of flour until the dough is 'tacky'. Be careful not to add too much flour, it will be a more sticky dough. Basically you want to add enough flour to make it so you can handle the dough, but it will still be difficult and sticking to your fingers quite a bit.
Look at my Bosch go!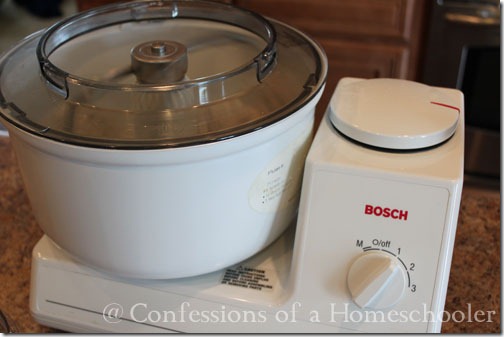 Knead dough in mixer or by hand for about 4 minutes until a nice smooth ball forms.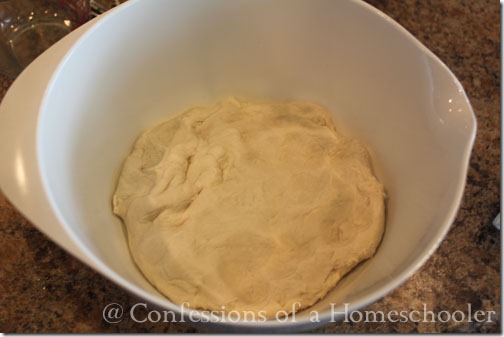 Lightly oil a large bowl, and place the dough in the bowl covered with plastic wrap. I usually spray my plastic wrap so it doesn't stick to the dough. Let rise for about 2 hours or until dough has doubled in size like so…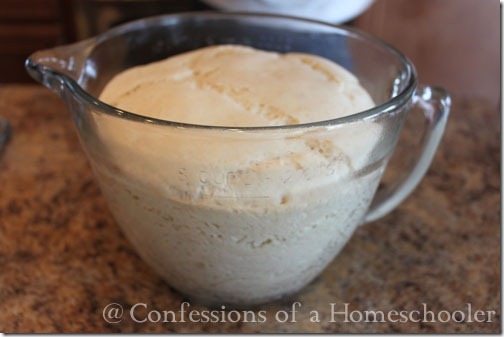 Tip: A good tip to aid in the rising process is to pre-heat your oven to 150 or 200 degrees, whatever is the lowest temp your oven allows, then turn off the oven and place the bowl in there to rise. Make sure to cover it with a kitchen towel so it doesn't get dried out. The warm air helps it rise a bit faster.
Remove dough from the bowl and knead again by hand or mixer for about 4 minutes. Place it in an 8×5 or 9×5 greased loaf pan and lightly oil the top of the dough.. Cover with plastic wrap or kitchen towel and let dough rise a second time for about another hour or until doubled again.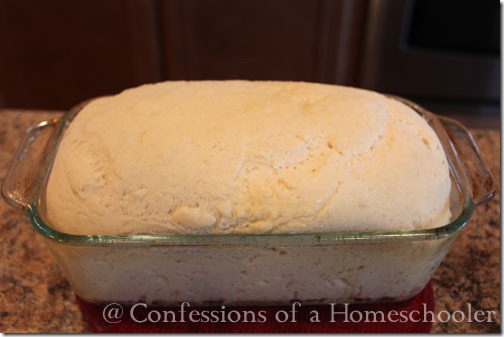 Next pre-heat the oven to 450 degrees F. Once loaf has risen the second time, remove the plastic wrap and using a sharp knife, make a slight slice down the loaf length wise across the top.
Bake at 450 degrees F for 15 minutes (Do not open the oven door during this time), then reduce oven temperature to 350 degrees F, and bake another 30 – 40 minutes or until top of loaf is a light golden color.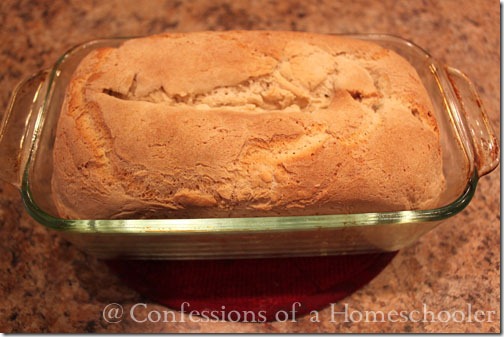 Remove from oven and let cool for about 10 minutes, then transfer to a cooling rack, or cutting board. Serve warm with Italian dipping sauce!
Italian Dipping Sauce:
1 Tbsp. minced basil
1 Tbsp. chopped parsley
1 Tbsp. minced garlic
1 tsp. dried oregano
1/2 tsp. kosher salt
1/4 tsp. crushed red pepper flakes
1/2 tsp. olive oil
1/8 tsp. fresh lemon juice
Method: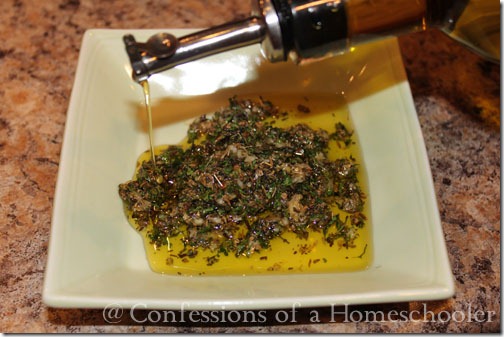 Mix all above ingredients together and store mixture in refrigerator until ready to eat. Serve in small dipping bowl. Add more olive oil to spice mixture as desired for a wonderful Italian dipping sauce!
Leave a comment! Let me know if you try this and how it worked for you! I love this dipping sauce, it's so tasty and the bread will have a nice hard crust but be soft and chewy inside just like at Carrabba's! Enjoy!