It's finally here! Road Trip USA Geography & History Curriculum.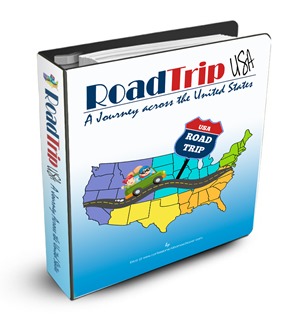 Instant Download – No Waiting!

CO-OP / Classroom Version
(This license is to be used if you are sharing the curriculum in a class or co-op. This version allows for printing of materials for multiple students as well as teachers in a classroom or co-op setting. If you have multiple children that are your own, i.e. not daycare or co-op, you do not need to purchase the classroom version.)

Come along with us on an exciting journey learning about the U.S.A! From the signing of the Declaration of Independence, to the wild west, you'll uncover all the secrets this Nation has to offer! Within this curriculum you'll discover the sights and sounds of all 50 states, including state symbols, U.S. Presidents, famous people, landmarks, historical events, and much more!
–>Click here to download a sample<–
For you history buffs, this is a great introduction for young learners! You will start out learning about the Constitution, Declaration of Independence and Revolutionary War. Then you'll move south to learn more about the Civil War and Underground Railroad. From there you'll journey with Lewis & Clark through the mid-west, live with the Hopi in the southwest, then venture out into the wild west on a covered wagon ride!
So grab your Travel Logs, and pack your bags! It's time for a Road Trip!
What's Included in this curriculum?
There 363 pages of fun filled adventure just waiting for you! It's divided up into regions, so students will learn about the Northeast, Southeast, Midwest, Southwest, then finally The Western region of the U.S.
Here's a peek at the Teacher's Manual. It includes everything you need for each lesson including any additional info, printables, and recipes for each state. There are 136 lessons total, you will cover 2 states per week and do several review lessons along the way.
Here's a peek at the Student Workbook: It contains everything you need for each student in one easy printable section. The student workbook includes coloring pages for each state along with mini-books that you'll use to complete either a U.S.A. lap book, or add to the binder dividers for each region.
Road Trip USA is a U.S. History and Geography Curriculum that covers all 50 states in the USA, including a bit on the territories as well. It is designed primarily for elementary level K-4th grade students.
It includes fun States Jeopardy review games as well as colorful student worksheets, and state reports for older students.
Here are some of the topics included in this curriculum:
Geographical Locations
State Symbols
State Capitals and Abbreviations
Mapping & Atlas Skills
Famous Landmarks
Historical Figures
Historical Events
Craft Activities
US Presidents
The Constitution
Declaration of Independence
Revolutionary War
Underground Railroad
Civil War
Pioneers
Westward Expansion
Native Americans
Foods and Recipes
State Reports
State Jeopardy Review Games
State, Capital, and Abbreviation Games
State Puzzles
Here's a look at some of the fun things that are included:
State flashcards, capital cards, and abbreviation puzzle pieces. These are used weekly as review games to help students remember information learned throughout the week.
Included in each state are mini-books and region labels so students can complete the U.S.A. Lap Book:
And as an added bonus, all students participating in Road Trip USA will receive a Travel Log to record their journeys, and finally a commemorative Certificate of Completion once they've completed their journey!