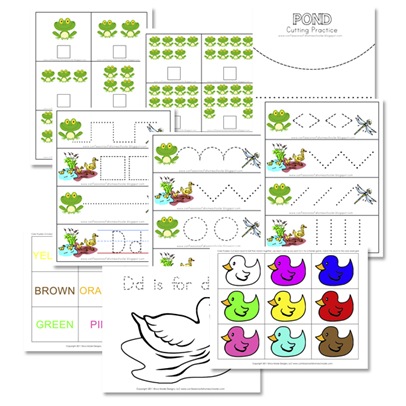 Hi everyone! I wanted to share a fun Preschool Pond Pack that I made for a post over at Totally Tots Blog. I just realized that I never shared it over here, and I didn't want anyone to miss out, so here it is! The focus was really for our Teeny Tot and I have to say that she absolutely LOVED being involved in school time!
Duck Mosaic: I recently received the Picture Perfect game from Educational Insights. It's a great mosaic tile game for younger children. It comes with 16 picture cards, and one just happened to be a duck! We also did the fish and a few others as it is a favorite game of ours. A little tough for the Teeny Tot, but I would tell her to find a yellow tile and then when she did I helped her place it in the correct spot.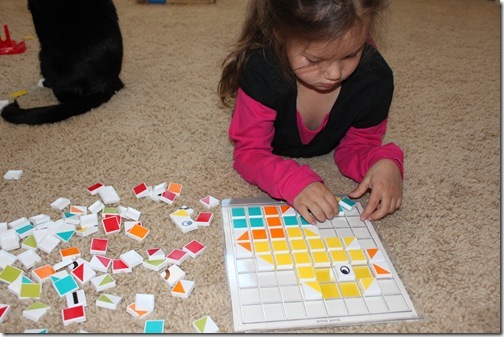 Bible Verse: Genesis 1:20-23
Then God said, "Let the waters abound with an abundance of living creatures, and let birds fly above the earth across the face of the firmament of the heavens." So God created great sea creatures and every living thing that moves, with which the waters abounded, according to their kind, and every winged bird according to its kind. And God saw that it was good.  And God blessed them, saying, "Be fruitful and multiply, and fill the waters in the seas, and let birds multiply on the earth."  So the evening and the morning were the fifth day.
Math: We did frog counting from my Pond Activity Pack. Tinker Bell helped her count the frogs 1,2,3 then find the right number to put on the board.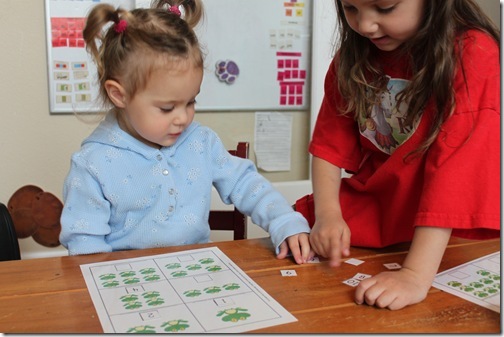 Movement Activity: Frog Hop, this was easy but so much fun! We had all the kids hop around like they were frogs. Even the older one's got involved, apparently frog hopping never goes out of style!  We also pretended to be little chicks hatching from eggs. Curl up into balls then tap one of the kiddos, once they feel the tap they can start to 'hatch' from their egg. Once they're out, they get to tap the next egg!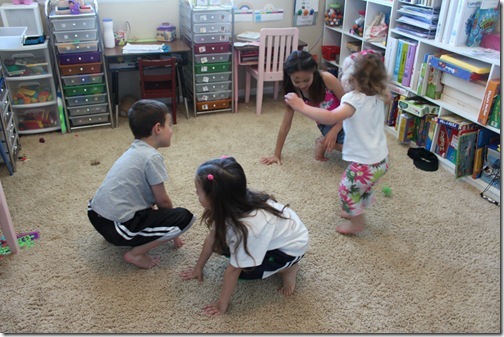 Duck Coloring: The Do-A-Dot markers are one of my Teeny Tot's favorite things, so of course I had to give her a coloring page to use with them!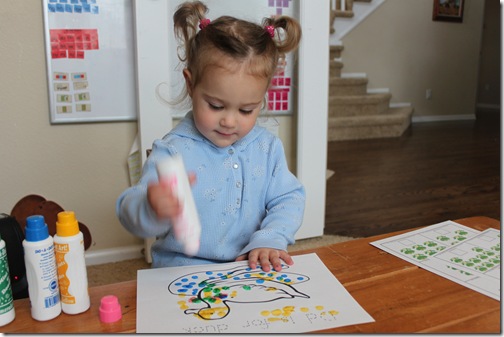 Duck Color Puzzles: The Teeny Tot got some more help from her big sister for this game. Together they put the matching colored ducks on the color word grid. She did great!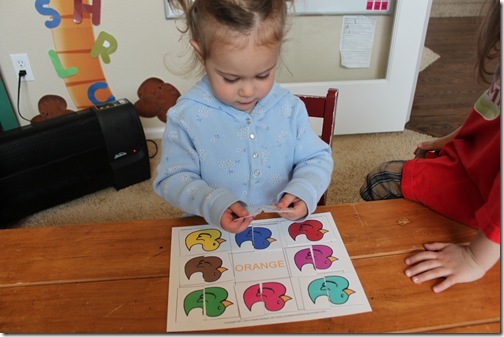 Scissor Skills: Well finally I did it. I gave her a pair of scissors and let her have at it. She loved it! Cut some, ripped some, cut some, ripped some…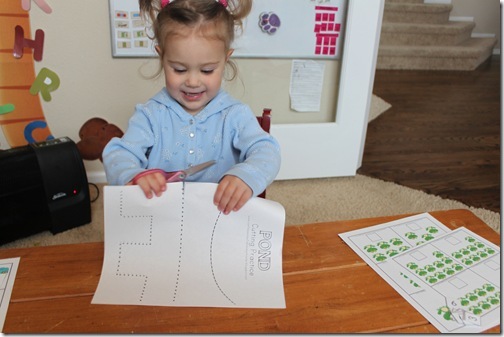 Pond Pre-Writing Practice: I have to say that I was really surprised at how well she did. Honestly I expected her to scribble all over these, but she actually tried to follow on the lines. She's a genius.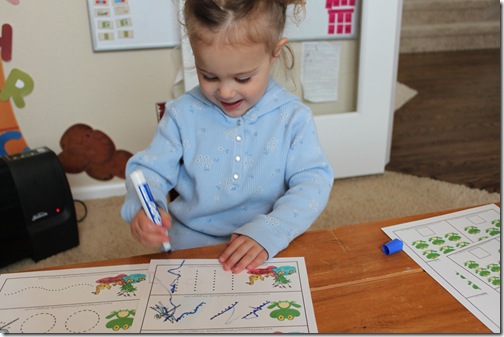 Paper Plate Duck: This is a super cute and easy craft. My friend Michelle at Delightful Learning
Supplies:
Yellow and orange construction paper
yellow paint
pencil
1 paper plate.
Directions: Click here for step by step directions to the paper plate duck craft!
(Photo courtesy of Delightful Learning)
Video: We watched this cute video of a Duck Pond from National Geographic. It starts with the baby chicks hatching which my kids loved!
Reading: In the Pond by Anna Milbourne is a super cute sotry that follows a wriggly tadpole as it grows up and discovers all the fun animals found in the pond.
Shapes and Color Matching: A friend gave us the  Lucky Ducks Game awhile back and the kids love it! Unfortunately it's really loud and annoying, but like I said, they love it! It's like a memory game that they play. The ducks move around the game board quacking and you have to pick up one, look at the bottom, then try to find another one with the same color and shape as the one you picked up. The Teeny Tot didn't quite get the goal, but she did have fun looking at the ducks, we would just say the color and shape on the bottom of each one she picked up.
–>> Click here to download the Pond Activity Pack <<–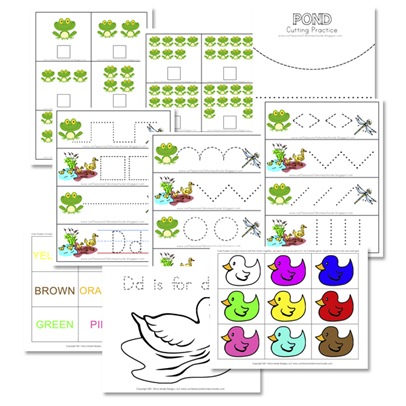 Hope you have fun!