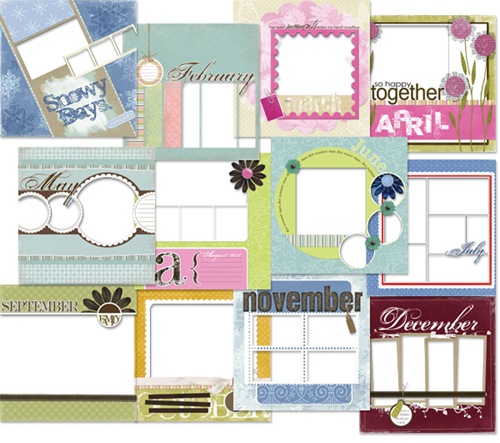 Each year I make printable calendars for the family as Christmas gifts. And each year, I share them with you all in the event you're looking for something easy, fun, and cute for your family as well! And since I'm still all cheery from the 12 Days of Christmas posts, I'm going to give them away for FREE!
Click here to download: (Sorry the files are large, so I split them into 3 downloads)
What's included?
8×8 – 12 Month Quick Pages in .png format (January – December)
Details: All files are 300dpi .png quick pages. This means that all you have to do is open the file, and insert your pictures and a little journaling if you desire and voila! You're done! (NOTE: You will need a software program that can open .png files to use these templates.)
I upload to my favorite printing shop to turn them into a calendar for family. And once the year's done, I cut the calendar pages apart and insert them into an 8×8 scrapbook to create a wonderful keepsake!
Here are some of my favorite places that you can upload your finished images and turn them into holiday gifts!
Not sure how to do digital scrapbooking? Here is a post on getting started with digital scrapbooking if you have questions.
Visit Erica Made Designs to see all of my digital scrapbooking supplies!