Hi everyone! I hope you are all having a wonderful year so far! We are, but man it's been cold here! Lots of snow today meant some fun outside, then some more fun inside! That means I'm very thankful for games like Morphology!

We started  the day off by scooping the snow…yeah right! I think a snow-blower is justified at this point.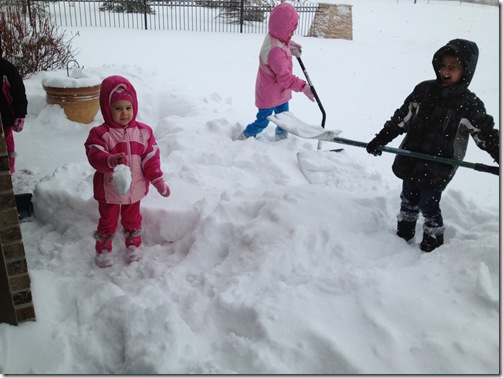 I lost my helpers about 2 seconds in due to the temptation of a snow fort…
Then we moved indoors for some hot chocolate and candy canes…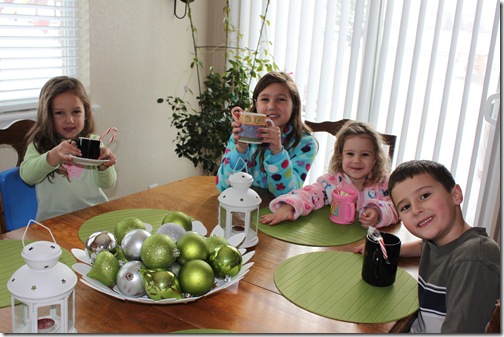 Then I realized it was the PERFECT time to review our new Morphology game!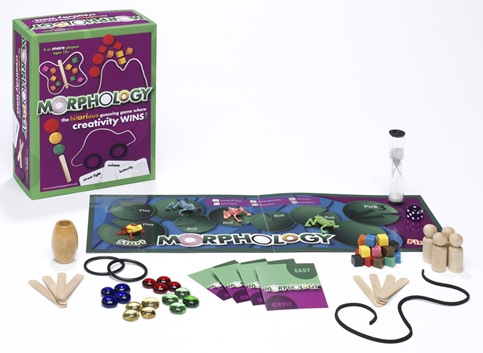 I have to say that I absolutely LOVE the concept for this game! It's basically like Pictionary, but instead of drawing your item, you have to create it using the items included in the game. It really fosters creative thinking skills and is something that the whole family can do together, like say for "family game night", or "it's cold out and the kids are driving you crazy day".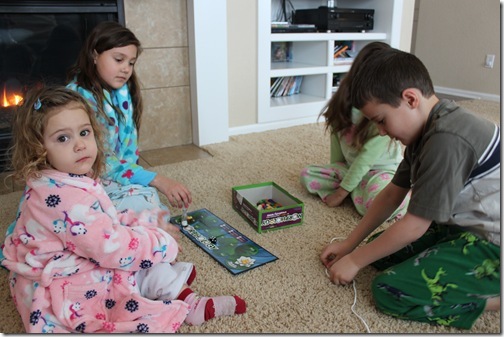 I would like to mention that this game was harder than I thought it was going to be, even cards marked easy were a little difficult, so I went through and sorted out ones that I thought the kiddos could handle since they're all 8 years and under.
They actually had a great time creating the objects, and I was impressed with their building skills as well! I love that they had to be creative to create their card, and it was fun to see them try to use the items to do it. Another great thing about this game is that it's fun for both the builder and the guessers which allows everyone to have fun at the same time!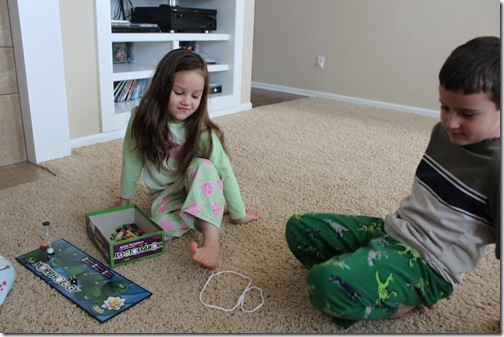 What are the rules? (In a nut shell) Pick a card, then create your item  and hope your team members guess it before the timer runs out!

Making it more fun:
Some spots allow you to use all the items you want to, but when you land on a lily pad that says "roll" you have to roll the die to see what restrictions you'll have.
Everybody plays (each team chooses a card and whoever guesses their object first wins)
Build with your eyes closed
Weak hand only, for my kids this meant they had to build with their left hand only.
String only
Pick 5 objects only
Interception, you can use all pieces, but if your team doesn't guess your item, the other team has a chance at it!
Along with a game board, here are the building objects that the game comes with:

One of our first cards was a cow. Tinker Bell actually guessed this one!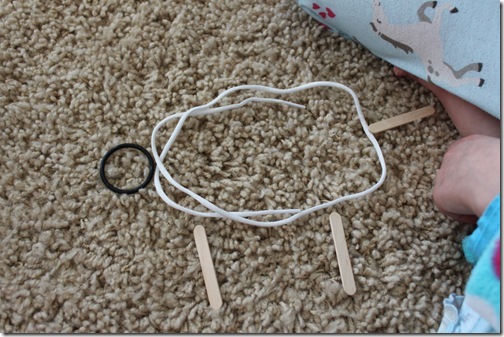 A baby…this took a little longer, and I'm uncertain as to why Turbo decided to cover the baby in sticks, maybe as a blanket?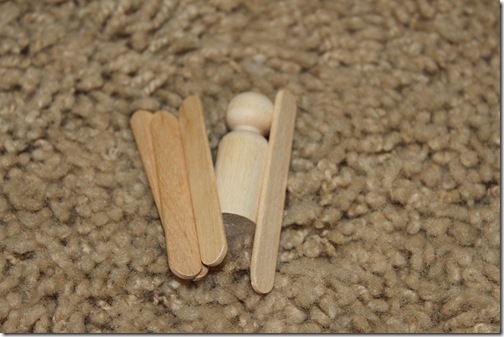 Strawberry Shortcake had to build her lollipop with her eyes closed, she did a great job, and Tinker Bell guessed it.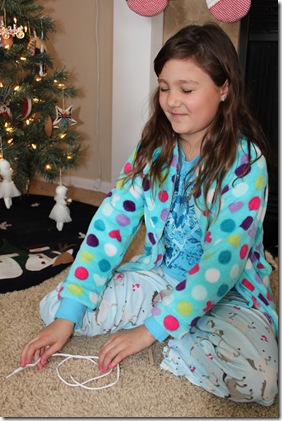 Turbo had to do the "string only" one and did a tree, we didn't guess it, but I thought he did a pretty good job with just the string.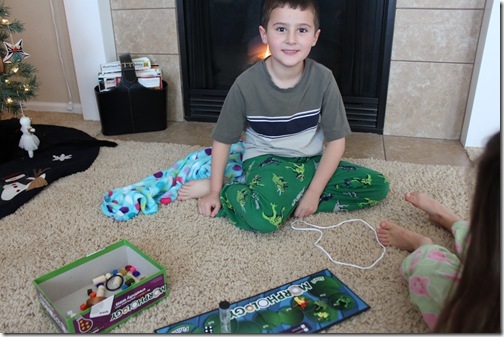 This one is a mop by Tinker Bell and Strawberry Shortcake guessed it: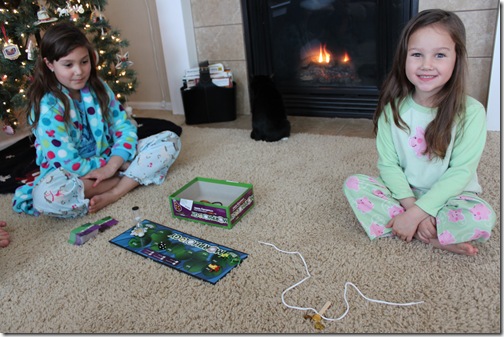 One SMALL complaints:
I read other reviews of this before we started and I have to agree that the string included in the box isn't great. It comes with a short black string that's fairly stiff and didn't hold it's shape very well. Instead the one you see in our pictures is a white shoelace that I grabbed from our lacing cards. It's a little longer and more flexible which helped quite a bit, so if you do grab this game I'd suggest getting a piece of yarn or shoelace to use, but that was my only complaint. Otherwise we absolutely LOVED this game, and the kids even asked if we could bring it with us when we go to Nana's house so we can all play together!
Our final thoughts:
All in all this one got a unanimous "thumbs up" from the kiddos over here at Confessions! It was really fun for both the builders and the guessers which made it a great way to get everyone involved.  This game is geared for ages 13 and up, but Tinker Bell did fine and she's only 5. Actually she was one of the more creative in her building skills! The Teeny Tot didn't really play, but then the kid is only 3, and she was more interested in stealing the frogs (the game pieces) and trying to play with them.
I also have to say this is a WONDERFUL game for boys! Its perfect for their innate interest in building things out of random objects. After we were done Turbo spent about another 15 minutes just building things for fun.
Want more information?