Hi everyone! I've had a ton of requests for a Jelly Roll Rug tutorial and so I've partnered with Roma Quilts to bring you this fun and easy tutorial along with my tips for sewing the Jelly Roll Rug!
Watch my Jelly Roll Rug Tutorial here!

I used 1 Full Jelly Roll and the finished size was approx. 29″ x 44″. But you can use more or less strips depending on what size you want your rug! This pattern is super customizable 🙂
Tips:
Wavy or bowing Edges: If your edges are wavy you are probably too loose when attaching your new strips. If your rug looks more like a bowl than a rug you are pulling too tight when adding new rows. Try to keep an even tension as you add each new row onto the rug, this will help your rug lay flat.
Remove the rug from your sewing machine every few rounds and PRESS it and allow to cool flat, then continue on. This will help your rug keep its flat shape.
Place an extension table on your machine so that your rug is laying flat as you add your rows.  You can also use books and other objects to keep your sewing surface flat as you work.
Washing: You can wash your rug by hand or in a washing machine on cold water and delicate if you have that option. Lay flat to dry.
Supplies:
My Sewing Machines: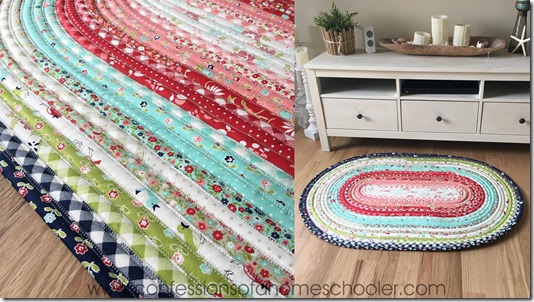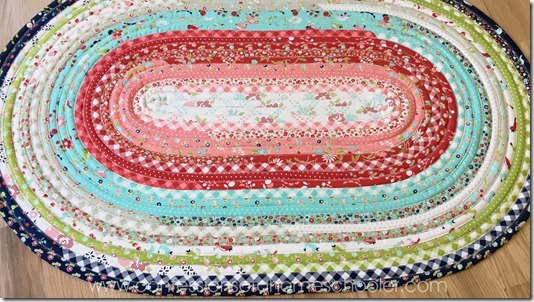 I hope those tips help and I would love to see your projects! If you post them on social media make sure to tag Roma Quilts and myself on Instagram so we can see what you've made!
Note: I've had so many questions about the quilt on the wall behind me! The barn blocks are from Lori Holt's Farm Girl Vintage book, and the baby pig, cow, and cat blocks are Lori Holt as well and can be purchased from Fat Quarter Shop.