Hi friends! I have a super fun and fast project for you today! And there's just enough time to make it before July 4th!
My Vintage Glory Mini-Quilt is super cute and makes a great wall hanging or table decoration for Independence Day festivities! It's also the perfect size for placemats, a standard pillow, or you can chain 3 of them together for a cute table runner!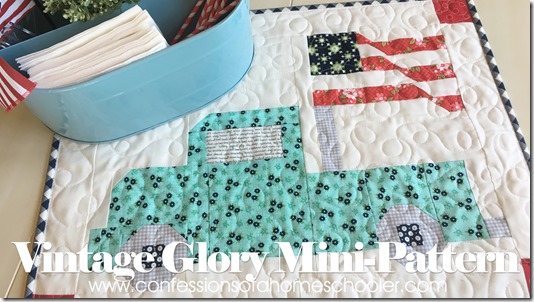 –>> Get the Vintage Glory Mini-Quilt pattern here! <<–
Fabric requirements are included in the pattern! This is a great stash buster as many of the pieces are small!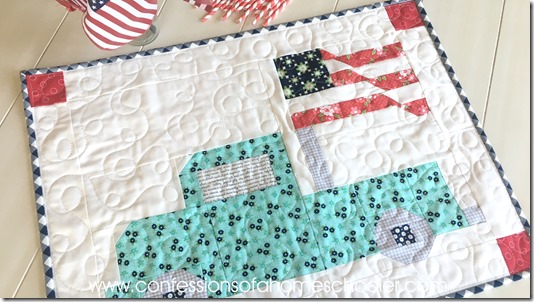 I used scraps from my Daysail fabric by Bonnie & Camille for the main part of the quilt, Moda 9900-97 for the white background, and then I chose a cute navy gingham binding from The Good Life by Bonnie & Camille. Next I did some fun swirly free motion quilting just for fun.
And that's it guys!
This whole project took me a couple of hours start to finish! So what are you waiting for? Grab your stash and get sewing!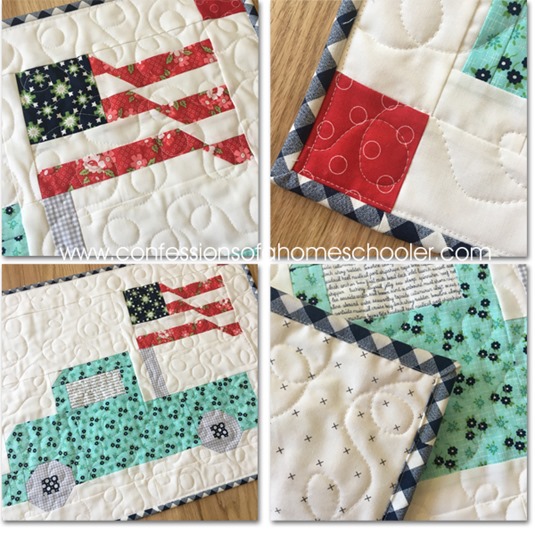 ALTERNATE IDEAS:
1) Placemats: Just skip the borders and this block is the perfect size for a placemat!
2) Table Runner: Sew three blocks in a row with sashing strips between for a fun table runner!
3) Pillow Top: Layer Vintage Glory block onto cotton batting and quilt as desired. Cut two pieces of fabric 28" x 18.5". Fold each piece in half so it measures 18.5" x 14.5".  Place quilted Vintage Glory block face down and then place both pieces of folded fabric onto the back of the Vintage Glory block so that the raw edges line up and the folds meet in the center and overlap by about 4". Run a basting stitch around outside edge just to secure and then bind as normal. Fill with standard sized pillow.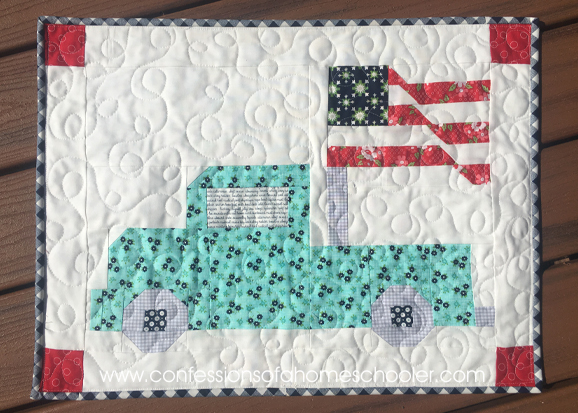 –>> Get the Vintage Glory Mini-Quilt pattern here! <<–
What do you think?
Are you interested in a full size Vintage Glory Quilt? I've been toying around with making a Vintage Glory Quilt pattern with my trucks and patriotic flags, but just couldn't decide if I should or not. Let me know if you're interested in a full size patriotic quilt in the comments below!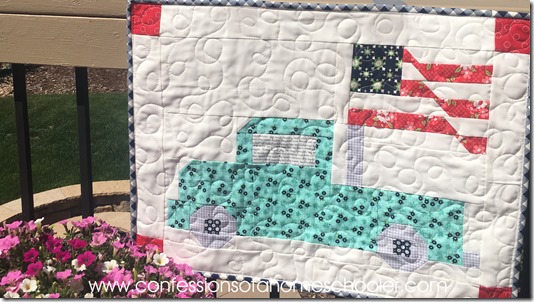 Need help finishing your quilt? See my quilting tutorials here: