Hi friends! I'm back with another video in my How to Quilt series. I hope you're enjoying these posts! Today I'll be showing you how to baste your quilt top and get it all ready for quilting!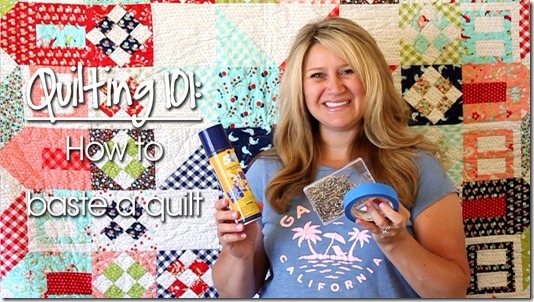 There are a few ways to baste a quilt top, today I'm going to show you how to pin baste and how to spray baste. Hopefully this will help you decide which method you prefer, and I'll share my tips for doing both!
Just to clarify, you do not need to do both methods at the same time. You'll either want to pin baste your quilt or spray baste. But not both. Unless you really really like basting.

I use my kitchen floor to baste my quilts because it's a nice large open area. But I've also seen people do this on their wall by pinning the quilt back to the wall which is probably better on your back!
Watch Quilting 101: How to Baste a Quilt
I hope you enjoyed that video and that it helps you out in your quilting journey!
If you just tuned in, here are my previous videos in my How to Quilt Series!
Here are a few more of my Quilting Tutorials online if you're just getting started:
To keep up with our shenanigans, feel free to follow me:
Win it!
Fat Quarter Shop is giving away a free set of Omnigrid Scissors to one of you! Enter below!
a Rafflecopter giveaway