Hey guys! I'm back with another fun video in my Quilting 101 series. Today we're talking all about fabric! I'm going to show you all about precuts and yardage, share what I like to buy. And then I'll share some of my favorite places to get my fabric too!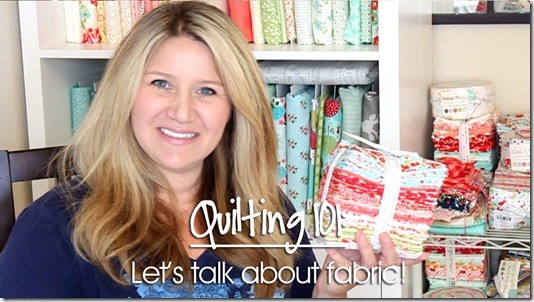 Fabric is one of my favorite things about quilting. It's also one of the most dangerous parts as there are so many fun lines out and they always have new ones coming too! If you're new to sewing or quilting it can be difficult to know where to start with getting fabric. But don't worry, you'll get the hang of it in no time!
And just a friendly PSA: fabric is addictive, proceed with this video at your own risk!
So let's get started with today's Quilting 101: How To Choose Quilting Fabric
I hope you enjoyed today's video keep reading for lots of quilty links!
For more information on some of my favorite fabric designers and places to shop check out this post!
How to Get Started Quilting: All About Fabric
Here are a few of my Quilting Tutorials online:
Here are some of my favorite shops:
Here are my favorite Instagram hashtags to follow:
Here's a crash course on precuts:
Fat Quarter: Fat quarters are usually 18" x 22'' fabric cuts.
Fat Eighth: These are half of a fat quarter, so they measure 9" x 22".
Layer Cake: (a.k.a stackers) 10" x 10" square fabric cuts.
Charm Pack: 5" x 5" square fabric cuts.
Candy Packs: (a.k.a. mini-charms) 2.5" x 2.5" square fabric cuts.
Jelly Roll: 2.5" x approx. 42" strips. They are usually the length of the width of fabric (WOF).
Honey Bun: 1.5" x approx. 42" strips (WOF).
Dessert Rolls: 5" x approx. 42" strips (WOF).
Honeycombs: These are newer to the precut world and are 6" hexagon precut shapes.
Turnovers: These are triangle shaped precuts. Currently they come in 10" and 6.5" half square triangles.
To keep up with our shenanigans, feel free to follow me:
GIVEAWAY TIME!!!!
Now for the fun part! Fat Quarter Shop has generously offered to sponsor today's giveaway!
We're giving away 1 Fat Eighth bundle of North Woods by Kate Spain for Moda!
Make sure to enter the raffle copter below to enter to win!