Good morning! I hope you've enjoyed my How To Quilt series! I hope these posts have been helpful for you. Today I'm so excited to share the final part in my series, fabric. I've also added a section at the end of this post full of helpful links, websites, tutorials and more to help you get going!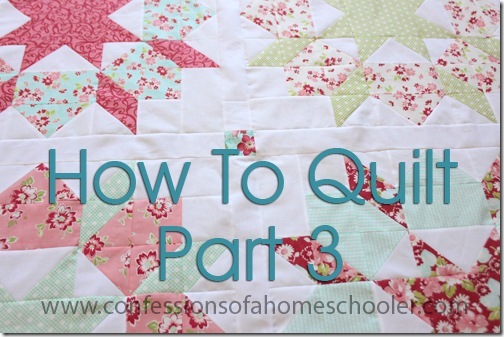 But first let's talk about the fun stuff, fabric!
I warned you before that this was probably the most dangerous part of quilting. The fabric out there these days is to die for! And I've already gathered enough to keep me busy for the remainder of the year, possibly even next year. And it's what, April? Yeah. Probably time to start sewing up my stash for sure!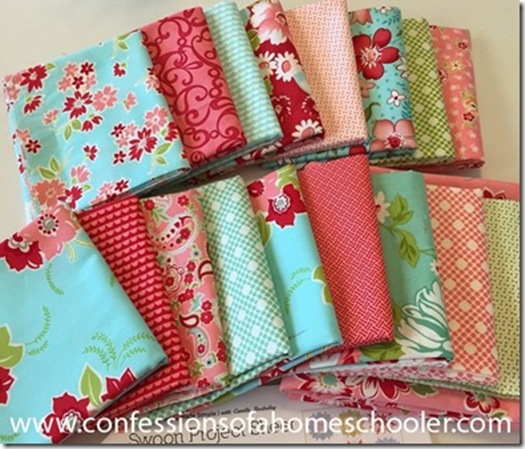 (Above pictured fabric is a mix of Bonnie and Camille for Moda lines)
I quickly discovered a very large variety of quilting fabrics available to have fun with! There are so many lovely patterns, colors, manufacturers, and designers that it was like eye-candy heaven! Instagram has been a huge source of inspiration as well as quilting ideas, so if you're at all interested, I highly suggest that you get an Instagram account, and then do some searches. You'll quickly discover that there is a huge community of amazing quilters on Instagram, and their feeds are full of inspiration, ideas, and just good old fashioned eye-candy! Here are my favorite hashtags to follow:
Once I had an idea of what fabrics I liked, and even some patterns I thought I'd like to try, I started looking for local quilt & fabric shops as well as online quilting shops. Here is a list of places that I like to buy fabric from to help you get started.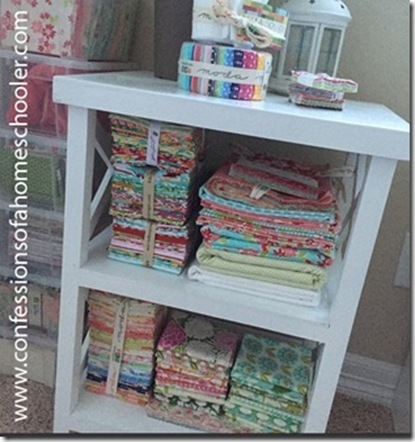 Where to buy fabric:
Etsy is probably my favorite place to find fabric. Etsy stores tend to have fabrics that you won't find in places like JoAnns, Hobby Lobby, and local quilt shops. It helps if you know what you're looking for, but a simple search for fat quarter bundle, or Moda Fabric will yield a ton of results from etsy shops.
Fat Quarter Shop is a great place to get the most recent fabrics, patterns, and notions. They also offer a monthly subscription box full of goodies called the Sew Sampler Box! It's a great way to get your hands on current fabric and notions if you are new to quilting!
Instagram. Yes, I said Instagram. I know it sounds crazy, but a lot of Etsy store owners and sewers like you and me post fabric for sale on Instagram. You can often find out of print fabrics, good deals, and hard to find fabrics by searching for the hashtag #thegreatfabricdestash. I just suggest you are careful when purchasing, take a look at the seller's Instagram account to make sure that they are a legitimate person. I've never had any issues, but I usually make sure the seller has several posts, followers, and aren't a brand new account with no posts. Sales on IG are usually done via PayPal an the seller should send you an INVOICE, not a request for money. The Invoice protects both parties in the transaction as an exchange of money for goods.
Local Quilt Shops. We have a few great local quilt shops in our area, and they're fun to browse around. I will say prices there are a bit more than what you'll find online, but it's always nice to support local businesses.
Missouri Quilt Co. has daily fabric deals. and fun notions as well.
Fat Quarter Shop has great fabric, but her prices can be a little more than you'll find in other online stores.
LadyBelleFabrics is another one of my favorites. She is on Instagram as well, and has awesome prices and super fast shipping too!
What size fabric do you buy when quilting, and what the heck is a precut?
When getting started quilting, I would suggest that you buy fabric one project at a time. Find a pattern you like, then gather fabrics based on the requirements for that project. You'll soon develop a stash of left over fabrics, and scraps that you can use in later projects.
If I see a fabric that I love, but don't have a project in mind for, I normally get a fat quarter  (18" x 22") if it's for a quilting project, or a 1/2 yard if I think I might want to make something else out of it. They're fairly inexpensive cuts of fabric, and go a long way in quilting projects!
Precuts are fabric that are pre-cut to certain sizes to help make your process easier. Not only are they super cute, but they're time savers too! Precuts are a bit more pricey than buying by the yard, but for quilting I find that they're nice to have.
Precut bundles typically include 1 piece from each pattern in a fabric line, so you get a nice variety of coordinating fabrics. Depending on the brand there will be anywhere from 18-42 pieces of fabric in a bundle.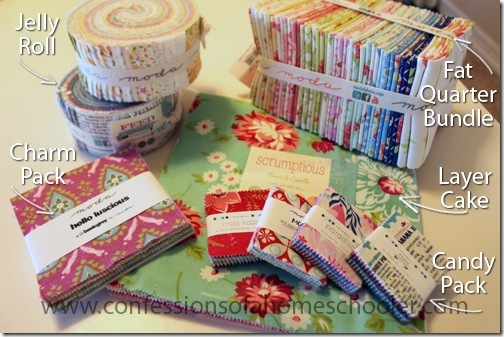 Here's a crash course on precuts:
Fat Quarter: Fat quarters are usually 18" x 22'' fabric cuts.
Fat Eighth: These are half of a fat quarter, so they measure 9" x 22".
Layer Cake: (a.k.a stackers) 10" x 10" square fabric cuts.
Charm Pack: 5" x 5" square fabric cuts.
Candy Packs: (a.k.a. mini-charms) 2.5" x 2.5" square fabric cuts.
Jelly Roll: 2.5" x approx. 42" strips. They are usually the length of the width of fabric (WOF).
Honey Bun: 1.5" x approx. 42" strips (WOF).
Dessert Rolls: 5" x approx. 42" strips (WOF).
Honeycombs: These are newer to the precut world and are 6" hexagon precut shapes.
Turnovers: These are triangle shaped precuts. Currently they come in 10" and 6.5" half square triangles.
Get Started Quilting Tutorials & Websites:
So how did I get started? Honestly I stumbled on a quilting video while searching for something on YouTube. I was caught up in how cute the quilts are now, so I started browsing around for more quilting videos. After watching several tutorials I thought "Hey! I can do that!" And decided to give it a try.
My first quilt was the Pink Pig Rag Quilt that I made for Tinker Bell. I wanted to start off with something easy, and honestly I think the rag quilt is the way to go. It's nice and forgiving so if you don't cut quite straight, or your seams are off a little, no one will really notice. It's just a basic square patchwork quilt and is super easy to put together!
My best advice when you're starting out is to surf around on YouTube and check out all of the quilting videos. They're extremely helpful and take a lot of the scariness out of quilting! Here are some of my absolute favorite channels to get you started!
I've also check out some great quilting bloggers and books as well. Here are some of my favorites, but I'm more of a visual learner so I prefer watching how-to videos, but if you're more of a reader I think you'll find these resources helpful too.
Quilting Patterns:
There are many online videos and downloadable patterns for you to choose from when quilting. You can purchase patterns online, and often find free ones from your favorite quilting and blogging websites!
If you're just getting started, I suggest downloading an easy/beginner level PDF pattern to get started. The patterns will tell you how much fabric you'll need, and even suggest pre-cuts that work well with their patterns to help save time. I will say that the patterns made much more sense to me AFTER I watched several videos. They can be a bit intimidating if you don't know the common quilting terms (see above). Or if you're unsure of certain techniques.
I would highly recommend watching some of the above video suggestions before starting to help you understand the various techniques needed to begin.
Popular Quilting Terms:
When I first started, I felt like I was learning a new language! So I thought I'd leave you with some commonly used abbreviations that may help alleviate some confusion when getting started!
FQ = Fat Quarter
FMQ = Free motion quilting
HST = Half Square Triangle
WOF = Width of fabric
LQS = Local quilt shop
OOP = Out of print (Used to refer to older fabric lines that are no longer in print.)
BOM = Block of the month. These are usually clubs you join where you create a block each month, and end up with a finished quilt top at the end!
LAQ = Long Arm Quilter. Usually referring to the machine itself, or a person who quilts using a long arm machine.
WIP = Work in progress
UFO = Unfinished object
If you are inspired to create after reading this, make sure to post your pics and tag me on social media so I can see what you all create!
Now that I've probably overwhelmed you with information, head on over to my blog for some detailed posts on my quilt projects! You can also check out my sewing tutorials on my YouTube channel, and keep up with all of my crazy projects on my Instagram account! And as always you're welcome to email me if you have any questions!
Happy Quilting!