Good morning everyone! I've been so excited about how many of you are interested in quilting. I'm trying not to overwhelm my blog with pictures, so if you're interested in keeping up with me make sure to follow me on Instagram.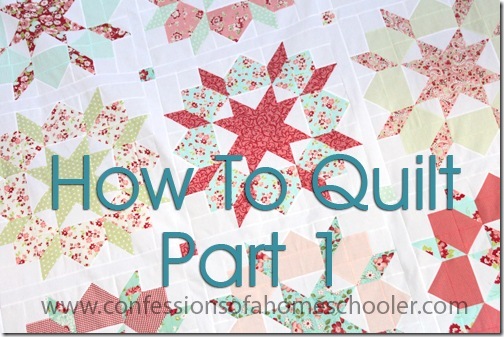 I've had a ton of questions asking how I got started quilting. And I want to say that I'm still new and learning, but I thought that might be a great time to tell you all how I started while it's still fresh in my mind. I apologize, this post got a bit long, but I wanted to give you as much detail as I could to get you started!
The second thing I wanted to tell you is that quilting is only as difficult as you make it. And YES! You can do it! I recommend starting off with easier patterns, then challenge yourself as your skills develop. But we'll get into that later on.
Let's start off with supplies. I like supplies. Especially when they're as pretty as these!
Supplies: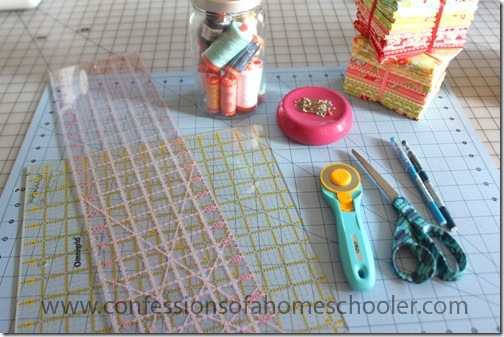 The supplies you'll need to get started are actually pretty minimal. Here's a list of things that I think you really should have before starting. Just for fun I also added in some "nice to haves", but that aren't critical to the process.
1. Cutting Mat: I highly suggest you get a self-healing cutting mat. You can find them online as well as in most crafts stores. I will say that they can be kind of expensive. I recommend using a coupon at JoAnn's, or I've also found great prices on Amazon as well. I have this Fiskars 18"x24" light blue mat that I purchased on Amazon for $16.10. It's a nice size, not too large, but not too small.
Nice to have: I also have  this Fiskars Yellow 14"x14" rotating cutting mat. I purchased mine from Walmart for $24. This isn't required by any means, but it is really nice when squaring up blocks, or trimming edges because you don't have to move your ruler or fabric, you just spin the mat itself. This helps with keeping everything straight. And honestly I often spin my larger one around on the table as well so that it's facing the proper way for me to trim.
2. Clear Acrylic Ruler: You'll also want something to measure your fabric with. I have a couple of rulers that I use often, and this really is a necessity for quilting. My favorite one and most used is the Creative Grids 6"x24" Acrylic Ruler. I use this one the most often just due to the length.  The second most used ruler is my 12.5"x12.5" Omnigrid Ruler. This one is great for squaring up blocks, and I also use it for trimming when I'm working with smaller fabrics.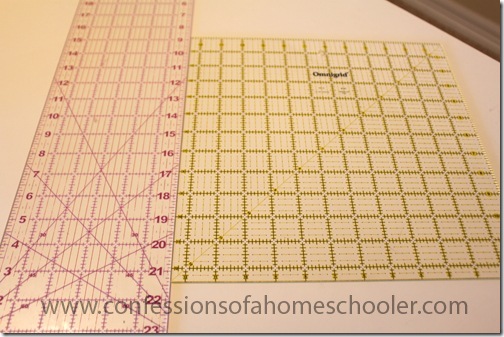 Nice to have: I have a few other sizes, a 7.5"x7.5″ Omnigrip Quilting Ruler, a triangle ruler, and a Missouri Star Dresden Plate ruler (which I love) but they're all nice to have's and not critical until later when you might need something a little more specific.
3. Rotary Cutter: Another item on the "need" list is a rotary trimmer. I recommend the Olfa Splash  45mm Rotary Cutter. I've tried a few different brands and I absolutely love this cutter! The blade glides nice and smoothly, and it cuts like butter! Of course you can always go 'old school' and bust out the scissors to hand cut. But honestly I can't imagine long it would take, and I think you lose some accuracy that way too. And who has time for that anyway?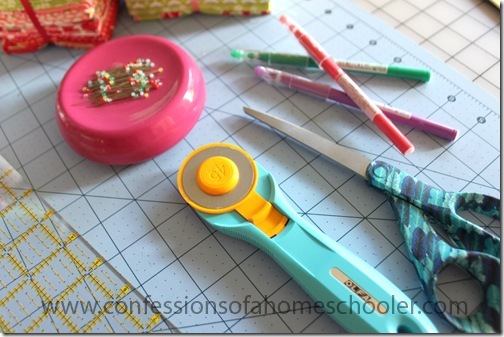 The Olfa Splash has a little yellow case to enclose the blade when not in use. It's definitely a must as these blades are very sharp!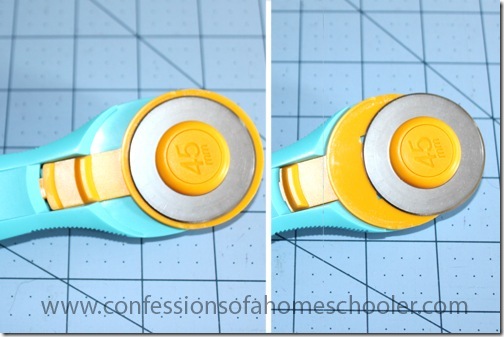 4. Seam ripper: No one likes to un-sew. But really it happens to all of us. Just get one.
5. Thread: You can't quilt without thread! I suggest a decent cotton thread for quilting. Since I'm normally using cotton fabric, I just think it works better for washing, shrinkage, and overall consistency. So I stay away from polyester threads, but it's your personal choice.
My favorite thread right now is Aurifil 50wt natural white. I tend to stick with white just because it seems to go with most fabrics, and I typically use white as my background. But you'll want to use a color that goes with your fabric. Aurifil can be a little pricey, so I usually look for sales on Amazon, and I purchase the larger spools (1421 yds). They last a decent length of time for the amount of thread that goes into piecing and quilting a quilt!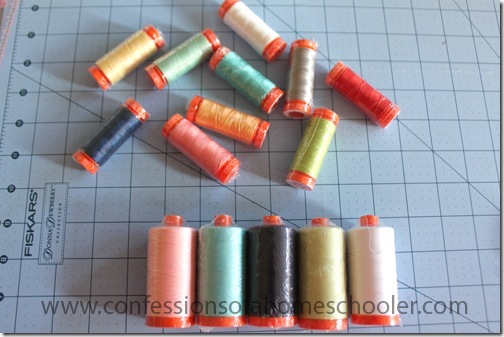 So those are the very basic supplies you'll need to get started. Of course you'll also need a sewing machine, and some lovely fabric. But those are posts all on their own!
So stay tuned next week for part 2 of How to Get Started Quilting, where I discuss how to choose a sewing machine. Then the next week I'll wrap it up with part 3 where we get to talk about fabric and lots of online inspiration, tutorials, and quilty goodness!
Until next time!