Last week I shared How to Get Started Quilting Part 1 with you. The post got rather long, and so I decided to split it up into 3 parts.  Part 1 is your basic supply list, part 2 is going to be about sewing machines. Then next week part 3 is where it gets fun. We'll take a look at fabric as well as online tutorials and inspiration!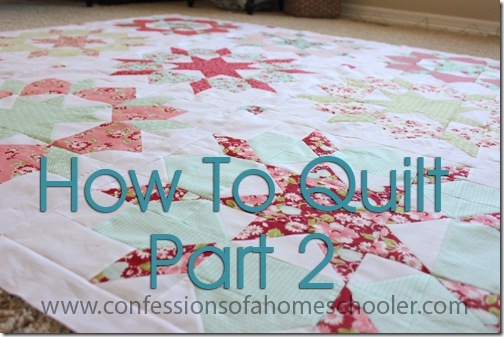 So let's review the basic supplies you'll need that we talked about last week.
1. Cutting Mat
2. Clear Acrylic Ruler
3. Rotary Trimmer
4. Seam Ripper
5. Thread
Today we're going to discuss sewing machines as well as some online inspiration that helped me get going! It's number 6 on my list, and it's the sewing machine.
Sewing machines
For me this is indispensible! I know a lot of hand quilters out there, and God bless you all for your patience! Me, not so much. I find my sewing machine to be a sanity saver, plus I'm usually in a hurry and the thought of hand stitching an entire quilt gives me the heebee-jeebees!
I recently purchased a Juki G-210, and so far I love it. But you honestly only need a very basic sewing machine to quilt. I suggest one with a good straight stitch, and maybe a zig-zag stitch for fun. But 90% of your quilting will be using a straight stitch. All of the other fancy stitches that come on machines these days don't get used as often in quilting.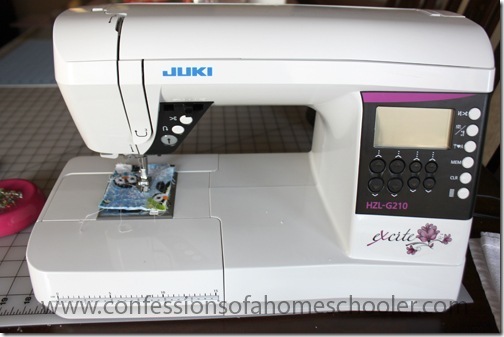 I started out on my grandmother's machine. It was a Dressmaker that she purchased in the 70's. Honestly that thing was a workhorse, and after reading the manual I realized that it could've done all that I needed for quilting. However, it was Christmas time and I had already talked my husband into a new machine, so I started checking out all of my options.
After researching machines I ended up going with the Juki G210. It was a bit more affordable than a Bernina, and seemed to have fairly decent reviews. I also read quite a bit of positive things about Juki as a brand and so far I will say that I'm fairly happy with it. I have only had a couple of issues with the bobbin, but after talking with the store, I learned that it had to do with my top thread not properly threaded. Now that I know how to do that, I haven't had any issues and I've done quite a bit of sewing on it since November 2014! Yes, my husband let me open my present early. What a great guy no?
If I hadn't purchased the Juki, my back up choice was the Janome Magnolia. It was quite a bit less expensive, had good reviews, but a small throat area. So I decided against it. But overall I read good things about the Janome brand. We'll talk more about those machines in a bit.
What's the best sewing machine to start with?
That's a question that I didn't find a good answer to after hours/days/weeks of research. But after more searching than I care to remember, I did compile a list of things that I knew I wanted then started looking for machines to fit my needs. Here are some things to consider:
Price
Reliability
Ease of Use
Portability (If you plan on taking classes)
If you start looking around, you'll find that there are tons of different brands available to you, and there are tons of different opinions on which ones are best. Reviews showed Baby Lock, Janome, Bernina, Husqvarna Viking, and Juki to be some of the top brands for quilting.They are a bit more expensive than other brands, however most are built for work, and include metal parts which help make the machines last longer. And as with anything I think you'll find a wide range of price options available. Let's talk about a few of them.
Top of the line.
The Bernina's are like the Ferrarri of the sewing world. They're amazing machines, and I couldn't find a bad review on one despite my searches. They are however very expensive, even older models. If you have your heart set on one, you might consider searching eBay or Craig's List to see if you can find a used machine for less. Bernina's typically sell for a few thousand dollars depending on the model. But keep on eye on features, as I think you'll find that you pay more for less features when looking into Bernina.
Husqvarna and Babylock are also great machines, but again, prices are steep. They're well made, and had great reviews as well, but were just out of my price range. I did find some great reviews on the Husqvarna Emerald machine. It's not a fancy machine, but can definitely do what you need when quilting. It came highly recommended, and retails for around $300.
Middle of the road.
There are plenty of middle of the road machines out there that are affordable an include nice features as well. This is where I decided to spend my efforts. I wanted a machine that fit my budget, but that I thought would last me for awhile too. Juki and Janome both seemed to have some affordable machines with excellent features.
The deciding factor for me ended up being the throat size (distance from the needle to the right side of the machine) and automatic thread cutter. I also saw several online videos showing the Juki could handle thick layers of fabric without trouble.  I originally wanted the Juki G-110 because it was less expensive than the 210, however the 210 came with an automatic thread cutter. And after making my first two quilts on my old machine, I decided that it was worth the extra money to get a thread cutter. And yes, after months of sewing, it was worth it. If you don't mind cutting your own thread, skip this feature and save the money for some yummy fabric!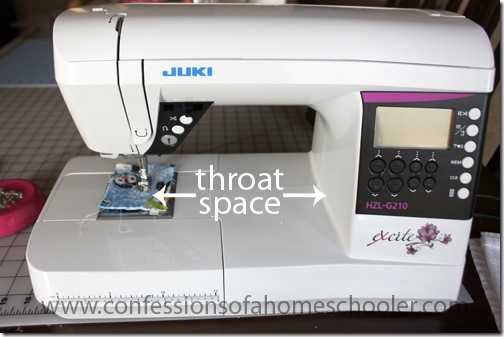 Bottom of the line.
I ruled out the Singer and Brother machines because the ones I found were made of mostly plastic parts. The reviews mentioned that they didn't last as long and had troubles sewing through thick layers of materials. I always thought of Singer when I thought of sewing machines, and there may be good ones out there. However most reviews I found were less than satisfactory. And I can still remember my mom's Singer constantly jamming up. So I chose to stay away from those brands for quilting purposes. But that is just my 2 cents!
That said, if you have a younger sewer like I do, you may still want to go with something like a Singer or Brother as they're less expensive and are good for starters.
My girls both received Brother XM2701 machines for Christmas, and while they're great for the girls, I wouldn't want to use it for any serious quilting. They are easy to use, lightweight, and have nice beginning features including a needle-threader, thread cutter, and drop-in bobbin loading. We found them for about $80 each on Amazon.
However, they don't sew very accurately, to me they feel a little "squirrely". They're also very lightweight, which means they can't handle sewing through thick layers of batting and binding. And honestly I don't think they'd last too long with any amount of heavy sewing. So while I recommend them for younger beginning sewers, I wouldn't recommend this machine for quilting.
Manual Vs. Computerized
While computerized machines have some cool features, they also have more things that can go wrong with them. .They usually come with more options, and came make some tasks much easier with just the touch of a button. They can also be more expensive, and come with a learning curve. But that's nothing that can't be remedied by a quick read of the owner's manual!
Manual machines don't usually have as many options, but then as a beginner you might not need them either. Like I mentioned, for quilting you really only need a solid straight stitch, and possibly the capability to drop your feed dogs. This is especially true for younger sewers. Having a less complex machine is probably a better fit when teaching them how to sew.
Best Beginning Machines for Young Sewers
Brother XM2701 has been a good machine for our girls. It has a dial that they can use to select their stitch with. There are several different stitches to choose from, including the capability to do pant cuffs, blind hems, and decorative stitches. It is a little squirrely, and doesn't have a speed control, so my daughters have a little trouble with regulating speed, but they're getting better with that. They retail for about $80 on Amazon.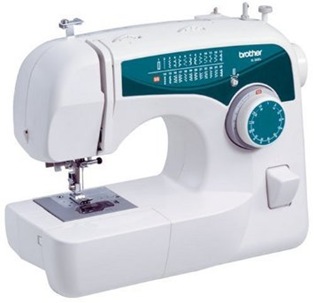 The Janome Magnolia 7318 sewing machine is a great machine however it is a bit more expensive at around $249. It has 18 pre-programmed stitches, button holes, adjustable feed dogs, thread cutter, and some come with an extension table as well. Reviews all say that this machine handles thicker fabrics like denim well and has good stitch quality too.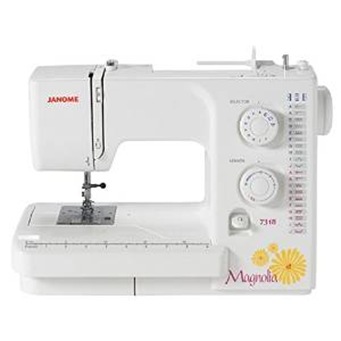 Quilting/Sewing machine features list:
Like I said, think about what you'll be using your machine for, then look for one that will fit those needs. If you want to quilt, sew, and possibly embroider that will dictate what you're looking for. I was looking for a machine for quilting, and also regular sewing projects. Here's the list of features that I suggest.
Metal Parts. They don't make 'em like they used to! My grandma's machine is all metal. By the weight of it, I'm thinking solid steel maybe! But seriously take a look at the machine parts when researching. Most inexpensive machines today are made of plastic. They're light weight, and don't hold up for very long. They might be less expensive to start with, but they won't last if you plan to stick with this new hobby and you'll find yourself looking for a new machine within a year.
Straight & Zig-Zag stitch. Machines now taut hundreds of fancy stitches which you really just don't need. I use my straight stitch 90% of the time, my zig-zag for applique an decoration, and then I've also used a wavy stitch for quilting my son's quilt. Other then that, you probably won't need 100 stitch choices unless you plan to do other sewing and want to embellish with them.
Automatic Thread Cutter. This is a nicety but I honestly can't tell you how thankful I am to have this feature! I use it all the time. ALL. THE. TIME. I actually made the decision to get the upgraded Juki just for this feature and I haven't regretted it one minute.
Large throat area. This is the distance between the needle and the right side of the machine. My machine has an 8" distance from the needle to the edge of the machine which is great. Think about how much fabric you will be shoving in there to quilt an entire bead spread, and look for one with adequate space.
Drop Feed Dogs. The feed dogs are those little teeth looking things that come up from the bottom of your machine and pull your fabric through. If you plan to do any free motion quilting, you'll want to be able to drop these. Although Leah Day one of my favorite free motion quilting teachers, quilts with her feed dogs up. So if your machine doesn't have this feature, you'll still be okay!
In conclusion:
So as I said before, think about what you're going to use your machine for, and then find one that will fit your needs. Consider price as well. If this is just a passing fancy, you may not want to invest hundreds of dollars. However, if you plan to stick with it, then I suggest getting a nicer machine that will last. That way you're not searching for a new one before the year is up!
And don't forget that you're also going to be needing some yummy material to sew up! So be wise when buying a machine, and save your money for the good stuff, fabric!
Stick around next week when we discuss some of said fabric! I will warn you ahead of time though, I've found fabric to be quite addictive! And my stash is growing faster than I can sew it!
Happy quilting!