Hi friends, I have a fun product to share with you today. I've been having fun with subscription boxes lately and since Miss Lady Bug doesn't get to review many of the boxes that come our way, I thought this one would be perfect for her to check out.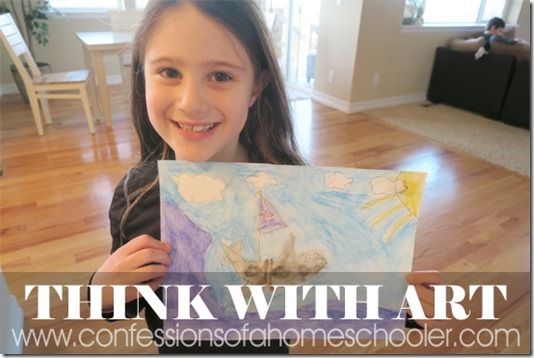 It's from the creators of Creation Crate, and they have a new Think With Art monthly box subscription that is geared specifically towards 6-10 year olds. The boxes are shipped monthly, as I mentioned, and include art supplies and detailed technique instructions.
The box came with a practice paper for Miss Lady Bug to try out the technique before working on her final project which was nice. It also includes a story booklet to follow the Think With Art character, Mr. Toffee, on his quest to get home. Each box includes a new story and new problem to solve using their art supplies and critical thinking skills.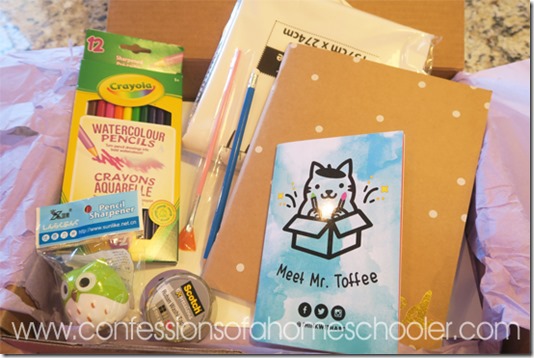 Your child reads the story and is then given specific instructions on what they need to create based on the contents of their box and the story plot. Next they are free to be as creative as they would like using their supplies and imagination.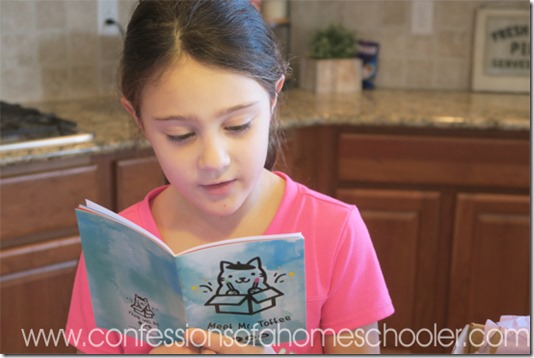 A few things we like about this box:
Everything you'll need for each month is included in the box.
New techniques are learned
The stories give your child a specific direction of what they need to create, however it's open ended enough that only they their imagination is the limit!
The boxes promote creativity and problem solving skills
This month's box had the Mr. Toffee story book, a set of water color pencils, brushes, a table cloth (thank you!), a sketch/paint book, some decorative tape, and a cute owl pencil sharpener.
She started out by learning about how water color pencils work, and they they gave her a few techniques to try to get a feel for them.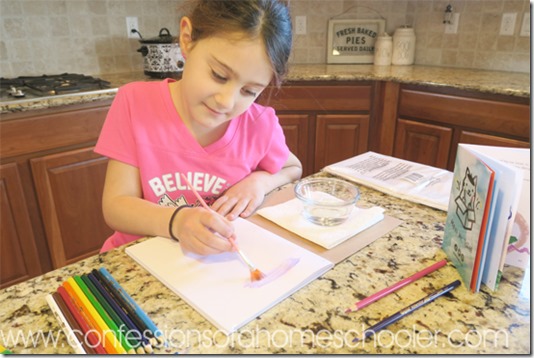 Once she was familiar with how the pencils worked, she learned how to blend the colored pencils together to create fun new colors.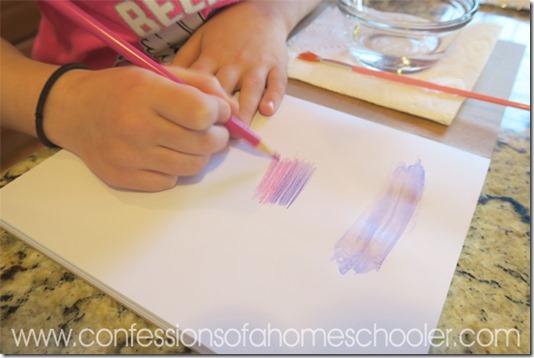 Here she's blending a few colors together to see how they look once painted.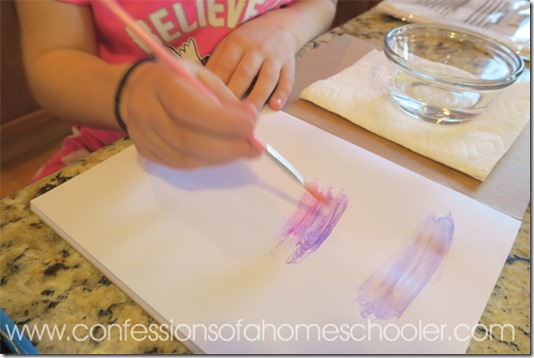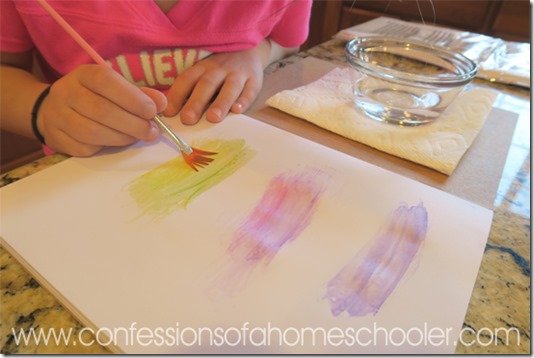 In this month's story Mr. Toffee was trying to get home, and Miss Lady Bug was directed to come up with a new way for him to travel that did NOT include a car, boat, or train. She did end up mixing them together to create a flying boat contraption. It might be breaking the rules since they said not to include the boat, but I think it' was still pretty creative anyway!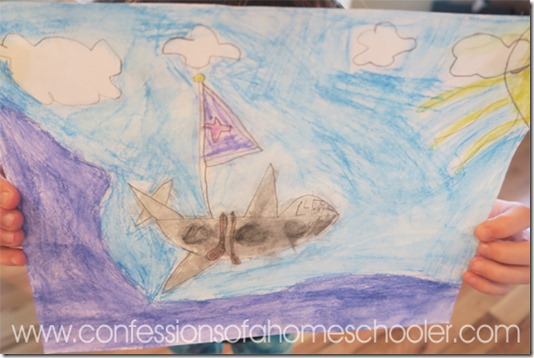 And here she is with her finished masterpiece. She was quite thrilled with her flying boat and I think she did a great job! I might also add that water color pencils are super fun, and if you haven't tried them yet I highly recommend it! You simply color a picture, and then go over it with plain water and a brush and the colors blend into watercolor like magic! Lots of fun!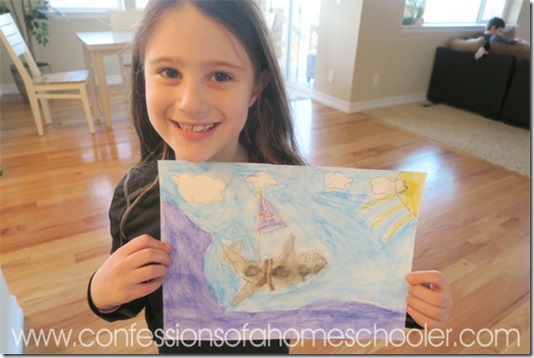 All in all we enjoyed this product. Miss Lady Bug was also a fan of the cool box that it came in and has since kept it as her "official art box" where she now stores all of her supplies. I also think she enjoyed getting something was was just for her since we tend to do things as a group here.
The boxes are $29.99/month, but there is a discount if you do a 6 or 12 month subscription. I also have a special discount for you guys! You can get a $5 discount off of your order, use coupon code: CONFESSIONS at check out!
Think With Art Overview

Ages 6 – 10
Problem-based learning
Focus on critical thinking skills
Exposure to different art mediums and techniques
Delivered monthly as a subscription box
Starting at $39.99 USD/month
FREE Shipping to North America with prepaid subscriptions
Want more info? Make sure to check out the Think With Art website.
Disclosure: This product was provided to use free in exchange for a review on my blog. The opinions expressed in this post are my own, and were not influenced by the company or free product provided.