Hi friends! Every year I do a mid-year curriculum review just to assess our curriculum choices, make sure we're on track, and that the curriculum is performing well for us. Mid-year is a great time to make any curriculum changes, start something new, and just freshen up your curriculum!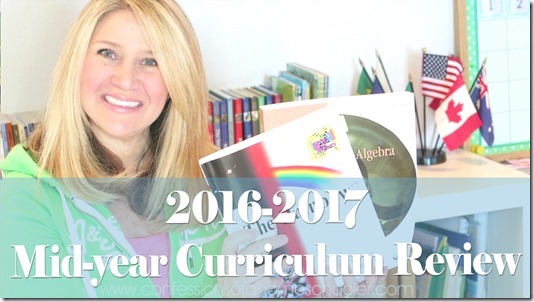 So far this year we've been really happy with everything we've selected, but we did change up one subject and I'm so happy we did! Find out what we changed, and how things are going for us this year in my 2016-2017 Mid-year Curriculum review!
Watch the 2016-2017 Mid-year Curriculum Review video here:
Click here for more information and links to the specific curriculum we're using this year!
Options: We also participate in a once a week options program through our local school district. They offer a variety of classes that help supplement our homeschooling. It also provides the kids with a fun day where they get to see their friends and participate in a classroom environment. Here is a list of her classes this year:
PE
Language Arts – We of course do this at home as well, but I'm finding that it's a nice supplement to what we're doing.
Science – they get to do fun things like experiments, dissection, electronics, and more.
Spanish
Music – Choir and basic instruments
Game Theory & Problem Solving
Robotics
Cooking
Extra-curricular:
This year Turbo and Miss Lady Bug are both playing ice hockey. And all four kiddos are swimming as well. Once spring hits we usually move over to golf, swimming, and inline hockey. So they stay quite active!
To keep up with our shenanigans, feel free to follow me:
Want to see more of my Tip Tuesday Videos? Make sure to click the image below to check out all of my homeschooling tips!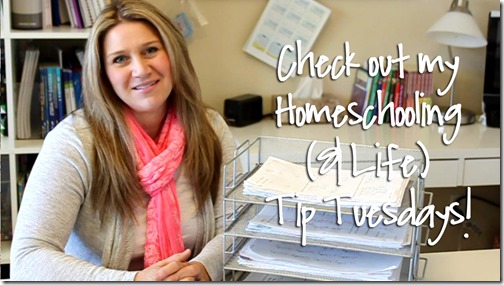 I hope this helps some of you out, I know getting started can be overwhelming! I wrote a book called Homeschooling 101 that will help answer all of your questions on how to get started homeschooling, choosing curriculum, creating lesson plans, etc. For more information on homeschooling check out my Homeschooling 101: A guide to getting started!