Hi everyone! Today I'm sharing our 2016-2017 7th Grade homeschool curriculum with you. We're making some changes around here this year, and I'll tell you all about it in the video!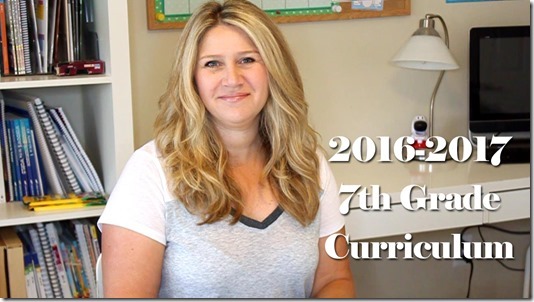 This year we're focusing on a little more independent work for my son. As they get into 6th, 7th, and 8th grades I think it's important for them to learn more independent study skills and scheduling his workload into manageable sections. We started introducing study skills last year and will continue on with that again this year.
So to see what my 7th grader will be doing this year watch our 2016-2017 7th Grade Homeschool Curriculum video here!

7th Grade Curriculum:
Options: We participate in a once a week options program through our local school district. They offer a variety of classes that help supplement our homeschooling. It also provides the kids with a fun day where they get to see their friends and participate in a classroom environment. Here is a list of his classes this year:
PE
Robotics
Game Theory
Choir
Disclosure: Some of the links above are affiliate links. I may receive a small percentage if you purchase items through my link, so thank you for helping to support my blog! That said, I do NOT recommend anything that we do not use in our homeschool.
Links mentioned in the video:
And that's it for our 7th grade curriculum line up this year! I'll try to do a mid-year update to let you all know how it's going. We're trying some new curriculum this year, so that's always exciting!
To keep up with our shenanigans, feel free to follow me:
Want to see more of my Tip Tuesday Videos? Make sure to click the image below to check out all of my homeschooling tips!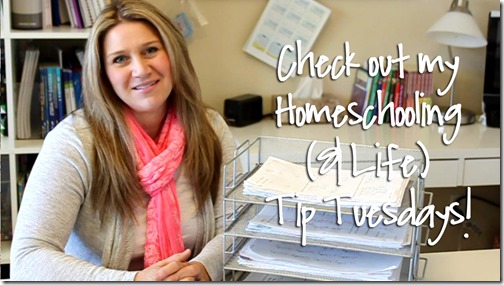 I hope this helps some of you out, I know getting started can be overwhelming! I wrote a book called Homeschooling 101 that will help answer all of your questions on how to get started homeschooling, choosing curriculum, creating lesson plans, etc. For more information on homeschooling check out my Homeschooling 101: A guide to getting started!