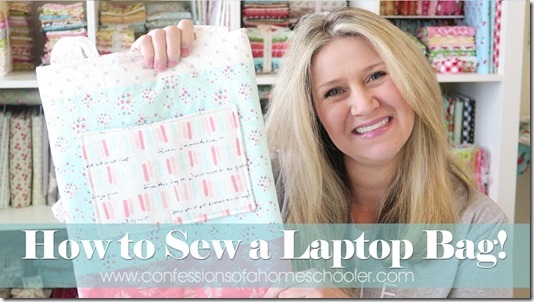 Hi friends! I have a fun beginner friendly sewing project for you today. I'll be showing you how to make your own laptop bag! This project is super easy and really fast to make. You can also use this same tutorial for just about any size bag you'd like to make. It's great for iPads/tablets, notebooks, laptops, journals etc.
Scroll down to see cutting instructions and measurements for the exact bag I'm making, I have a Windows Surface Pro, and my finished bag size is 11″ x 13.5″. You'll want to measure your laptop, notebook, or tablet and create measurements that fit your needs.
Measure your laptop as follows:
Width + 2″ + depth
Length + 2″
(NOTE: If you're making your bag for a tablet or something extremely thin don't worry about measuring depth, just add 1" to the width instead of 2".)
Create 2 pieces that fit the above measurements for the front and back of your bag and sew them together as shown in the video.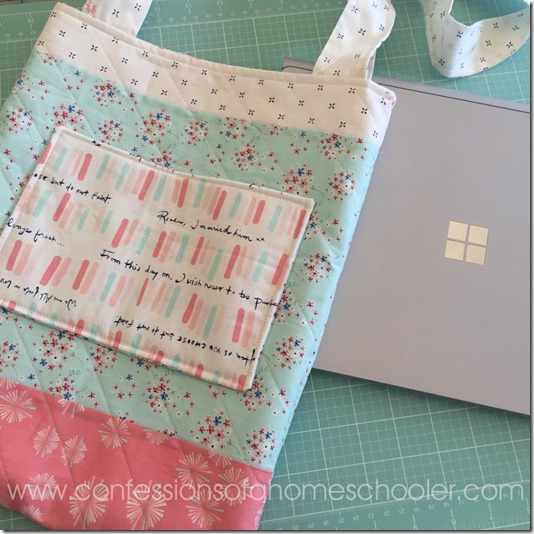 For my bag I'm using a super fun and sweet line of fabric by Ami Sinibaldi called Paperie. It's got a lovely spring/summer vibe to it and it makes me sew happy. You can use any fabric you like, you can even use scraps and make your bag super colorful! I like to use 100% cotton quilting fabric because it has a nice feel. But you're welcome to use whatever fabric you like.
Okay, let's get started with the video tutorial! The full supply list is below…
Learn How to make a laptop bag in my video tutorial here!
Supplies needed:
Outside fabric:
– 2 @ 2.5″ x 12″
– 2 @ 9.5″ x 12″
– 1 @ 6.5″ x 12″
(You can also use one whole piece, or patchwork your own outside together as long as the finished piece fits your measurements, mine is 12″ x 28″.)
Lining Fabric: 2 @ 12″ x 14.5″
Pocket fabric: 2 @ 8.5″ x 6″
Straps fabric: 2 @ 4″ x 26″
Fusible Fleece OR cotton batting:
– 1 @ 13″ x 28″ (bag)
– 1 @ 6″ x 8.5″ (pocket)
Sewing machine
Coordinating thread
Here are a few more of my Quilting Tutorials if you're  in the mood to create:
See more of my quilty fun on my Instagram.
Check out all of my How to Quilt 101 video series here.
I hope you enjoy this video, as always if you're interested in seeing more of these videos please leave a comment below letting me know what you'd like to see.
Happy Sewing!