Hi friends! Today I'm going to show you how to make a really fun and easy patchwork quilted tote bag. It's super cute and beginner friendly too!
Watch my Quilted Patchwork Tote Bag Tutorial here!
Download the Patchwork Tote PDF Pattern here!
Supplies used:
5 fat quarters OR scraps to fit sizes mentioned below. (I used Farmer's Daughter by LellaBoutique for Moda)
1 Moda Mini-Charm pack OR 42 – 2.5" x 2.5" squares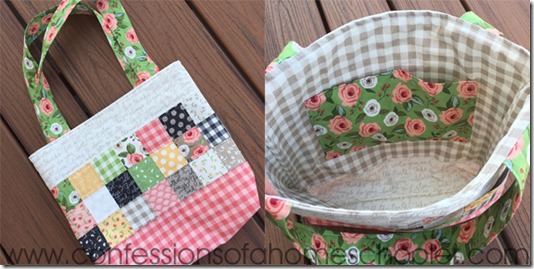 Cutting instructions:
Outside fabric:  If creating your own unique outside fabric, final measurement should be about 14.5" x 27"
Top fabric: Cut two pieces 3.5" x 14.5"
Patchwork section: 1 Moda Mini-Charm pack OR 42 – 2.5" x 2.5" squares
Bottom: Cut one piece 9" x 14.5"
Lining Fabric:
Cut two pieces 13.5" x 14.5". (If you're using fat quarters like I am cut two pieces of 10.5" x 14.5" and two pieces of 3.5" x 14.5")
Straps:
Pocket:
Batting: (For a bag that holds its shape better you can use fusible fleece or Fusible Foam stabilizer. )
Outside piece: 30" x 16"
Pocket piece: 5-1/4" x 6 3/4"
Strap pieces: Two 1-1/4" x 22" strips
Finished bag size: 12" h x 13.5" w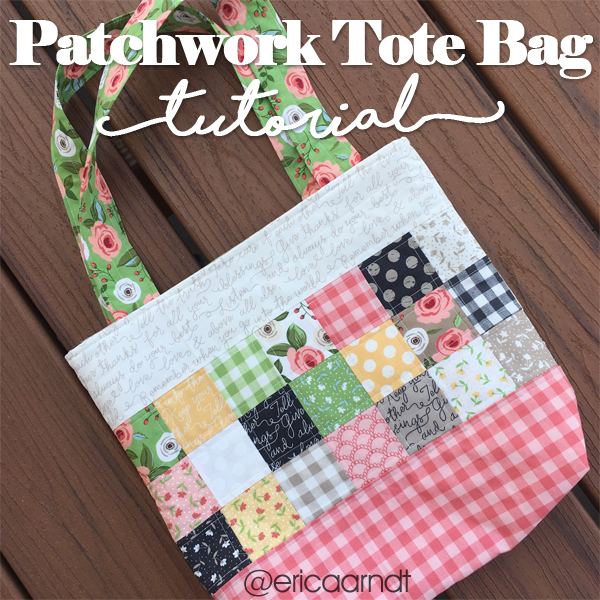 Here are some more fun quilting tutorials for you!
Disclosure: Some links above are affiliate links. Thank you so much for supporting my blog in this way!