Hi friends! I'm excited to share with you the Homeschool in the Woods Project Passport review for their Ancient Egypt unit. We have used these units in the past and really enjoyed them and so I wanted to give you a review on how I prepare this unit for the school year, how we schedule it out, and what it looks like!
And make sure read all the way to the bottom of this post to ENTER TO WIN a copy of this curriculum for your family!
My Thoughts: Watch my video review of the Project Passport – Ancient Egypt unit here!
Scheduling:
Although the Project Passport units do come with a suggested schedule they are very easy to conform to fit your needs. You can do them daily, bi-weekly, or whatever works best for you. I have found that there is a lot of information and projects for each lesson and so we've spread them out over a longer period than what they suggest.
If you saw my curriculum picks for 2017-2018 you'll know that we are mixing this unit with our Story of the World curriculum. So far it's been a pretty good fit and I've found it easiest to read some from the Story of the World, and then add in the Project Passport activities where they fit best with the content we're reading. Some days we skip the Story of the World and just focus on a Project Passport activity depending on what it is.
But you can really schedule this out however works best for your family. You don't have to do all of the activities and crafts they suggest. It's totally up to you!
More information:
You can find more information on the Homeschool in the Woods products here!
Check out our Homeschool in the Woods product reviews here: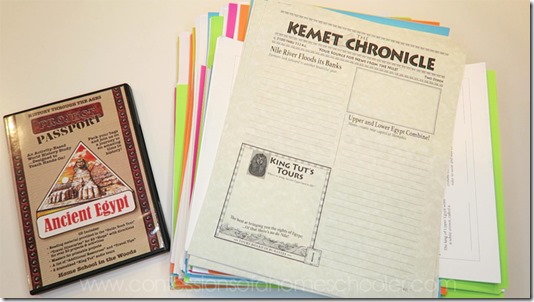 Products we used:
Total Prep Time = Approx. 1 Day
I definitely spent an entire literally FULL day printing and organizing all of this material. But I think all of the prep work will be worth it.
It will make our year go much smoother and now that it's done, we're all ready to get started. And of course, I'll be sharing on our progress through this curriculum on my INSTAGRAM so make sure to head over and follow us over there!
—— GIVEAWAY!! ——–
Homeschool in the Woods is kindly sponsoring a giveaway for the download version of their
Project Passport: Ancient Egypt program. Enter below to win this curriculum for your family!
a Rafflecopter giveaway

Happy Homeschooling