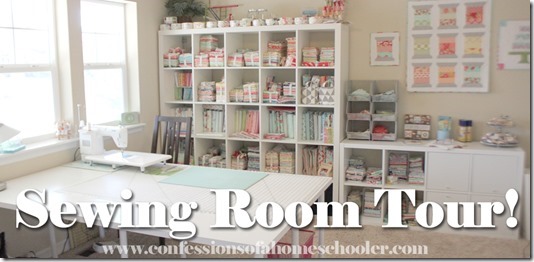 Hi friends! I've had a ton of requests for a sewing/quilting room tour, so that's what we're doing today! I'm super excited to be able to have this space as I had previously taken over our dining room with sewing stuff.
As most of you know, this room used to be our homeschool room, which is why you can hear tweeting in the background. We recently moved the school room to our basement (the birdies stayed in this room) and after about 2 seconds of it being empty, I claimed the space as my new sewing area!
Watch my Sewing/Quilting Room Tour video here!
Links to my storage shelves and desk set up!
Links to products shown or mentioned in the video! Along with some of my favorite sewing notions:
I hope you enjoyed my sewing room tour!
If you just started quilting or sewing, here are more videos in my How to Quilt Series!
Here are a few more of my Tutorials online if you're just getting started:
To keep up with our shenanigans, be sure to follow me: