Hey guys! I feel like I just posted the October meal plan, and here we are again ready for a new month! I am telling you the time period between August and December flies by like nobody's business doesn't it? It's like I step into a vortex of school, sports, holidays, and shorter days that seem to make time fly by.
That said, I do love this time of year. There is so much going on, and the cooler weather in our area is a welcome relief from the hotness of summer. I love the changing leaves from fall, and the drizzly days that make for fun afternoons crafting in jammies. And if we're lucky we might even see some snow here pretty soon!
And…it also means we have some yummy soups and more meals to look forward to as well. I hope that my monthly meal plans help relieve a little bit of stress in your home. And maybe they'll even save you enough time to enjoy some afternoons relaxing too!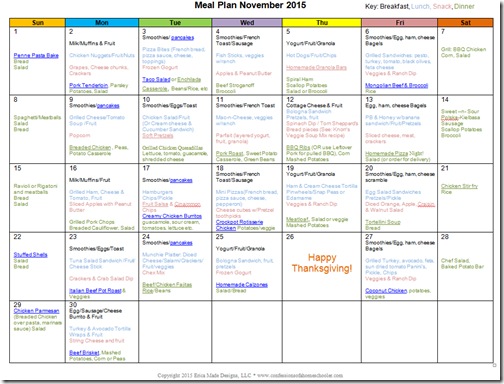 Download the 2015 November Monthly Meal Plan:
If you haven't already used this before, you can click on any of the underlined menu items to get to the recipe. I hope this helps all you homeschooling warriors who are in the final stretch of the year! The word doc version is editable, so you can feel free to delete any meals you don't like, and add in a few that you do!
For more fun recipes, visit my Recipes Page!
Here are some of our favorite smoothie recipes, just click on the image below!