I always get a lot of questions regarding my yummy smoothie recipe since we make it almost daily in my monthly meal plans for breakfast. Due to its popularity I thought I'd finally give the smoothie it's own post!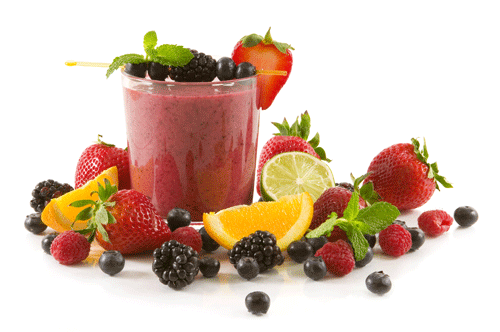 We make these almost daily, especially in the summer months when fruit is so tasty and refreshing! Smoothies are a healthy and yummy way to start your day, and my kiddos love them. Now that Strawberry Shortcake knows how to make them, she likes to experiment with whatever we have on hand.
Here is our basic smoothie recipe, along with some of our favorite variations.
My Smoothie Recipe:
Ingredients:
1 banana (frozen is better, but I will work at room temp.)
2 cups frozen strawberries (Again, room temp is okay)
1 cup milk
1/2 cup vanilla yogurt (We prefer frozen yogurt)
1/2 cup orange juice
Optional: 2-3 teaspoons honey to taste (The plain fruit can be a bit sour, but the orange juice helps with this, so try it before adding honey)
Directions:
Add all ingredients into a blender and mix until smooth. Pour into glasses and serve!
This usually serves my 4 kiddos and me, but they all get half glasses. If I need a little more, I'll just add in some more milk or juice. It makes the smoothie a bit runny, but no one seems to mind and it's cheaper that way!
Note: Really you can use any type of fruit you prefer! Here are some of our favorites alternatives:
Mango, peach, & banana.
Raspberry, Blueberry, and Strawberry
Watermelon & Cherries (These are best if you use frozen chunks of watermelon)
Pineapple & Tangerine
Apricot & Banana
TIPS:
Have some over-ripe bananas? Peel them and slice into small chunks. Place in a freezer bag and they'll be ready to grab for our homemade smoothies. No more wasted bananas!
Buy fruit like strawberries, blueberries, and raspberries in bulk when they're on sale. Wash and place in serving sized freezer bag and they'll be ready when you are!
In a rush? They cost a little more, but if you're in a rush and need a fast healthy breakfast, I buy the family packs of Yoplait or Jamba Smoothies. You can find them at most grocery stores and places like Costco. Just add milk or orange juice and voila!
For more yummy smoothie recipes visit www.delish.com