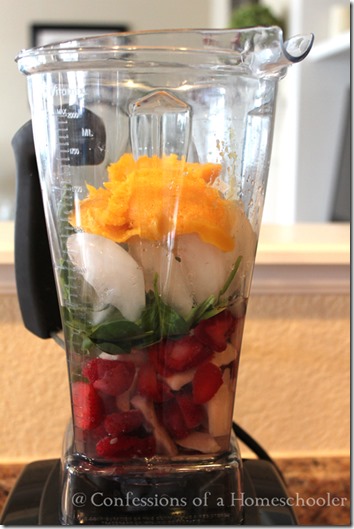 Hello everyone! I have a yummy and healthy smoothie recipe for you today! I've been having fun experimenting with the Vitamix we received for Christmas. I'm not gonna lie, some things taste a little "too natural" for me, like…um…eating grass.
But this one seems to work well for my taste buds and is fairly healthy so I thought I would share it!
Ingredients:
1 cup ice cubes
1 cup water
1 handful baby spinach leaves
1 handful frozen strawberries
1 handful frozen bananas
1 orange or about 2 large tablespoons of orange juice concentrate
Method:
Yeah, so just dump it all into your Vitamix and turn it up to high! I'm not sure a regular blender would mix the spinach enough, but if you have a good one it's worth a try!
And you'll end up with something like this, don't be afraid of the light green color. It's just the spinach, but the taste is still nice and fruity from the oranges. And you know you're getting some good vitamins in this smoothie too!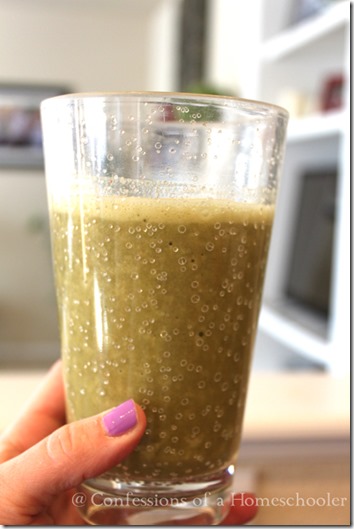 Let me know what you think if you try this recipe! It does have a little spinach flavor in it, but the orange cuts it down enough in my opinion to make it easy to drink. I'll share some more as we get better at this thing. Jason (my husband for newer readers) is obsessed with making all vegetable smoothies. But to me they taste too much like grass/dirt, so I haven't been willing to share them yet!
But I'm working on getting one that tastes good and is worth it's weight in veggies.
Have a good recipe to share? Make sure to leave a comment below!
Just a reminder, today is the LAST day of my storewide 30% off sale!

Visit the Confessions Store to see all the goodies on sale!

I hope you enjoy the discount, and as indicated, use coupon code: ILOVECOAH_30.

This coupon is valid from May 20, 2013 – May 24, 2013.

Disclosure: I apologize to anyone who has purchased prior to today, unfortunately the sale prices are only affective for purchases made during the week of May 20 – May 24, 2013.