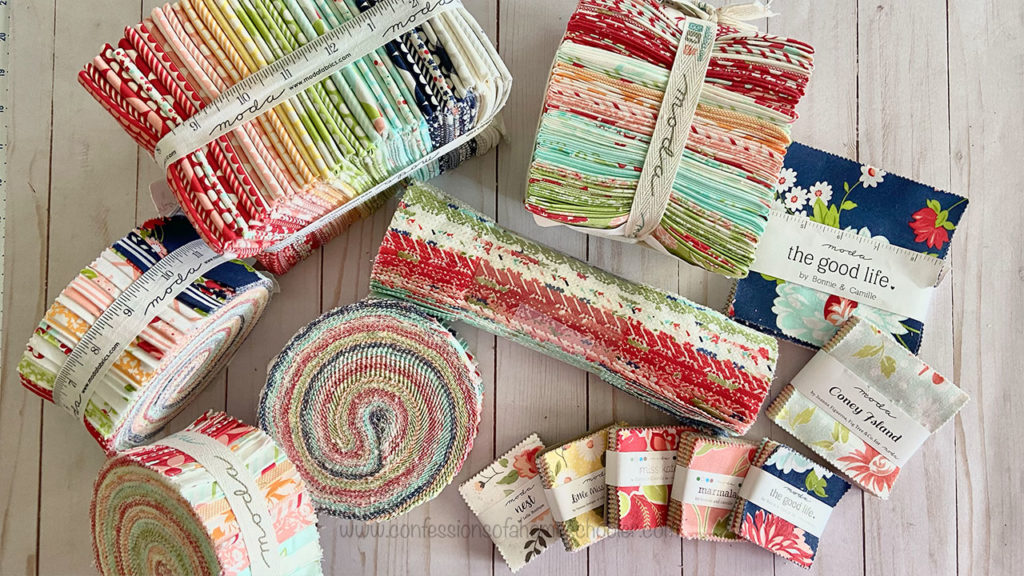 Hi friends! Today I'm sharing all about fabric pre-cuts, yardage, how much fabric I purchase for a project, and where I buy fabric online!
So if you're up for some fun eye-candy and information then stick around and let's talk fabric!
Watch Pre-Cuts, Yardage, & Where To Buy Fabric Online here!
What is a pre-cut?
Pre-cuts are exactly what they say. They are pre-cut pieces of fabric that not only look adorable but make our quilty projects super easy too! Here are some common pre-cuts, keep in mind different vendors may have different quantities in their packs. Moda typically has 42 prints in their collections, while Riley Blake and other vendors tend to stick with 21 prints.
So just make sure to read the description if purchasing online. It should tell you the size of the pre-cut as well as how many prints you get in the bundle.
Mini-Charm = 2.5″ x 2.5″ squares
Charm Pack = 5″ x 5″
Candy Pack = 3.5″ x 3.5″
Layercake = 10″ x 10″
Jelly Roll = 2.5″ x WOF (Moda Jelly Rolls usually have 42 strips, WOF = approx 42″)
F8 Bundle = 9″ x 18″
FQ Bundle = 18″ x 21″
How Much Fabric To Buy:
Fabric purchases are totally personal! But I thought it might be helpful to share how much fabric I purchase when planning for a project. Especially if I don't know what that project will be! So when purchasing projects for a quilt pattern, I simply follow the fabric requirements on the pattern. Most patterns over estimate just in case, but if you are worried you can always get a little extra.
If I don't have a pattern in mind, I like to go with either a F8 or FQ bundle depending on how much I like the line. You can get a great quilt out of both sizes, and there are several options for them as well. You can check out the Moda Bake Shop, they have quilt designs based on the pre-cut, so you can search for your pre-cut and see what's out there! Of course a simple internet search will do the same! For smaller projects like bags, I will use mini-charms and charm packs.
For quilt backings, I usually purchase between 4 and 5 yards of fabric. And for my bindings, I will typically get 3/4 to 1 yard of fabric. For bag outside and linings, I usually like to get about 1/2 yard.
I store my yardage on Comic Book Boards. They are very inexpensive and work great for keeping my yardage standing up, they are like little mini-bolts! I've also seen people use the foam core board for this, but in my opinion the foam board is too thick and takes up precious space I need for more fabric 😉
Where to buy:
LQS (I'm a fan of helping support my local quilt shop whenever I can.)
Etsy (I only purchase from stores with a good rating!)