Hi everyone! I'm super excited to release my Vintage Summer quilt pattern today! After releasing Vintage Christmas, Vintage Spring, and Vintage Fall of course I knew I would finish out the seasons!  So Vintage Summer is here and I love how this one turned out!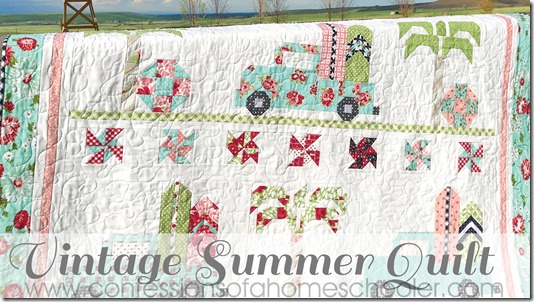 Oh, and I have a GIVEAWAY for one of you so make sure to read all the way to the bottom!
And we're also doing a Sew-a-long for this quilt as well! Make sure to go follow me on Instagram to find out all of the fun details!!  Sewing is always more fun with a friend isn't it! 🙂
It's still wintery here and sewing this quilt made me excited for the coming warm weather! We spend our summers paddle boarding on the lake and playing on the sandy beach, so of course I had to include a fun beach theme for this one!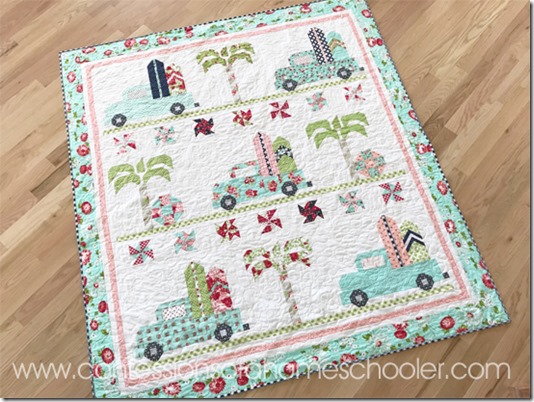 I used Little Snippets by Bonnie and Camille for Moda. I also snuck in a few prints from their older lines that I have been saving for a special project.
Vintage Summer Quilt Kit: Catching Stitches quilt shop has generously made Vintage Summer Quilt Kits as well if you'd like to make the same one I did!
For the binding I used a navy gingham print from Vintage Picnic, one of the older lines from Bonnie and Camille older and love the pop it gives!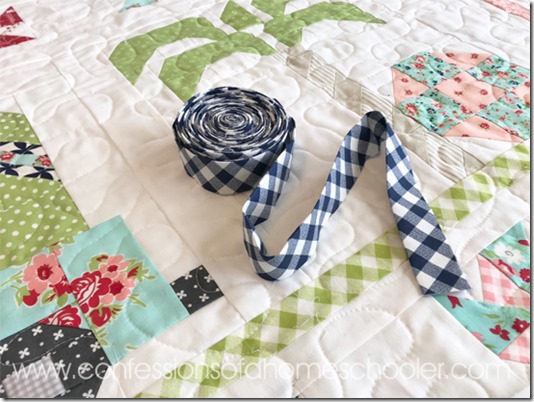 And I chose this fun aqua floral print for the backing. This one is from the Bonnie and Camille Smitten line and I thought it was just so fun and summery!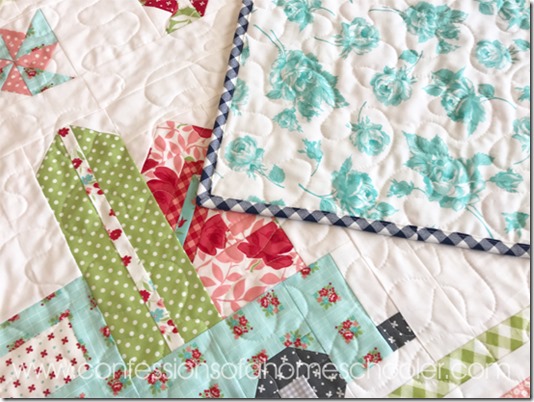 We like to spend summers paddle boarding, so of course I had to add some surf boards to my vintage truck block for extra cuteness!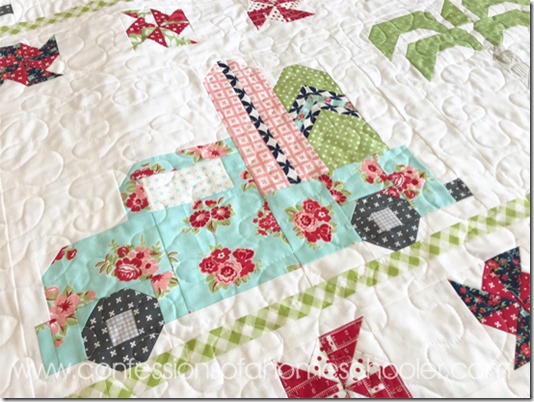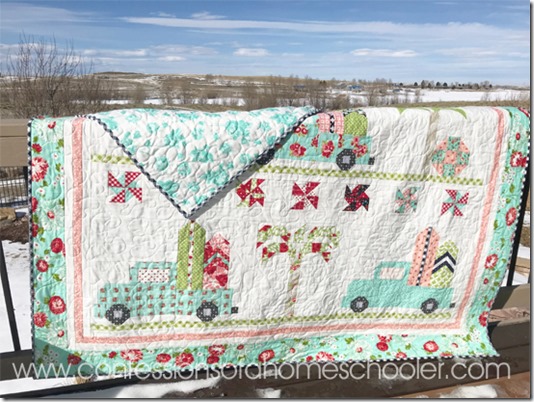 And what is summer beach fun with out some palm trees and beach balls? By the way, I always get asked if this is paper pieced, and NO! This quilt is traditionally pieced, and while it may look complicated, it's actually fairly easy!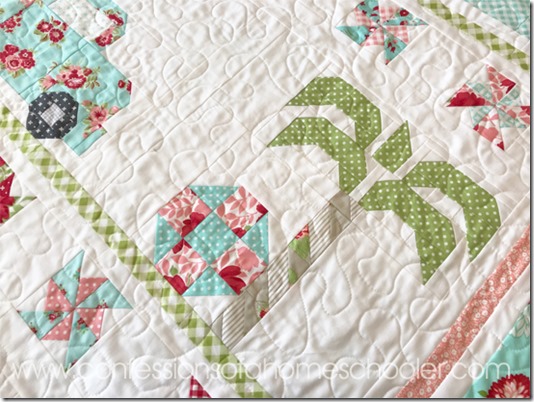 I also did a fun row of pinwheel sashing between the truck rows. I love the added colors and happy little pinwheels.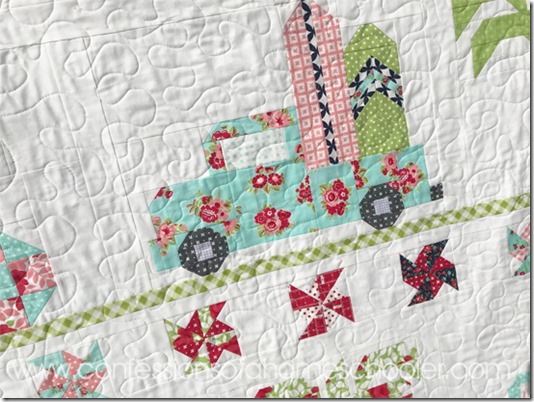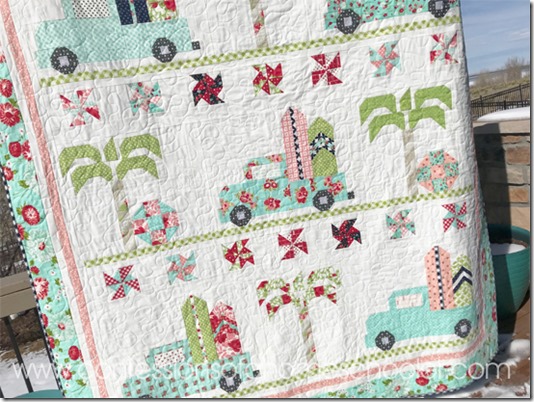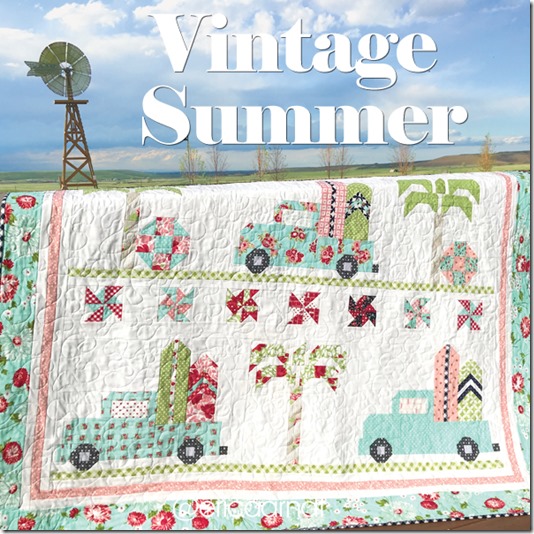 After you get your pattern, don't forget to head over to Catching Stitches quilt shop to order the Vintage Summer Quilt Kit as well if you'd like to make the same one I did!
And if you make this quilt, make sure to share it with #vintagesummerquilt so I can see what you've made!!
Get the Vintage Summer Quilt Pattern here!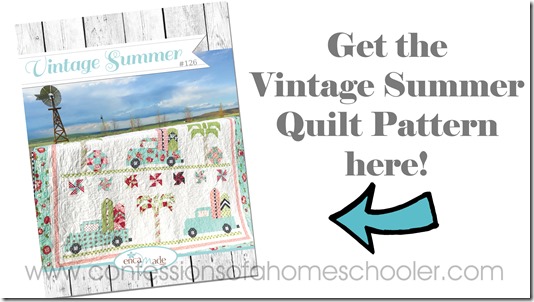 GIVEAWAY!!!
Keri at Catching Stitches has put together an amazing quilt kit for my new Vintage Summer quilt!! Enter to win the kit and my pattern below!