Hi everyone! I'm super excited to be reviewing the new Fat Quarter Shop Sew Sampler subscription box for you all today! I've had my eye on these ever since Fat Quarter Shop said they were releasing them and so far I've loved every single box that's come out.
Now I want to say that I'm not always a fan of subscription boxes because I feel like you never really get your money's worth. Or you get a bunch of stuff you don't like or need. So I tend to be a little skeptical of things like this. But I really have to say that I literally love everything in this month's box!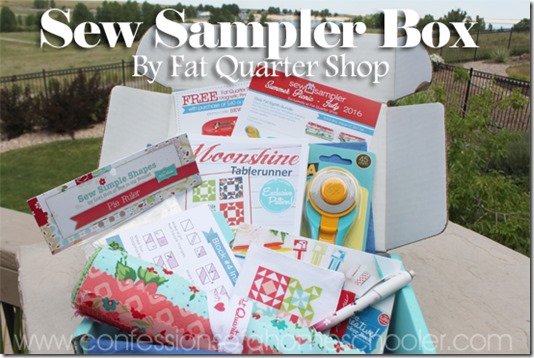 Disclosure: I received this box free for review on my blog. The opinions expressed in my post are my own and were not influenced by the company or free product provided.
So what's the Sew Sampler?
The Sew Sampler Box is a monthly subscription quilting box that delivers surprise goodies right to your door! It's $24.95/month and the boxes ship on the 20th of each month.
There are at least 5 specially chosen items which may include fabric, notions, patterns, thread, and anything else full of quilty goodness! You'll also receive a Block Recipe card each month with three size options. These can be put together for a super cute sampler quilt! You can see previous recipe cards here.
If you're new to sewing or quilting these are a great way to build up your stash of fabrics, patterns, and notions. Especially if you're unsure of what to get to start out. I've been sewing and quilting for about a year and a half now and I think the Sew Sampler boxes are really fun and have thus far been packed with super cute and helpful tools!
Ready to take a look inside the July 2016 box? Yes, the cute sticker has been ripped already. My kids are always excited when I get happy mail, and my son opened this before I could stop him! Guess he was just as excited as I was to get it!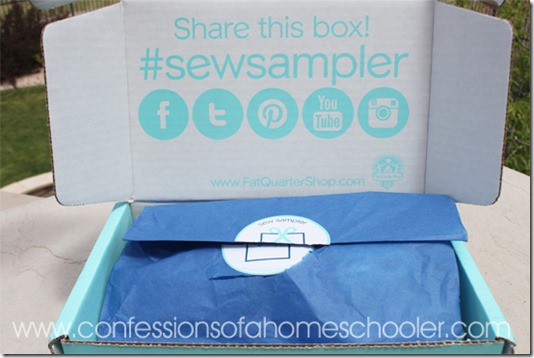 So let's take a look inside. The box always comes with an inventory card so you know exactly what you're getting, and how to use it as well. They also include a cute sticker, and coupon code for a special goodie.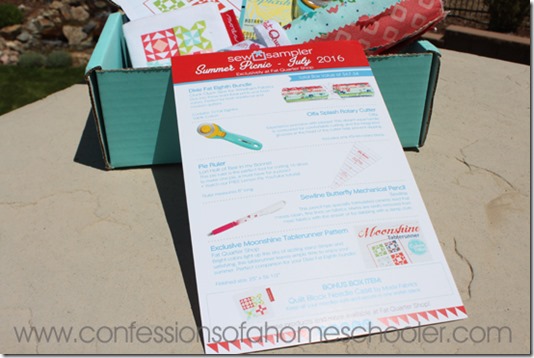 I was super excited to see my all time favorite Olfa Splash 45mm rotary trimmer! I did a giveaway for one of these in my How To Quilt 101 video series because I love it so much!
I also received an 8″ Pie Ruler by Lori Holt (basically a Dresden plate ruler). I always love new rulers, they're so handy and fun to have around.
The Sewline Butterfly Pencil was also included which is super cute and will come in handy for marking fabric as well. It works well on fabric and comes off using the included eraser, or by dabbing with a damp cloth.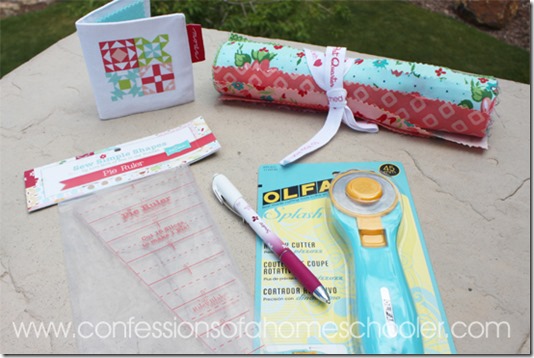 Each box also comes with a recipe block that you can use to create a sampler quilt. The blocks have been really cute and look beginner friendly.
I also received a really fun Moonshine table runner which is an exclusive Fat Quarter Shop pattern. I think this one would look really cute in red, white, and blue for 4th of July! But you can see some fabric peeking out in the back of this photo which you can use for it as well!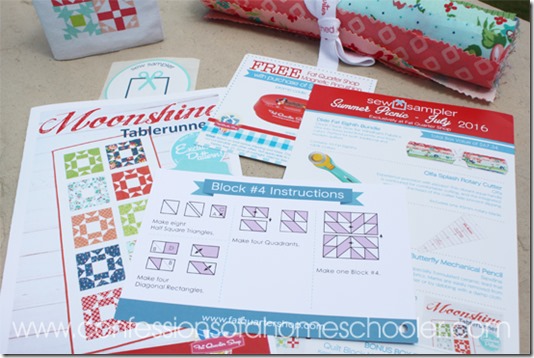 And hidden in the back of the picture there is a coupon code for a free magnetic pin cushion which is awesome. I have one and it's great because it keeps your pins on it, even if you knock it over. Or if you drop them all over the floor it's super handy for picking them back up. Not that I do that. But if say I did, and say my husband came walking in the sewing room barefoot, and say I needed to save my marriage…well you get the idea. Magnetic pin cushion = good to have!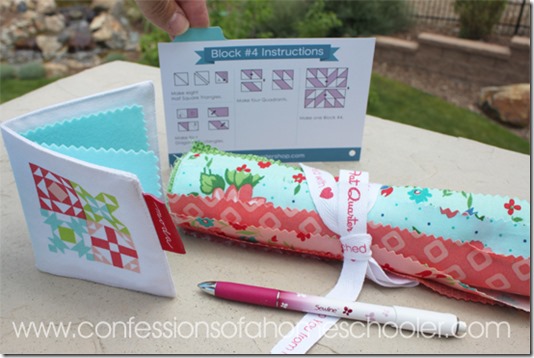 And of course my favorite part of this box…aside from the ruler and rotary trimmer…is the sweet F8 fabric bundle and the super cute little Quilt Block Needle Case by Moda. It's absolutely darling! The fabric is Dixie by Cluck Cluck Sew and I love the color ways! Plus it's a nice large bundle of fabric and you can really do a lot with a F8 bundle!
And one cool thing about getting fabric in a box like this is that if you're new and don't know all of the lines out there it's a great way to build your stash! I feel like I have a personal fabric assistant helping me pick out fun fabric!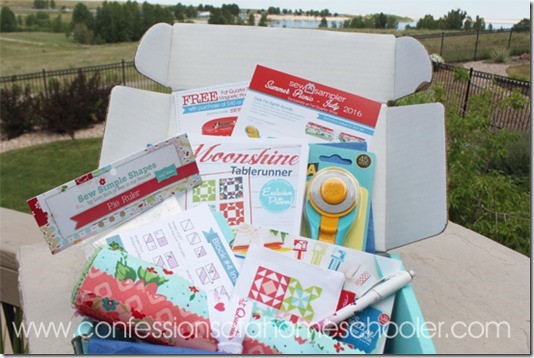 The value of this box is $67.34, and considering it's just $24.95 plus $4.95 US shipping you definitely get your money's worth out of it!
My personal thoughts:
Overall I am super pleased with this box, the amount and quality of goodies included, and would definitely recommend it! Especially if you're new to quilting and don't know what to get or just need some inspiration! Inspiration that comes in a super cute box. Filled with awesome goodies. And seriously, who doesn't love getting some happy mail am I right?
I hope this review has been helpful for some of you who are getting started sewing or quilting! If you have any questions, feel free to email me and I'll do my best to help!
Click the image below to sign up for Sew Sampler box!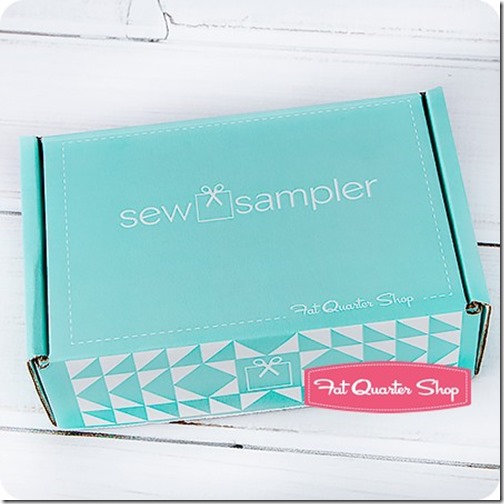 To keep up with our shenanigans, feel free to follow me:
And don't forget to follow Fat Quarter Shop's social media to keep up with all of their fun projects!
Disclosure: I received this box free for review on my blog. The opinions expressed in my post are my own and were not influenced by the company or free product provided.