Have someone in your life who is getting started sewing or quilting? I have the perfect gift ideas to help you out! Last year our girls decided they wanted sewing machines for Christmas. And they've been in constant use since then. I love to see all of the creations they come up with. And I love that we got them a present that is useful, and teaches them a valuable life-long skill as well. It fosters amazing creativity and I don't regret getting them one bit!
So let's get started with some gift ideas! I've listed all of the basics that one needs to get started with sewing or quilting, and
Supplies: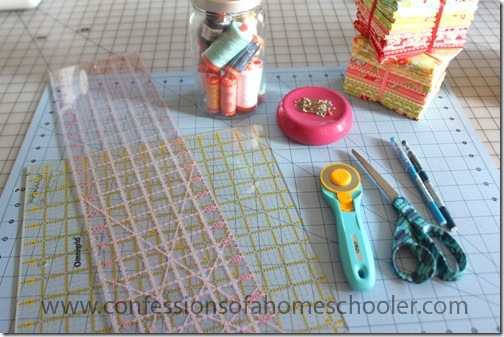 1. Cutting Mat: I highly suggest you get a self-healing cutting mat. You can find them online as well as in most crafts stores. I will say that they can be kind of expensive. I recommend using a coupon at JoAnn's, or I've also found great prices on Amazon as well. I have this Fiskars 18"x24" light blue mat that I purchased on Amazon for $16.10. It's a nice size, not too large, but not too small.
Nice to have: I also have  this Fiskars Yellow 14"x14" rotating cutting mat. I purchased mine from Walmart for $24. This isn't required by any means, but it is really nice when squaring up blocks, or trimming edges because you don't have to move your ruler or fabric, you just spin the mat itself. This helps with keeping everything straight. And honestly I often spin my larger one around on the table as well so that it's facing the proper way for me to trim.
2. Clear Acrylic Ruler: Rulers are always a fun gift idea! I have a couple of rulers that I use often, and this really is a necessity for quilting. My favorite one and most used is the Creative Grids 6"x24" Acrylic Ruler. I use this one the most often just due to the length.  The second most used ruler is my 12.5"x12.5" Creative Grids Ruler. This one is great for squaring up blocks, and I also use it for trimming when I'm working with smaller fabrics. I like this brand in particular because the lines are really easy to read.
3. Rotary Cutter: Another item on the "need" list is a rotary trimmer. I recommend the Olfa Splash  45mm Rotary Cutter. I've tried a few different brands and I absolutely love this cutter! The blade glides nice and smoothly, and it cuts like butter! Of course you can always go 'old school' and bust out the scissors to hand cut. But honestly I can't imagine long it would take, and I think you lose some accuracy that way too. And who has time for that anyway?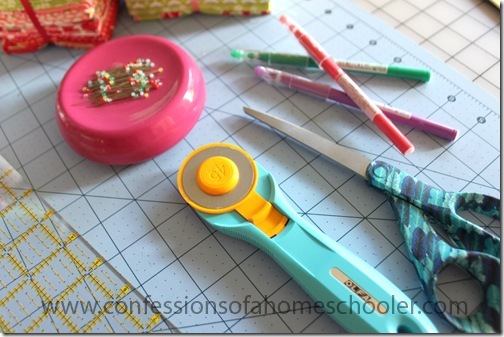 The Olfa Splash has a little yellow case to enclose the blade when not in use. It's definitely a must as these blades are very sharp!
4. Seam ripper: No one likes to un-sew. But really it happens to all of us. Just get one.
5. Thread: You can't quilt without thread! I suggest a decent cotton thread for quilting. Since I'm normally using cotton fabric, I just think it works better for washing, shrinkage, and overall consistency. So I stay away from polyester threads, but it's your personal choice. My favorite thread right now is Aurifil 50wt natural white.
6. Needles: If your recipient is interested in embroidery, or hand sewing a small set of decent embroidery needles and a pack of colored thread is a great gift!
7. Pins & Pin Cushion: Straight pins are a great and inexpensive gift idea. And there are a ton of super cute pin cushions and magnetic pin bowls as well! Pleasant Home is one of my favorite Etsy shops, and she sells super cute hand painted magnetic pin bowls if you're looking for something special!
Sewing Machines:
I recently purchased a Juki G-210, and so far I love it. It's mid-range as far as price goes, but I'm totally pleased with my purchase. This machine is great for quilting, and also wonderful for home sewing needs, and can do just about anything you'll need.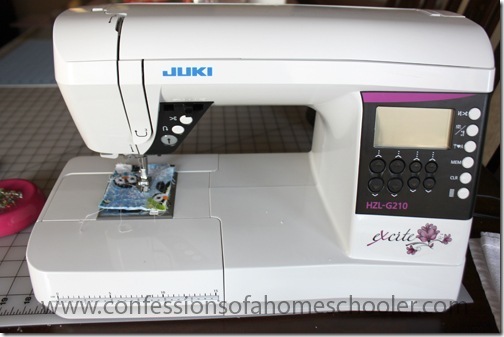 Brother XM2701 has been a good machine for our girls. It has a dial that they can use to select their stitch with. There are several different stitches to choose from, including the capability to do pant cuffs, blind hems, and decorative stitches. It is a little squirrely, and doesn't have a speed control, so my daughters have a little trouble with regulating speed, but they're getting better with that. They retail for about $80 on Amazon.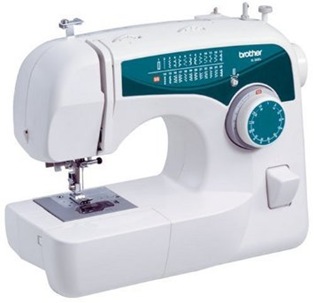 The Janome Magnolia 7318 sewing machine is a great machine however it is a bit more expensive at around $249. It has 18 pre-programmed stitches, button holes, adjustable feed dogs, thread cutter, and some come with an extension table as well. Reviews all say that this machine handles thicker fabrics like denim well and has good stitch quality too.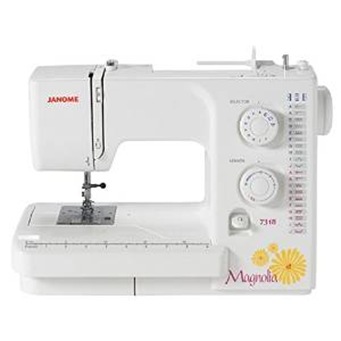 What's the best sewing machine to start with?
Here's a short list of things to consider when searching for the perfect machine.
Price
Reliability
Ease of Use
Portability (If you plan on taking classes)
Click here to read more detailed information on finding the perfect sewing machine for your needs!
Fabric!
"I have enough fabric! Said no one ever!" Seriously, if your looking for great gifts for sewers, fabric is an excellent way to go! If you're not comfortable choosing fabric, a gift card to their local fabric store is another great option!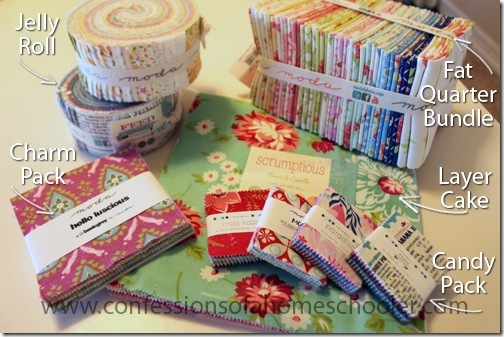 Rowenta Iron: I've been through a few irons since I started quilting and I just got this new Rowenta DW2070, 1600-watt iron. It's around $40.00 and so far I love it. It has an auto-shut off which is nice, but it will also turn itself back on if it senses that it's being used. You can either use it with steam and without and it has a variety of heat settings. I particularly like the stainless steel faceplate and pointed tip.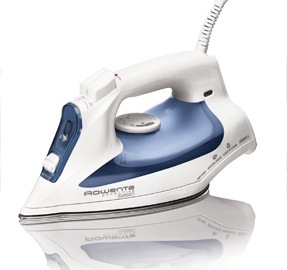 Gift Baskets!
I think most sewers would love a gift basket filled with goodies like cute scissors, thread, buttons, measuring tape, and maybe a gift card to a local fabric store. Tie it up with some clear wrap and a pretty ribbon, and voila!  Eve better, use a sewing box to hold the goodies, and you've got the perfect gift!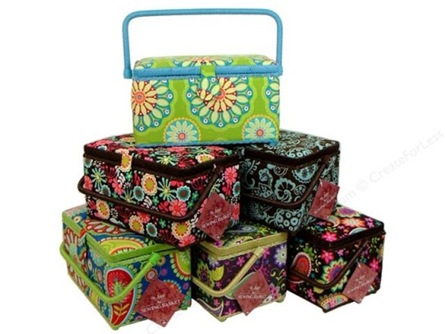 I hope this 2015 Sewing/Quilting gift guide helps you  out this year! Happy Holidays!
If you missed my previous posts, click here to check out my other holiday gift guides!
Disclaimer: There may be affiliate links contained in this post. If you purchase through these links I receive a small percentage. Please know that even if I include affiliate links, I still love these products, and would not recommend them unless I truly thought you would like them too!