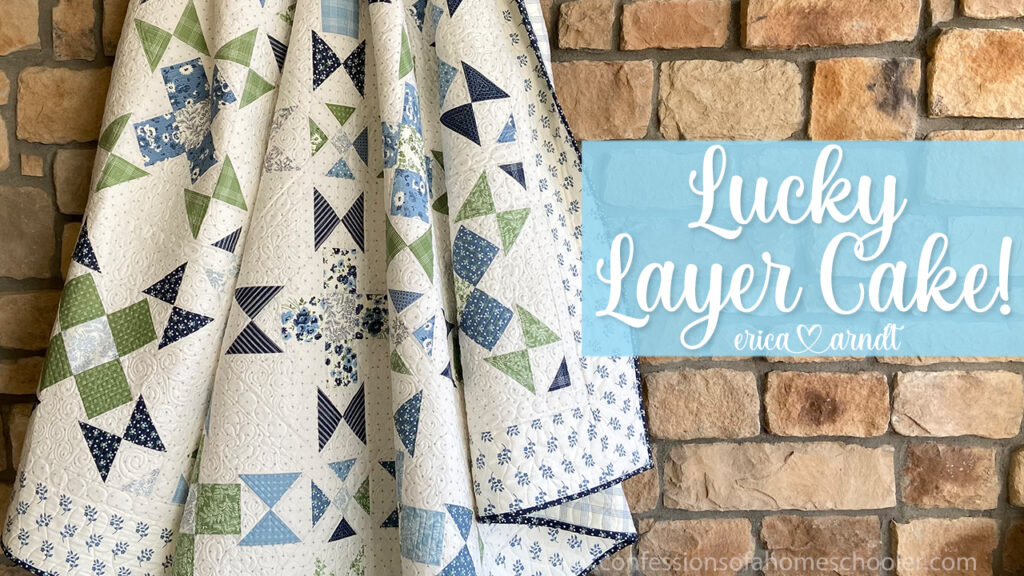 Join me for this adorable and beginner-friendly quilt tutorial, the Lucky Layer Cake!
In today's video tutorial, I will show you how to make this easy quilt block using just a few Layer Cake squares (10″ x 10″ squares) and some background fabric! It's super easy and beginner-friendly, so grab some fabric and come sew with me!
Watch the Lucky Layer Cake video tutorial here!
Finished Size: 77″ x 77″
Fabric Requirements
You get a fabric kit from Catching Stitches. believe she is using Fruit Cocktail by FigTree in her kits which will be adorable!
Prints: 36 Layer Cake squares (10″ x 10″)
Background: 4 yards
Border: 1-5/8 yards
Binding: 5/8 yard Red
Backing/Batting: 4-3/4 yards
Fabric used in sample: Prints: Nantucket Summer Layer Cake by Camille Roskelley for Moda, Backing: Nantucket Summer 55262-24, Border: Dwell 55271-11, Background: Grey Cross by Lori Holt for Riley Blake Designs
I had fun quilting this on my long-arm machine. I have a Grace King Frame with a Juki TL2200 QVP Virtuoso machine, both were "new to me" and I have had so much fun learning how to long-arm quilt! You can see more about my long-arm setup here!
This is the first time I've done a design like this. It's definitely not perfect, but I had a lot of fun and love how it turned out!