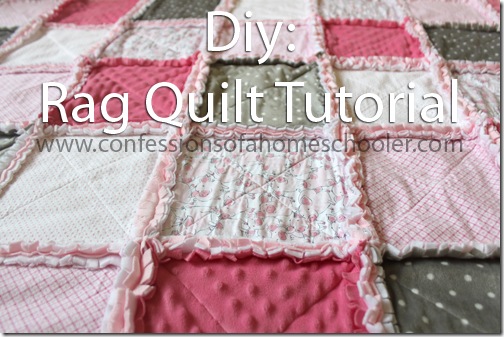 You will need:
Ruler (I have a Fiskars 6'x24" acrylic ruler.)
Cotton thread in coordinating color, I used white.
Sharp scissors (I used Fiskars 5" Titanium Micro-tip scissors because I already had them, but Fiskars 8" Softouch Spring Action Rag Quilt Snips are made specifically for rag quilting!)
2/3 yd. each of 5 different coordinating fabrics for quilt front
1 piece of backing fabric (55″ x 75″)
1 piece of fleece for batting (55″ x 75″)
Sewing machine (Would love some suggestions for a new machine, Mine is about the same age as I am and was my grandma's Dressmaker!)
My quilt used 35 – 10"x10" squares with a 3/4 " seam allowance all around. After sewing and washing it ended up being 45" x 59" which fits nicely on her bunk bed. You're welcome to make your quilt any size you like, just make sure to get the correct amount of fabric for your project!
So let's get started!
I thought it would be easier to show in a video, but I did my best to describe the process in this post as well!
If the video doesn't work in your browser, click here to see the DIY Rag Quilt Tutorial video!
Pick out fabrics!
For this project you'll want to pick out at a minimum, 5 different fabrics for your front side, and 1 fabric for your backside. You're of course welcome to use more if you like, but to keep a nice blend on the front side, I wouldn't use less than 5 different fabric patterns.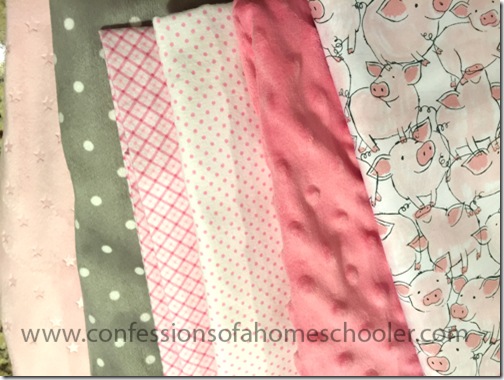 Trim it!
The next step is to lay your front fabric with the right side out on top of your fleece inside fabric. Next add your back fabric with the right side facing the table on the back of your quilt sandwich as shown in the photos below.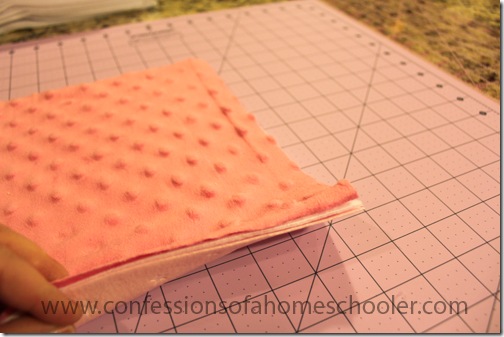 Once your fabric is in the proper position, trim it into 10" x 10" squares cutting through all 3 pieces of fabric at one time. If you have a hard time cutting 3 layers, you can trim them individually then stack them up after, it's just a little faster if you can trim them all at once.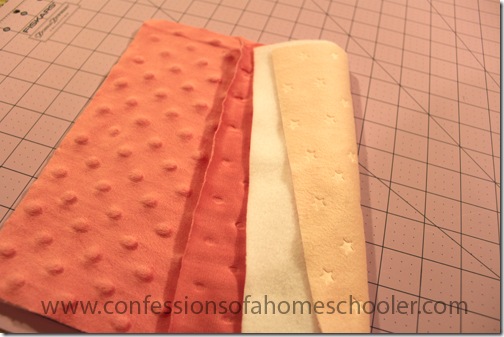 I highly recommend a rotary cutter for this step as they're nice and sharp. And they glide nicely along your ruler to give a straighter cut. But since this is a rag quilt, it's quite forgiving and you're welcome to use scissors if you wish. Just know that it will take longer, and your hands will probably be tired of cutting when you're done!
If you purchased 5 different fabrics for the front layer, you'll want to cut 7 – 10"x10" squares of each of your 5 different fabrics.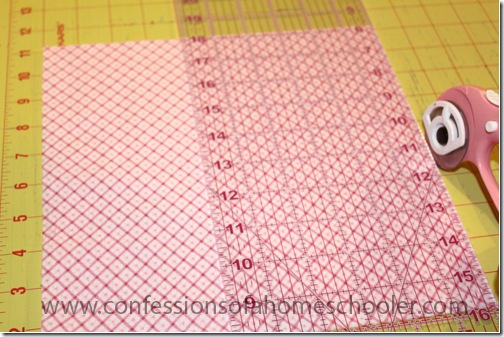 Once your pieces are all cut, pin each one in place going through all 3 layers.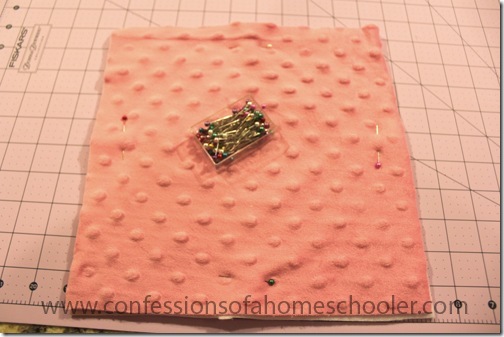 Design it!
The next step is to design your quilt! A.k.a. lay it out onto the floor and arrange your squares in an eye pleasing manner. If you're making one the same size as mine, you'll want to place 5 square across and 7 squares down for a total of 35 squares.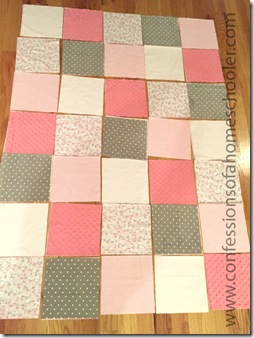 Next you'll work along horizontal rows. Starting with the first row, pin each quilt block together with the seams up like shown in the example below.
You'll then want to stich them together using a 1/2" to 3/4" seam allowance. I went with a 3/4" seam just to give my quilt a fluffier rag finish.
After stitching the 5 blocks in each row together, you'll want to stitch your completed rows together using the same technique. As you get to each cross seam, make sure to lay the seam out flat (on the front side and backside) to distribute the bulk. I didn't take a photo of this step, but it is shown clearly in the video tutorial.
Finally, you'll stitch around the entire outside of our quilt, again laying the seams flat, using the same seam allowance so the border will fray as well.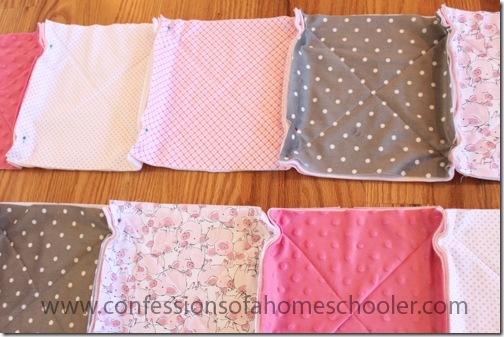 Cut it!
Once the quilt is all sewn together, the next step is cut up all of your seams. Using very sharp scissors, cut little slits approximately 1/4" all the way along every single seam. Be careful not to cut into the stitching, so stop just before your stitch line.
I used Fiskars 5" Titanium Micro-tip scissors because I already had them, but Fiskars 8" Softouch Spring Action Rag Quilt Snips are also a great choice, and made specifically for this task. I highly recommend the spring touch scissors because it really saves on the hand cramping during this step!
I'm not gonna lie, this took me about 45 minutes to an hour to trim all of the little seams, but I think it's worth it since the end result is super cute! I just sat back and listened to the Hallmark Christmas movie channel and snipped away!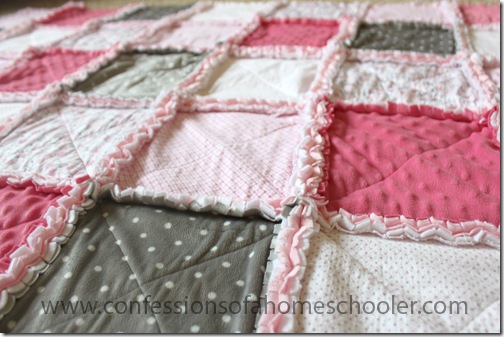 Wash it!
And finally, you can wash your quilt!
Wash it on cold water and then dry it on a low heat cycle. Do NOT wash in warm or hot water as the heat will cause your soft materials to ball up and lose their soft touch. Make sure to always wash it in cold water to keep the soft fluffy material, well, soft!
And that's it! This is a super easy project, and it's great for beginning sewers or quilters. The whole project took me about 3 evenings to complete, and I'm really pleased with the end result. I chose very soft fluffy fabrics, and the fleece lining makes this quilt nice and warm!
The only problem is now I have a wait list at my sewing machine to make more! I guess that's what happens when you have four children, I can't ever just make one!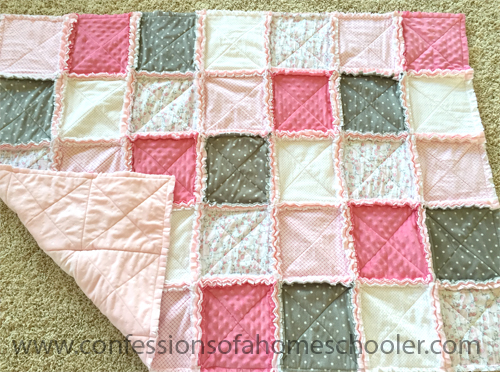 Let me know if you decide to tackle this project, and send me pics I would love to see how they turned out!
PS. If you choose to make these, send me some pics on instagram with #coahchristmas so I can see!