Cheers! I hope you're enjoying all of my fun Christmas-y posts as of late! And today I have another one for you. These adorable North Pole Snacks are not only easy to make, but I think they turned out super cute too.
I will say that they were a little on the sweet side, but hey, it's Christmas right?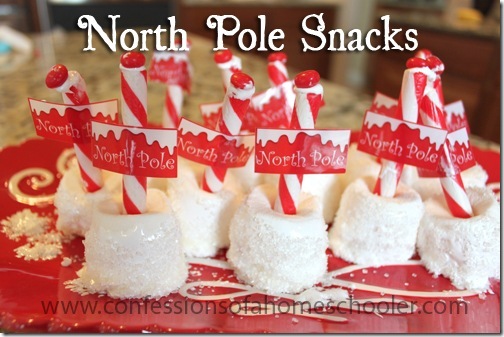 Let's get started!
If the video doesn't work in your browser, you can watch the North Pole Snack video here!
Ingredients:
Marshmallows
Marshmallow fluff
Candy canes (Break off the curved ends so you have straight sticks.)
Red hots or red m&ms
White crystal sugar sprinkles
Directions:
Place your marshmallows on a plate.
Stab each marshmallow with a candy cane. (Snap the curved ends off to create a straight stick.)
Carefully spread marshmallow fluff onto each marshmallow then roll them in the sugar crystals. (Hint: You can roll them in any kind of sprinkles you want, go crazy!)
Spread a little more fluff ontop of the candy cane tips and add on a red hot candy to finish it off.
Optional: I purchased this little kit from Target, so it came with the North Pole stickers, but you can easily make your own too!)
Place finished treats in the refrigerator for a little bit so that the fluff firms back up and you're done!
And that's it! Easy peasy! I hope you enjoyed this quick little snack, and stay tuned for more Christmas fun coming your way!
PS. If you choose to make these, send me some pics on instagram with #coahchristmas so I can see!