Dry hands and cuticles? Don't worry I have some tips for you today! This one is for not only the ladies out there, but the men too so don't close your browser too fast boys!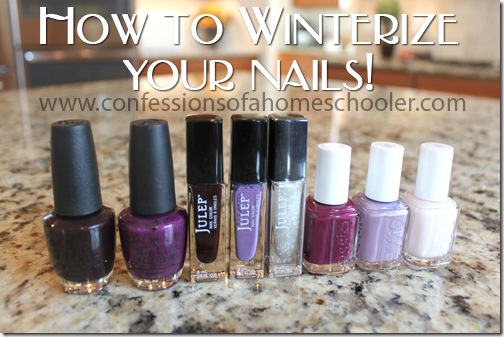 It's winter time, and I don't know about you, but my hands are super dry and that includes my cuticles and nails. I'm sure it has much to do with all of the hand washing and sanitizing I make everyone do during cold and flu season. I'm like the hand washing ninja these days. Just ask my kids they'll tell you.
And let's face it, my husband isn't asking for too many back rubs with my dry scratchy hands. And that's no bueno.
So just as I was lamenting about the sad state of my cuticles, I received this handy winterizing tip from  Julep Nail Polish.  What great timing, right? And since it's a weekend…and I like to share random fun things on weekends…I thought a nail care post might just help out a few folks.
And don't worry, this isn't a sponsored post, I just thought I'd share a little hand care tips with you all for the winter.
So here are a few little tips from Julep to help you keep your hands nice and soft!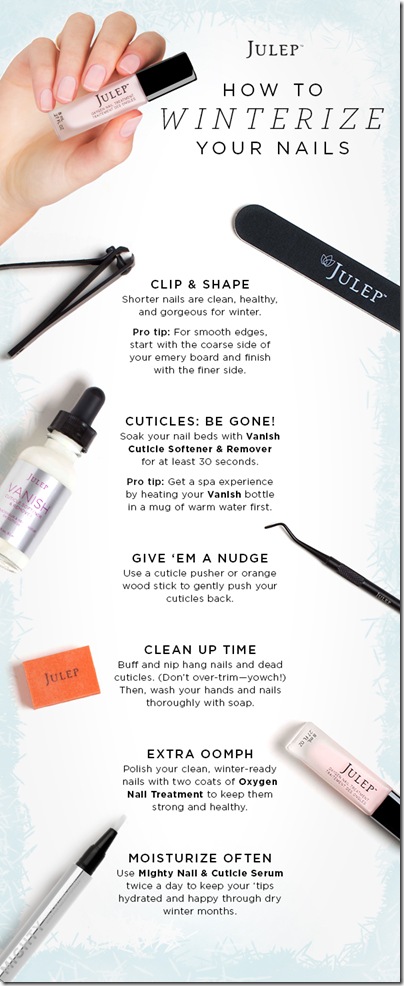 I haven't used the Julep Extra Oomph oxygen nail treatment, but I've heard from others that it's amazing! I do have the Mighty Nail and Cuticle Serum though and it works like a charm!
And once our nails are all nice and manicured, here are some of the fun colors that are trending this winter too…I love how Julep names all of their polishes with actual names.  Kiki, Joanne, and Shari are my favs from this collection.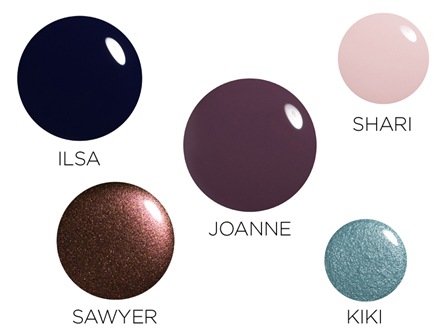 After viewing Juleps color choices for this winter, I also decided that I'm still somewhat in fashion considering my main color palette that I was just getting ready to share matches theirs! (See photo below.)
Sometimes I think that being a homeschooler means I didn't get out enough and interact with people to see what is "in" these days. But there you have it folks, photo proof that homeschoolers ARE socialized AND still fashionable too!
That or I'm just overly obsessed with purple tones…which happen to coincide with this year's palette.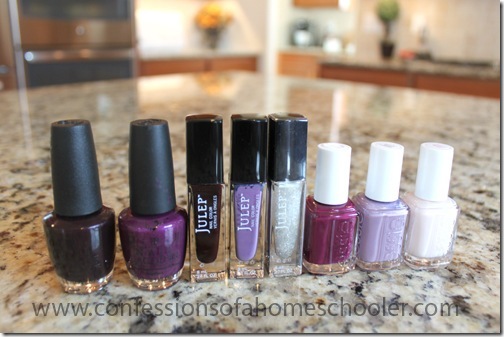 No, can't be coincidence.
I've still got it.
I'm sure of it.
But just in case you're curious, my top color picks this year are: (in order from left to right in photo)
OPI Eiffel For This Color
OPI Lourve me Lourve Me Not
Julep Lucy
Julep Charlotte
Julep Camille (This is just a fun sparkle you can add over any color to make it more festive!)
Essie Bahama Mamma
Essie Warm & Toasty Turtleneck,
Essie Ballet Slippers (a great neutral any time of year.)
And one other thing I'd like to share is the Julep cuticle oil. It's in a little roller ball that you can just carry in your purse. Then when you're sitting at a stoplight and find yourself bored, you can moisturize your cuticles on the go, all without making a mess or getting all oily!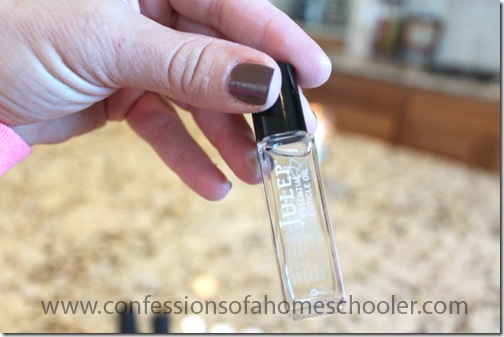 Moisturize!
And let's not forget our hands! Mine are a disaster in winter but I do have a few products in my arsenal to help out.
For my favorite hand lotions, and really all over lotions, I love the Bath and Body Works Paraffin Hand Cream, and The Body Shop Coconut Body Butter. Both are nice thick creams that have helped my sad dry skin.
I've tried other scents from The Body Shop body butter line and they aren't as thick and rich, so I'd stick with the Coconut one. Although the new Glazed Apple Body Butter smells yummy!
And by the way…well moisturized skin looks younger, and we can all use a little of that no?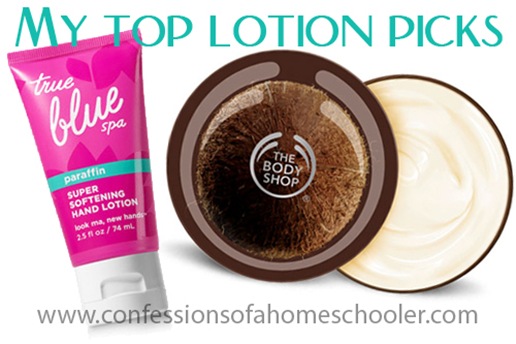 Well I hope these little tips helped out at least a few of you out there. Now I'm off to moisturize and get a fresh coat of paint on my badly chipped nails!
Oh the trials of a homeschooling mama…sigh.
Win it!
And just because I like to give stuff away, I have a fun little Julep giveaway for you too.
The winner will receive 3 Julep nail polishes! Simply fill out the raffle copter below to enter.