Good morning everyone! Looking for a last minute easy gift idea? Look no further!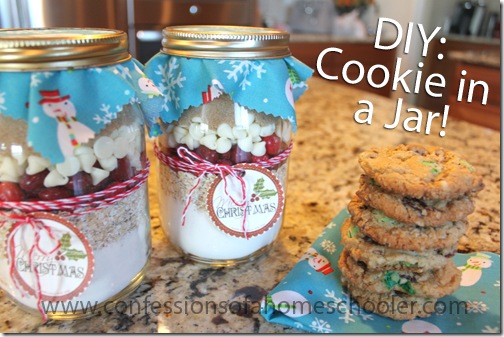 Today I have this adorable Holiday Cookie in a Jar recipe to share with you! These are not only super cute, but they're also delicious! So read on to see how we made these lovely gifts for our friends and neighbors.
I have to admit, I've seen this idea all over the place, but I've never made them myself! So I thought now would be a great time, and I have to say, these are seriously quick to put together, so if you've waited until the last minute and need something quick, but still awesome, this is for you!
Of course we had to make a batch just to make sure they turned out good. Also so we could get pictures and all. I know, it's a rough job, but someone had to do it.
So let's get started shall we?
You will need: (Recipe is for 1 jar)
1 1/3 c. all purpose flour
1 tsp. baking powder
1 tsp. baking soda
1/4 tsp. salt
1 c. rolled oats (I used instant and they worked just fine!)
3/4 c. red M&Ms OR Craisins (The photo shows green M&Ms, and Andes mint cookies, but you can use whatever you like!)
3/4 c. white chocolate chips
1/2 c. brown sugar, packed
1/2 c. white sugar
1/3 c. chopped pecans (Can use any nuts you prefer!)
1 – 1 quart mason jar with lid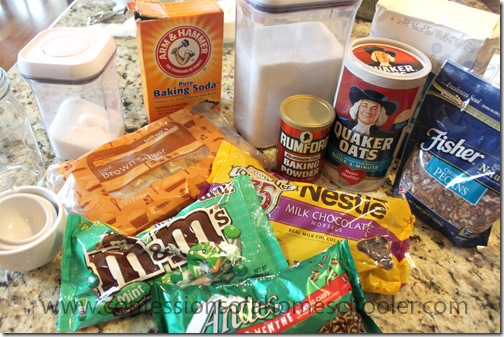 Layer ingredients in Jar:
Layer ingredients as directed below in your jar. As you add each layer, use a ladle or spoon to pack the layers down tightly. I mean it, pack them well, or it won't fit! Plus if you pack them tightly the layers will hold their form much better and look all nice and pretty in your jar.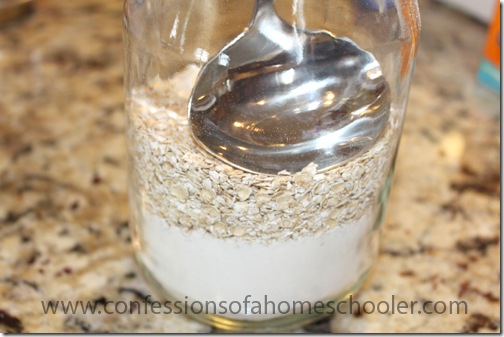 Here's how to layer your jar:
Layer 1: flour, baking powder, baking soda, salt.
Layer 2: Oats
Layer 3: M&Ms
Layer 4: Chocolate chips
Layer 5: brown sugar
Layer 6: white sugar
Layer 7: pecans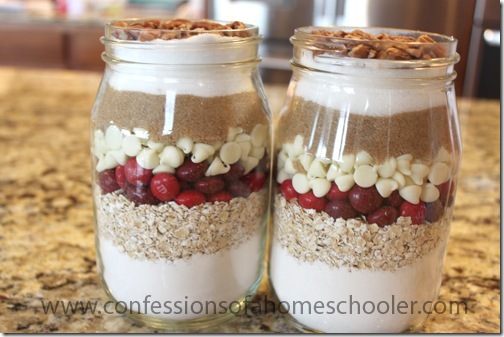 Next decorate your jar! I added some festive fabric to the top of mine. Then found some holiday string and tied these cute labels onto each jar. They each have two tags tied on them, the first one is just for pretty, and the second tag has the baking instructions. I used a 2" circle punch to punch out the tags, then a small hole punch to cut a hole for the string. The picture below uses red and white baking twine that I found at my local craft store.
You can download my Christmas cookie labels here!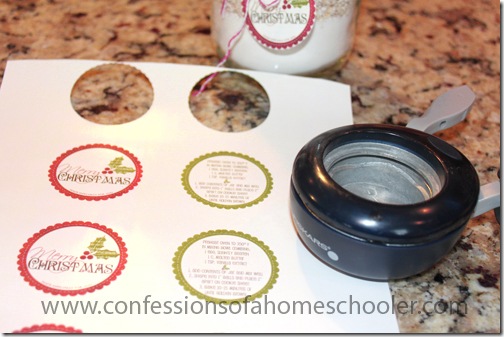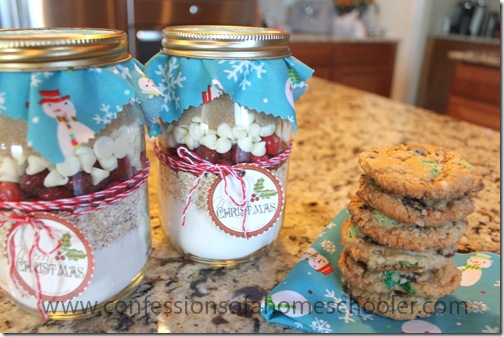 And that's it! These make lovely Christmas gifts, and they were really yummy too!
PS. If you choose to make these, send me some pics on instagram with #coahchristmas so I can see!
Baking Instructions: If you just can't wait…
1. Preheat oven to 350 degrees F.
2. Pour all of the ingredients in your jar into a large mixing bowl and add in:
1 egg, slightly beaten
1 cup of melted butter
1 tsp. vanilla extract.
3. Mix everything well, then shape into 1" balls and place 2" apart on a cookie sheet. Bake 10-15 minutes or until golden!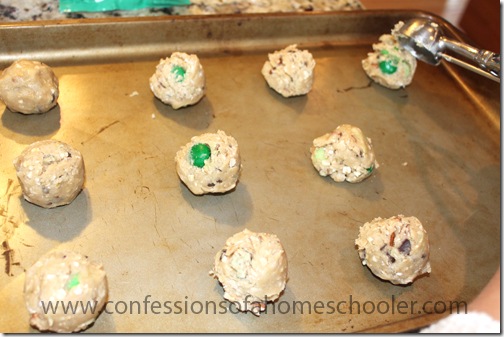 Let them cool and enjoy.
Or eat them hot because you can't wait like we do ;o)
You have no idea how many people I had to fen off to get this picture!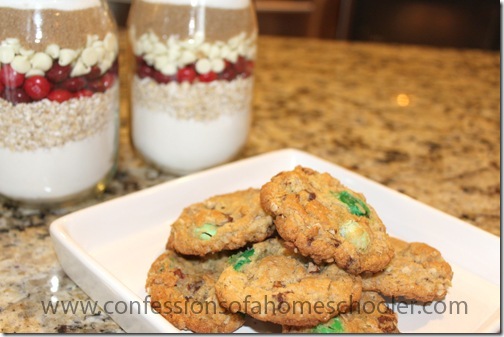 Variations:
You can vary the candies in this recipe to suit just about any holiday or time of year. You can also substitute the candies for anything you like. Here are a few ideas to get you started:
Pink and Red M&Ms for Valentines Day
Green and Red M&Ms for Christmas
Orange M&Ms for Fall
Red & Blue M&Ms, and white chocolate chips for Independence Day
We also found some Andes mint chips and made a batch of mint-chocolate chip cookies. Yum!
I hope you enjoy this last minute gift idea! Have a great last minute gift to share? Send me a tweet or comment on this post!