Hi friends! I just received my June Fat Quarter Shop Sew Sampler box and I thought it would be fun to do another un-boxing video for you! So let's see what's inside this month's box of goodies shall we? The boxes are $24.95/month (plus shipping) and this month's box has a value of $65.88.
Watch my June 2017 Sew Sampler Un-boxing video here!
June 2017 Box Contents:
TOTAL BOX VALUE: $65.88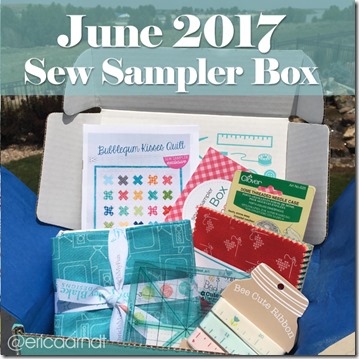 What is a Sew Sampler Box?
The Sew Sampler Box is a monthly subscription quilting box that delivers surprise goodies right to your door! It's $24.95/month and the boxes ship on the 20th of each month. There are at least 5 specially chosen items which may include fabric, notions, patterns, thread, and anything else full of quilty goodness! You'll also receive a Block Recipe card each month with three size options. These can be put together for a super cute sampler quilt! You can purchase previous recipe cards here.
If you're new to sewing or quilting these are a great way to build up your stash of fabrics, patterns, and notions. Especially if you're unsure of what to get to start out. I've been sewing and quilting for about a year and a half now and I think the Sew Sampler boxes are really fun and have thus far been packed with super cute and helpful tools.
Interested in signing up? Click here to sign up for your Sew Sampler box here!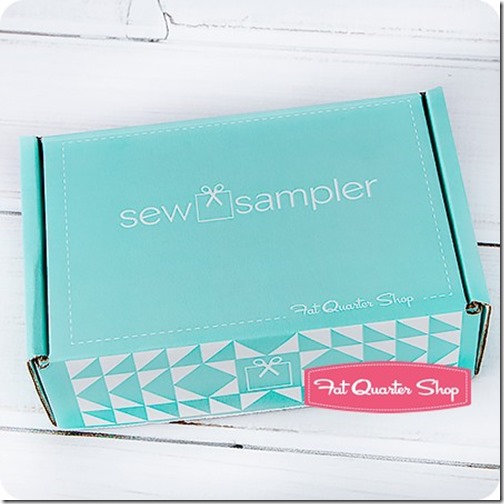 And don't forget to follow Fat Quarter Shop's social media to keep up with all of their fun projects!
Disclosure: Fat Quarter Shop sent me this month's box for review. The opinions expressed in this video were my own, and were not influenced by the free product or company.