Hi everyone, look at me, early with the May 2012 Monthly Meal Plan! LOL!  I know I've been posting these right at the last minute, but this month I actually had a little breathing room so thought I'd get it out a few days early for you! I haven't had a whole lot of time to add in our Weight Watcher's meals, so I apologize for that. Maybe I can get to it this summer once school's out and we're on break.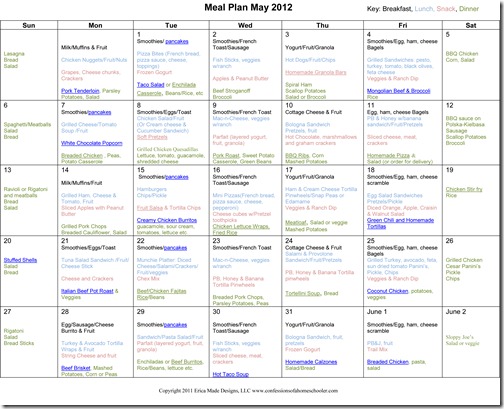 Download the May 2012 Monthly Meal Plan:
Each time I post this, I get a few of the same questions, so I wanted to answer them for you all:
How strictly do you follow your plan?
Honestly, the answer varies from week to week! I do try to do my grocery shopping using my list on the weekend, so that I'm prepared for the up coming week. But there are days when I simply don't feel like having what I have on the list for that day, or when I just straight up don't feel like cooking!
On those days, I'll usually just swap that meal out with another day's so  I don't get too far off track. Sometimes we'll order out, or have left overs depending.
My meal plan definitely keeps me on track, but I also allow myself some wiggle room! After all, I'm only human ;o)
Do you have a good smoothie recipe?
Yes, I do! I'm kind of lazy when it comes to smoothies, I buy the family packs of Yoplait or Jamba Smoothies they have in the grocery store for days when I need a quick breakfast. Just add milk or orange juice and voila!
For days when I have a little more time…
Fruit Smoothies:
Ingredients:
1 banana (frozen is better, but I will work at room temp.)
2 cups frozen strawberries (Again, room temp is okay)
1 cup milk
1/2 cup vanilla yogurt (We prefer frozen yogurt)
1/2 cup orange juice
Optional: 2-3 tablespoons honey to taste (The plain fruit can be a bit sour, but the orange juice helps with this, so try it before adding honey)
Directions:
Add all ingredients into a blender and mix until smooth! Pour into glasses and serve!
This usually serves my 4 kiddos and me, but they all get half glasses. If I need a little more, I'll just add in some more milk or juice. It makes the smoothie a bit runny, but no one seems to mind and it's cheaper that way!
Note: Really you can use any type of fruit you prefer! Some of our favorites alternatives to above:
Mango, peach, & banana.
Raspberry, Blueberry, and Strawberry
Hope the meal plans help relieve a little bit of mom-stress this month!