Good morning! I'm back today with our 2015 6th grade daily schedule. It's nice that Turbo and Strawberry Shortcake are only one year apart, it makes doing group subjects much easier. I'll post Strawberry Shortcake's schedule soon, but you'll notice they're fairly similar.
Turbo is currently 11 years old, and will turn 12 next June. He's starting sixth grade this year and here's his line up: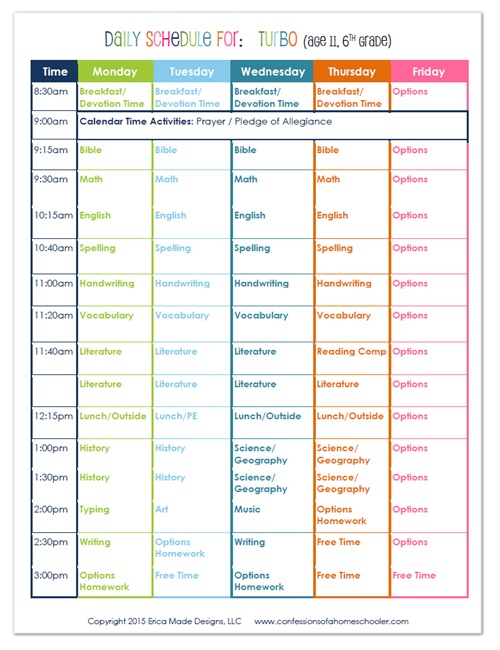 Download a copy:
Here's our Basic 6th Grade Schedule:
8:30am – Breakfast / Family Devotion Time
9:00am – Calendar Time & Pledge of Allegiance
9:15am – Bible
9:30am – Math
10:15am – English
10:40pm – Spelling
11:00am – Handwriting
11:20am – Vocabulary
11:40am – Literature
12:15pm – Lunch
1:00pm – History (M/T), Science (W,TH)
2:00pm – Typing (Mon), Art (Tues), Music (Wed), Literature (M,W,TH)
2:30pm – Writing (M/W)
5:00pm – Sports start! Tinker Bell plays inline hockey on M/W and Swimming on T/Th.
Turbo also participates in the weekly options program along with all of my other kiddos.
You might have also noticed that we do double lessons for history on Mondays and Tuesdays, then double lessons for Science/Geography on Wednesdays and Thursdays.
With the curriculum we're using this year and the ages of my 2 older kids, it's really probably a good idea to do both of these subjects daily. However I thought it might be easier to spend longer on one subject and do it twice per week. That way we can get into our projects, and not be rushing to move onto the next subject.  So I used my homeschool planner to evenly disperse our lessons to fit into our 4 day schedule.
Mentally speaking I also think it's less overwhelming to me to know that I just have history or science today, but not both. That way I'm much more likely to be diligent to get them done. It's all mind games when it comes to motivating myself and the kids.
We'll see how it goes. I always try to adjust our schedule to make things easier on us.
If you'd like to see what curriculum Turbo is using this year, make sure to check out our 2015-2016 curriculum post!