Hi everyone! I'm back today with another Homeschooling 101 post for you! Last time around we discussed Gathering Curriculum, so today we're going to talk about what to do with it!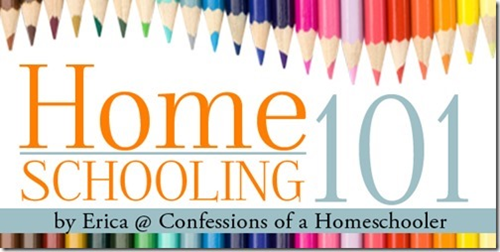 Now that you have your entire curriculum chosen and purchased, it's time to plan out your year. There are a couple schools of thought in this area. Some people choose to plan their lessons as they go, assuming that it will be easier to make changes as needed since they haven't planned too far ahead.
I personally like to plan out our entire year, even though there's a possibility something will change. It's been my experience that having my year completely planned out makes my year go more smoothly and reduces my amount of stress during the year as well. Changing just one thing is quite easily done.
Some people prefer to schedule only a few weeks or months in advance since things might change. Homeschooling schedules can be very flexible based on your own needs, so again, do what works best for the needs of your family.
This method also frees up your nights and weekends since all of the planning is already complete. All you have to do each Friday afternoon is make sure to have things ready for the upcoming week and then you have the rest of the weekend free to enjoy time with your family.

Now comes the fun part! It's time to transfer all of that shiny new curriculum into workable lesson plans to make your life easier. I know the thought of this can be overwhelming and frankly a daunting task. I won't claim to have the perfect solution for every family, however I will share how I organize our lessons into an ideal plan for our year.
I know it might sound redundant to plan for your planning, but you will need something to keep you on track or you'll end up distracted by all that you need to accomplish. Taking the time to prepare ahead using the suggestions in this Chapter, will greatly increase the effectiveness of your planning time.
I typically take a weekend to get all of my lesson planning done. Sometimes I don't get it all done that weekend and have to spend additional time to finish the lesson planning. The amount of time this step will take is going to depend on how old your students are and how many subjects you are planning for the year.
Prior to my "official" planning weekend, I make sure to take some time to go through each of my teacher's manuals for the upcoming year. Don't spend a ton of time on this step, just get a general feeling for how the manual is setup, and familiarize yourself with the curriculum. This will save time when you start to enter your lessons into your planner.
I also make a game plan of what I want to accomplish so I have a clue where to start. I like to start with one student, and plan one subject at a time. Then I move onto another, and finally another until I have gone through all of the subjects for that student. After that I will move onto the next student. For you it might make more sense to do one subject at a time for all of your students. Whatever makes the most sense to you, use that as your guide when planning.
So let's get started!
I. Determine school/holiday/vacation days.
The first step in planning out your year is to decide what your year will look like. Taking into consideration your state requirements as well as any holidays, family vacations, etc., you'll want to create a basic outline for your year. You'll also want to decide if you prefer to follow a more traditional school schedule or homeschool year round taking breaks at times that work better for the needs of your family.
II. Determine a basic schedule.
Core subjects such as Math, Reading, and English are typically done each day, but this can be modified based on the needs of your family. Other subjects such as science, history, art, and music can be alternated weekly to fit your schedule.
During this step I take each of my subjects and look at the teacher's manual. Determine the number of lessons in the curriculum, then divide the total number of lessons by the number of weeks you will be in school. This will help determine how many days per week you'll need to do that subject.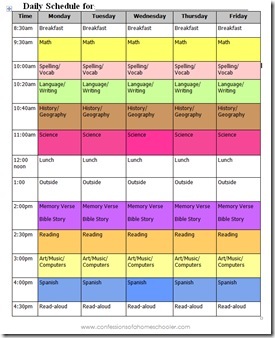 III. List extracurricular activities.
Once my main schedule is set up, I then take the time to put in any extracurricular activities that we have agreed to do for the year. If you know that you will be doing something that takes place during the day, make sure to include that in your weekly schedule overview so you know not to schedule any subjects during that time.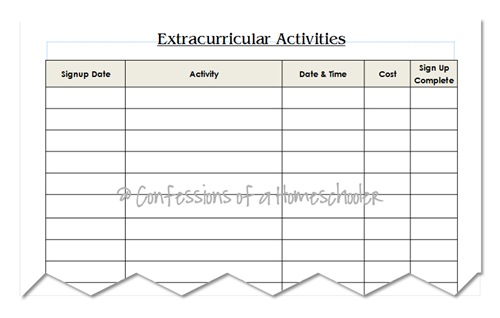 IV. Add the lessons into a planner.
The next step in the planning process is to transfer all of your activities and lessons into a planning software, spreadsheet, or day planner. All of these items are acceptable means of planning, and really the format comes down to personal preference. Here are a few of my favorites…
Read more in Creating Lesson Plans Part 2 here!
Homeschool Planners:
Want more information? Check out Homeschooling 101: A guide to getting started!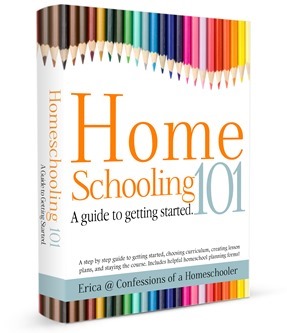 If you've missed my previous posts make sure to check them out!