Hello readers! Today I have a really fun learning activity as well as a great giveaway for you! I was recently asked to review "The World of Glue: An Investigation of Adhesives" unit by Elmer's Products, Inc.!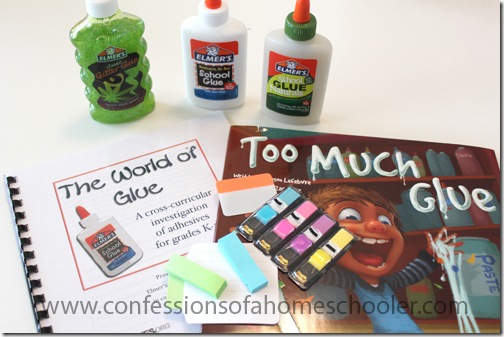 The World of Glue Toolkit:
As soon as I saw this book I thought it looked like fun, and I was right! The kit comes with everything you need to do an investigations on adhesives. And Elmer's created a cross-curricular instructional unit to help teach properties of common adhesives and the science of polymers in a fun and creative way! The lessons are geared for grades K-5.
The plan includes activity instructions, discussion questions, and student hand-outs to enhance the unit. This unit also features a cute book called "Too Much Glue" by Jason Lefebvre which my kiddos loved.
We received the entire teaching toolkit for "The World of Glue" which includes the teacher's instruction manual, the "Too Much Glue" book, and 3 different kinds of Elmer's glue products. I'm sure I don't have to tell you that the green glitter glue was the favorite of the bunch ;o)
Elsie & Elmer
Have you ever wondered why there's a cow on the logo for Elmer's glue? In 1857 Gail Borden started the Borden Company. It was one of the largest U.S. producers of dairy and pasta products. In the early 1900's the company learned they could make glue from a substance found in milk called casein. After experimenting with different ingredients, they found the perfect recipe. In 1947 they introduced Elmer's Glue-all. "Elsie" the cow was named the mascot for the Borden Company in 1936, and in 1940 her husband Elmer the cow in took over and became the "spokesbull" for Elmer's glues and adhesives. Since that time Elmer and Elsie travel the country promoting Borden products and Elmer's Glue!
The Book:
We started off by reading "Too Much Glue" by Jason Lefebvre. It's a cute story about a boy who loves glue. He loves glue a little too much let's say. So much that he ends up creating a full body suit of glue for himself, and getting stuck to a table. Oops! Anyway, the story is fun and entertaining and went perfectly with our upcoming glue experiments.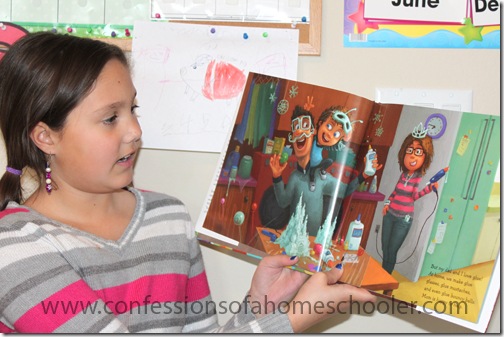 The Lessons:
For our first lesson, we learned about adhesives, polymers, monomers, casein, and synthetic vs. natural materials. Using our supplies, we did an experiment to observe monomers and polymers with our very own eyes! It's a little hard to see in the photo below, but after adding some vinegar to milk we can see that solids begin to form in our liquid mixture. The vinegar caused the casein to separate from the liquid part of the milk and join other casein polymers to form solids.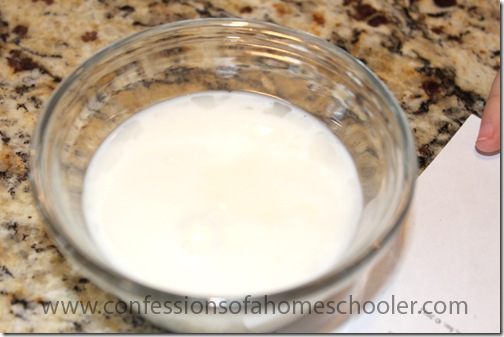 Once our solids settled on the bottom of our bowl, we used a paper towel to carefully absorb the liquid from the top of our newly made casein substance called glue!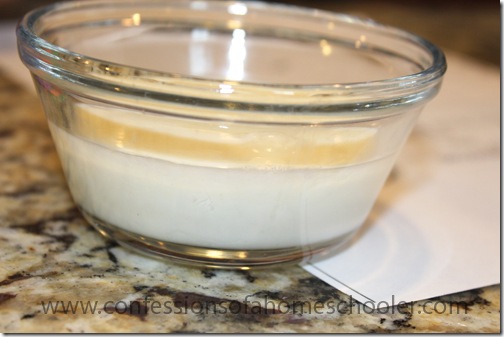 Here we are carefully getting the liquid off the top of our glue.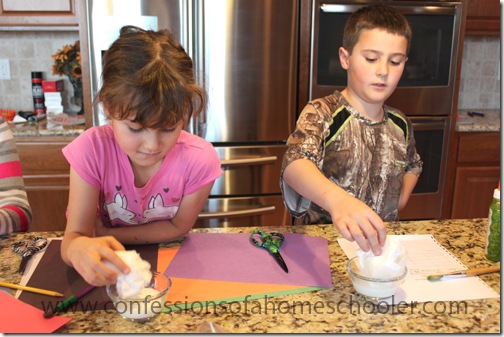 We also made our own glue using a flower and water mixture. We experimented with our homemade glue as well as the Elmer's glue products that came in our kit to see which one was the best.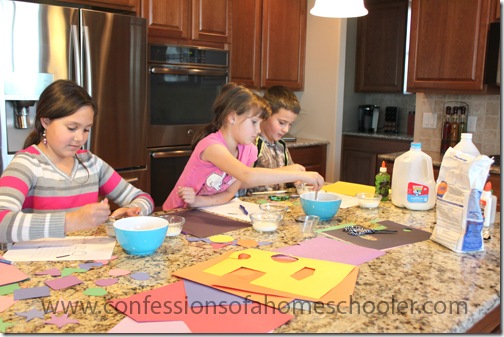 The toolkit also comes with an experiment sheet. We used it to write down our recipes so we could duplicate them, see which one worked best, and talk about how we could make our concoctions even better.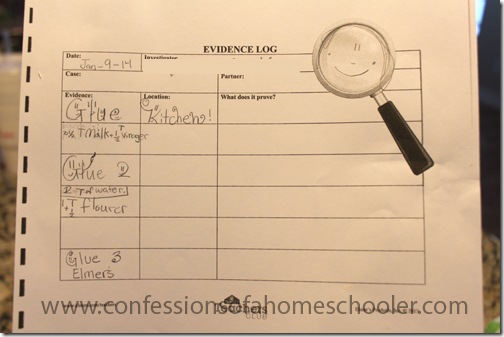 We just cut up some random shapes to use with our experimental glue recipes and went to work!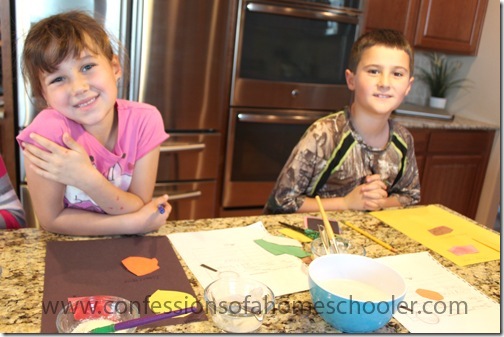 Here are the finished experimental projects. We let them dry then completed our experimental sheet noting which formulations worked best.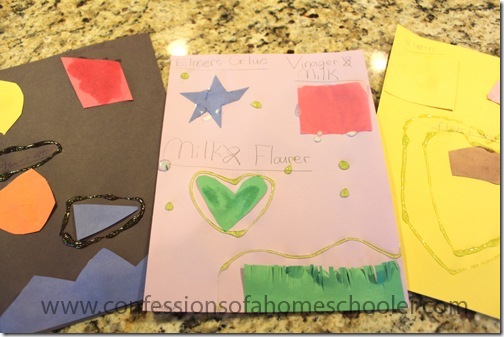 In the end, all of our glues actually worked pretty well. The store made Elmer's glue dried faster and was definitely easier to work with. But once they dried, they all worked pretty well!
All in all it was a fun unit to do and the kids loved making their own glue and experimenting with various ingredients and measurements.
More Information:
Win it!
I'm excited to host a giveaway for "The World of Glue: An Investigation of Adhesives" Tool Kit!
Just fill out the rafflecopter below to enter to win a kit for your homeschool!