Hi everyone! I know I just released my 2012 Curriculum Update and in it I mentioned that we were still loving All About Learning. It's been a consistent favorite of mine for almost 2 years now! I know you all love it too, so I have a special treat for you today!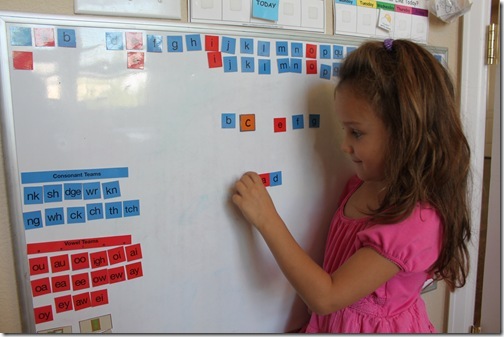 In honor of last week and Valentine's day, I wanted to share a little love with you all! So….drum roll please…I'm hosting a very SPECIAL giveaway for All About Learning today!
But before we move on, I wanted to clear a few things up! In my curriculum post I noted that I was using All About Spelling, All About Reading, and Abeka worksheets. I've since received several emails asking if I thought I needed to supplement.
Just for the record, NO! I do not think AAS & AAR need any type of supplement! I simply have Tinkerbell working on the Abeka worksheets because I had them already and I just have a thing about wasting curriculum! Plus I figure it can't do any harm to do a little extra work right?
But all that said, I truly love All About Learning products, and we've had great success with the All About Reading Level 1 and All About Spelling Level 1.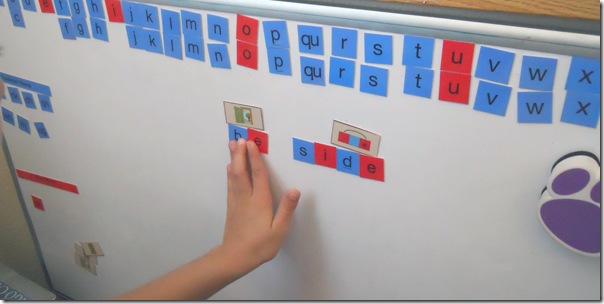 I've also had several questions regarding the difference between the two products.
The Level 1 of both AAS and AAR have a similar scope and sequence. All About Reading will focus on decoding skills, fluency, comprehension, vocabulary, and will include lots and lots of reading practice, while All About Spelling focuses on the spelling side of things–how to know which letter to choose for a given sound. Both are complete phonics programs and use the same letter tiles.
All About Reading has lots and lots of fluency exercises that help strengthen reading skills.  These can be helpful for a child who has already done AAS 1 but needs more practice to read smoothly.  It's fine to go quickly through some of the beginning lessons until you reach the lessons that are more challenging for a student.
Here is Tinker Bell working on one of the reading worksheets. To the right you'll see the "Feed the Monster" game. This one was a favorite! First she colored a monster, then cut out a bunch of word cards to feed to him. She picked one card at a time, and if she read the card correctly she got to feed it to the monster.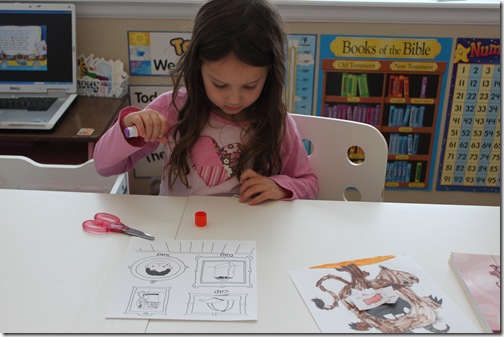 Another favorite hands on All About Reading activity we did was the egg fry. First we colored in the yokes of our eggs, then used a spatula to flip them over and read the words on the other side. This one was so exciting that the Teeny Tot immediately confiscated the spatula and eggs and played the game for the rest of our school time!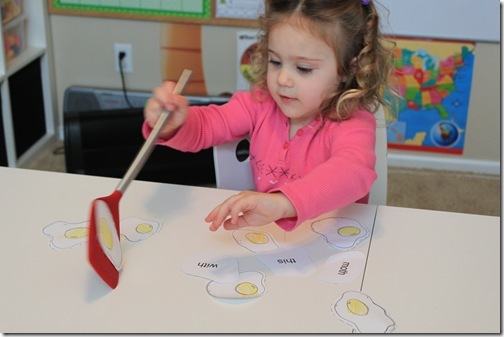 Want more information?
I wrote a review of it awhile back you can read my original  All About Spelling Review here.
WIN IT!
Would you like to try All About Spelling for your own family?
I have a unique giveaway today! The super cool people at All About Spelling are offering either The All About Spelling Level 1 plus the Deluxe Interactive kit OR any two levels of All About Spelling!
Mandatory Entry:

Simply leave a comment below letting me know why you'd like to win!
Additional Optional Entries: (not required to win, leave a separate comment on this post for each additional entry)
Win 2 free levels of @LearningPress from @ericahomeschool! Enter thru 2/24/12!

Giveaway Nitty Gritty:
The give away will be open until midnight EST Friday February 24, 2012. Winner will be announced by Sunday February 26, 2012.

No purchase necessary to win.

Must be 18 years of age or older to enter.

If prize winner forfeits or does not claim the prize, prize will be re-awarded at my sole discretion. You may be asked to provide name and address for physical prizes.

Void where prohibited by law.

Make sure to leave a separate comment for each entry, winner will be chosen at random!

This giveaway is offered to US residents only!

Odds of winning based on number of entries.

This promotion is in no way sponsored, endorsed or administered by, or associated with, Facebook.

NOTE: In order to enter the contest you must leave a comment on my blog post. To leave a comment scroll to the bottom of the post and fill in the "Speak Your Mind" form. (If you are reading this via RSS, you will need to visit my actual blog to post a comment.)
Disclosure: All About Learning provided me with a free copy of their product to review on my blog. The opinions I have given are mine and may differ from others but were not influenced by the company or the free product provided.