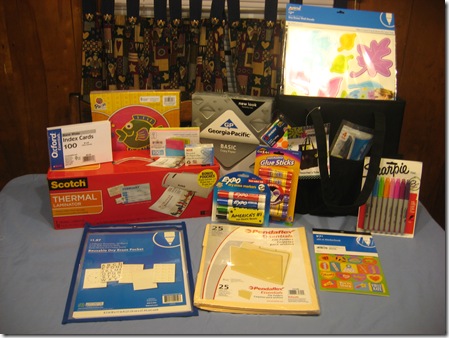 Hi everyone! I am so excited today to be partnering with Family Time Fitness for a great Back-to-School giveaway!
I know many of you have either just started, or are getting ready to start back up with your homeschooling year, and so I thought it would be awesome to do a goodie basket full of helpful homeschool supplies for you all.
A big thanks goes to Family Time Fitness for sponsoring the basket for you all! If you haven't stopped by their site yet, make sure to take a few minutes to check it out!
If you aren't familiar with Family Time Fitness, they're a fantastic company committed to helping homeschoolers improve their physical education! They provide daily lesson plans as well as video tutorials if you need them. Most lessons can be completed with very little preparation. Although they do give daily lessons, we typically do it 2-3 times per week time allowing. I really love their focus on physical education, and even get reminder emails sent to my inbox to encourage me to continue on with our lessons.
One of the things I like most is The Family Time Fitness YouTube channel.  Here you can see videos on all of the exercises to make sure you are doing them correctly, and also informational videos as well.
So what's in the Back-to-School gift basket?
Everything you see above will be shipped to you! They include folders, copy paper, sharpies, dry-erase markers, index cards, glue sticks, and a few other fun items! And they've even included a Scotch Thermal Laminator!! And we all know that no homeschool is complete without a laminator!
Ready to win?
Simply fill out the rafflecopter below, the giveaway will run from today through Wednesday night, so don't delay!
Disclosure: Some of the links provided in this post are affiliate links as I am an affiliate for Family Time Fitness. All opinions expressed in this post are my own and are not influenced by the company or this giveaway. I did not receive any compensation for this post.