Pencils, Pens, and Rulers! Oh My!
Oh my goodness, I am in LOVE with school supplies. I'm not sure what it is about fresh pencils, pens, notebooks, clean paper, and the like. But back-to-school is literally one of my favorite times of the year!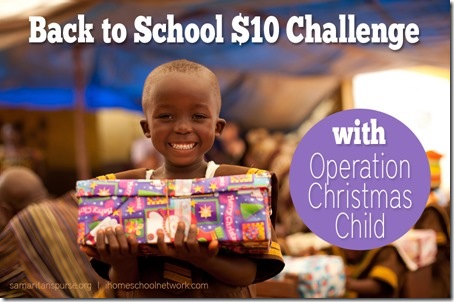 Except this year because I think my summer forgot to visit our house. I'm not sure where July went, but ya, she's gone! (Sorry, I've been watching a lot of Duck Dynasty lately.)
Moving on…
As you can imagine, I was a bit taken aback when I started seeing school supplies appear in the isles of almost every store. But it didn't take long for that feeling of excitement to take over!
Join us in the $10 Back-to-School OCC Challenge!
This year when you're having fun rummaging through all of the bright and colorful school supplies, I'd like to encourage you to join  me in the $10 Back-to-School Challenge with Samaritan's Purse Bloggers.
What is the $10 Back-to-School Challenge?
With all of the great deals going on right now Samaritan's Purse is challenging us to think ahead to Christmas, and see how many school supplies we can get for just $10 to add to our Christmas Shoeboxes this year.
Since we have four children, we usually pack four boxes. So they're each going to get $10 for the challenge.
Rules of the Challenge:

Commit to putting $10 worth of school supplies towards your Operation Christmas Shoebox. (Of course you're welcome to add in more if you choose, but the challenge is to see what you can get for $10.)
Take pictures of your goodies, and link up with all of the Samaritan's Purse Bloggers on Wednesday, August 28th!
After you're done with your school supply haul, make sure to check back in with my blog on August 28th to see all of the other OCC link ups and share your goodies!
Looking for more Shoebox Ideas? 
If you're looking for more ideas a few of my fellow bloggers have come up with posts showing 100 ideas for boys and girls shoeboxes to help get you started!
| | |
| --- | --- |
| 100 Shoebox Ideas for Girls | |
On a personal note…
OCC is a ministry that is near and dear to my heart! Being able to reach out to children across the globe is such a blessing, and we do our best to participate in it each year. I pray that you would consider reaching out to those in need and blessing someone with an Operation Christmas Child Shoebox this year!
You can also get more information and forms by checking out my previous OCC posts!
Disclosure: As a member of iHomeschool Network's Samaritan's Purse Blogger Team, I write about the ministry on a volunteer basis. All posts are my own thoughts and do not necessarily reflect the views of Samaritan's Purse. I am not on employee, agent, or contractor of Samaritan's Purse.