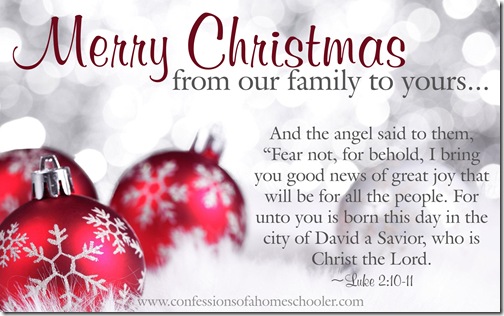 Merry Christmas! 
I'm taking today and tomorrow off from our giveaways to celebrate the birth of our Savior! I pray that you have a blessed time with friends and family this season and that you keep Jesus the center of all festivities!
We're Italian, and my husband's family is German. I'll be hosting Christmas this year, so I thought you might like to see our menu…weird as it may seem ;o)
Spaghetti

Meatballs

Garlic bread

Salad

Turkey

Cranberries

Mashed potatoes

Sweet stuffing

Green bean casserole (yuck!)

Pumpkin Pie

Italian Christmas Jello
We'll be gathering at our home for food, presents, and fellowship as we celebrate the birth of our Savior!
What are some of your favorite Christmas traditions or foods, I would love to hear what you all do to celebrate!
Blessings from our family to yours,
We wish you all a very Merry Christmas and a wonderful 2014!
Erica, Jason, Strawberry Shortcake, Turbo, Tinker Bell and the Teeny Tot!