Happy Holidays everyone! I have a super fun and extremely easy kids Christmas treat recipe for you today! Chocolate covered pretzel rods are super simple, and a great way to keep younger kiddos involved in the cooking action!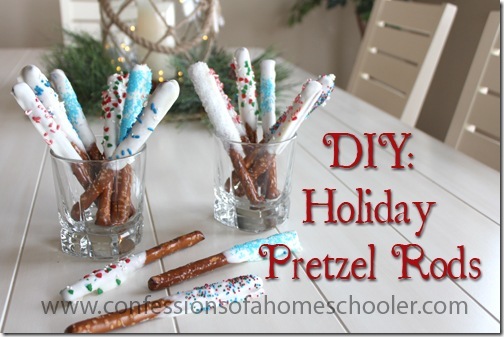 Ready to get started?
Supplies:
Pretzel Rods
Sprinkles
Candy Melts (We used white, but you could also use another color!)
Cookie sheet
Waxed paper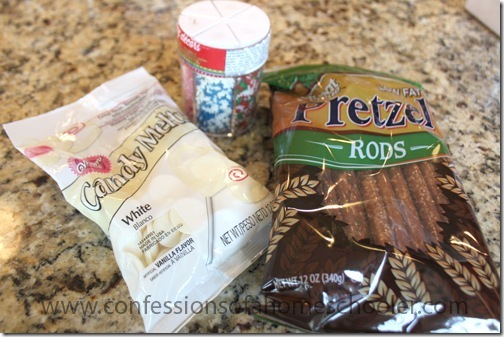 Directions:
Line a cookie sheet with waxed paper and set aside.
Melt candy melts in a microwave safe dish following the instructions on the package. We melted in 30 second intervals stirring in between until the candy was smooth.
Next, dip the pretzel rods in the melted candy about half way in, then set on the waxed paper to cool. While still warm decorate as desired with sprinkles.
Once cooled, you can enjoy them, or package them up in clear bags to give to friends and neighbors as a special holiday treat. We brought them to one of our Christmas parties this year and they were a huge hit!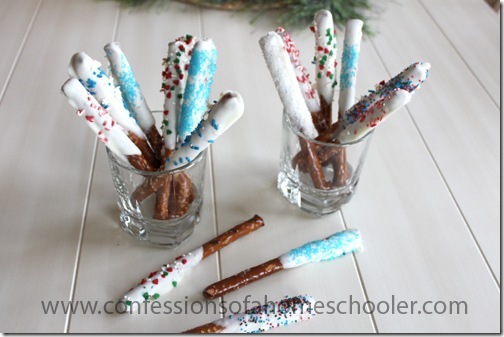 I hope you enjoyed this easy and delicious snack idea! If you have any ideas to share, make sure to leave a comment below!
Happy Holidays!